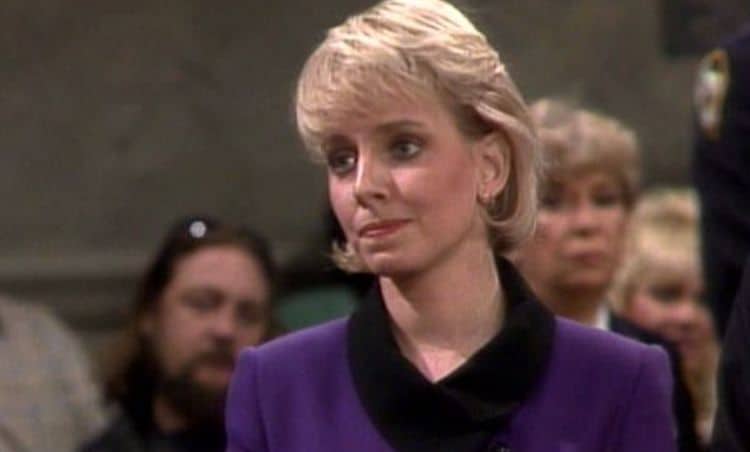 Ellen Foley knew she wanted to be in the showbiz industry, and after turning 21, she moved to New York, where she found inspiration to become a singer and an actress. However, she took some time off to concentrate on being a wife and a mother, but her passion for the industry never died. Therefore, the singer took her place back in the music industry by performing in clubs and even taught in a music school. Her last television credit was in 1985, but theater has always held a special place in her heart. Since she has been under the radar for so long, we were tempted to find out whatever happened to Ellen, and here is what we know so far.
Getting her start in music
Ellen grew up in St. Louis and attended a catholic school where students were encouraged to be nuns. However, Ellen wanted to be a singer, and when the chance came to leave the house, she did so at 21. The singer left for New York determined to be an actress, but none of the cattle-call auditions turned out to be paying jobs. That was until she was cast in a musical comedy revue as a singer and had to put on fake eyelashes. Unfortunately, Ellen was found to be too odd to stay; hence she was fired, but the actress was not ready to give up on her dreams.
She, therefore, started a band and continued playing in musicals. Her theater skills came in handy when she joined National Lampoon, which she described to Legacy of Music as a satirical magazine that had been offered a second chance in life as a show comprising sketches and songs. During the tour with National Lampoon, she met the two people who would change her future: Michael Lee Aday, popularly known as Meat Loaf, and Jim Steinman, who also happened to be actors.
Meat Loaf, a singer and Jim, a composer, had been recording for years, so all that was lacking for them to release the music was a backup singer. Ellen jumped at the offer to join them, and it helped open more doors for her. With her voice, she landed a contract to do her own projects, which meant by the time "Paradise By The Dashboard Light" was released, she was too busy launching her solo career. Therefore, she declined Meat Loaf's offer to go on tour with him; hence, she was replaced by Karla DeVito. However, her powerful voice is not one that can be easily replaced, so Karla could only lip-sync to Ellen's voice, and the song became a hit in the Netherlands.
Becoming a television star
Although Ellen was happy with her first album, her second album was a regrettable decision. At the time, she was making music with a band called "The Clash," and one member, Mick Jones, whom Ellen was dating, produced the record. It did not perform well, and the singer thinks it is because even the record company hardly believed in its success. Besides, listening to the songs, Ellen realized that instead of the album reflecting her style, it was more of the band's style, which could have led to the poor sale figures. Like her album, Ellen's relationship with Mick Jones failed. Looking back, she told New York Magazine that she wished she had dated Joe Strummer, another band member.
Although her solo musical career did not turn out as she expected, acting was her fallback plan. She is best known for originating the witch's role in "Into the Woods," which she got to play on Broadway for an entire year. Still, none of her theater and film credits can overtake the popularity she gained as Billie Young in "Night Court." However, she was fired, and to this day, Ellen wonders why. According to People, the producers of the series wanted Markie Post from the beginning. Markie was under contract on ABC's "The Fall Guy"; hence they settled for Ellen Foley. Consequently, as soon as she was free, Markie took over and said that although she never wished Ellen any ill will, she always felt that the role belonged to her.
What does she do now?
Ellen confessed that she always fell for the wrong guys back in her younger days until she met Doug Bernstein in 1989. They got married and had two sons, and like she told antiMusic, life took over. Therefore, she had to juggle between family life and her career but still found them to go on stage. By 2008, she was teaching at the Paul Green School of Rock Music, where she held the position of elder statesman. At the school, Ellen was tasked with equipping her young students not just with techniques but also attitude.
Ellen was introduced to Paul Foglino, who wrote music for her shows as she continued getting offers to do musicals. They had a musical connection, and Ellen was convinced it was time to revive her musical career. Therefore in 2013, she released her fourth album, "About Time." According to Ellen Foley's bio, the album was well-received, and she was praised for being among the few artists who can still make an excellent record after being out of the industry for over 30 years. However, Ellen differs from such reviews because, in one interview, she said that although the album was supposed to be surrounded with lots of publicity, it went down the same road as her previous ones. The singer even questioned herself what kind of music one has to make nowadays to be noticed and thought about distributing the album digitally.
In 2014, Ellen said she had done enough auditions to conclude that she was no longer interested in acting. However, she is not slowing down on making music, and in 2018, she said that she planned on performing in the Netherlands, which has played a significant role in her career. In April 2019, she told Madeline Bocaro that she had plans to go to Europe and in November 2019 wanted to start rehearsing for that tour.