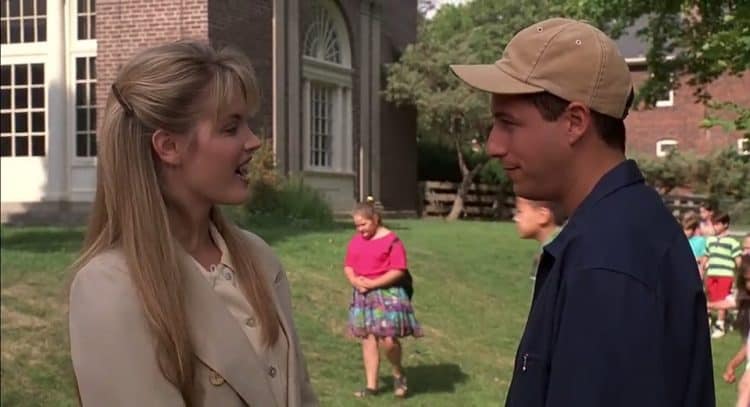 How many people remember the days when Bridgette Wilson was seen as one of the hottest women on the screen? She had a rather good run back in the 90s and became one of the most well-known and respected stars for a couple of reasons, one of those being the fact that she was so insanely beautiful, which she still is. The other wasn't really her acting, but she did well enough in some of her roles to make it worthwhile to keep her around. But she did take a pretty big break from show business in 2008 since she didn't make her way back until around 2019. It's kind of easy to think that she wanted to take some time to be with her family and not have to deal with such a hectic schedule as so many movie stars have to do. That would make sense really, and the rumors fit since she apparently made it known that she wanted to be a housewife and a mom for quite some time before she finally walked away. Whether she's ever going to think of coming back or not is hard to predict since she appears to be loving the life that she has at the moment, and her sons, who were born in the 2000s, are now well into their teens, which might make it easier to come back since it's likely that they're a little more self-sufficient. But if she does come back it would still be kind of surprising.
As I said, her acting wasn't the best in the world, but depending on the role she took it was definitely able to be used and she could take on certain roles quite well. For instance, her role as Veronica Vaughn in Billy Madison was one that she took to quite well. The fact that this was one of Adam Sandler's manchild moments didn't really make a big difference since as campy and as cheesy as the movie got, Elizabeth was one of the high points since she took her role seriously and did very well with it. Plus, as a lot of people should be able to guess, she was eye candy in a very big way since she was the love interest of the lead character and she was a very confident and competent character that wasn't swayed by Billy or the prospect of getting together with a rich individual. That kind of character is usually a breath of fresh air since it restores a bit of faith in humanity. While Veronica and Billy did end up together in the end it felt at least partially earned since Billy had to change throughout the movie in a big way, and because of that, it was a little more acceptable to have him finally end up with the one woman in the movie that wasn't a complete basketcase.
Another obvious role that people probably remember her playing is that of Sonya Blade, from Mortal Kombat. The first big movie to showcase this franchise, which was still growing at that time, showed off all of the original characters, with Sonya taking on Kano in a bout where she ended up snapping his neck. What's really amusing about this is that Elizabeth wasn't the first choice for this role since it was meant to go to Cameron Diaz at first. Unfortunately for Cameron, she broke her wrist during training, and Elizabeth was plugged into the movie and had to kind of learn the moves on the fly. Just imagine being selected for a movie as a replacement and then told that you were going to have to learn how to fight that quickly. To her credit, she didn't look too bad during the movie, but it's pretty easy to think that the camera angles and various shots had to be manipulated at times to really showcase the better moments and cut out anything that might have revealed that she wasn't quite as good as she needed to be. Hey, it worked, fans watched the movie and didn't start badmouthing it until later. Another role that some folks should remember her in is the House on Haunted Hill remake, in which she plays a media journalist that's looking for a new story to get her back on top of her field. Unfortunately, this means that her character is one of those that will go into the dark, uncertain shadows where evil lurks in search of the next big scoop that will revive her career. In other words, her death was planned way in advance, and it wasn't too hard to think that it was going to happen the moment she stepped away from the group.
She did come back to lend her voice to the character she helped with in the past, Sonya Blade, for Mortal Kombat 11. But apart from that, it feels as though she's been enjoying her time away.