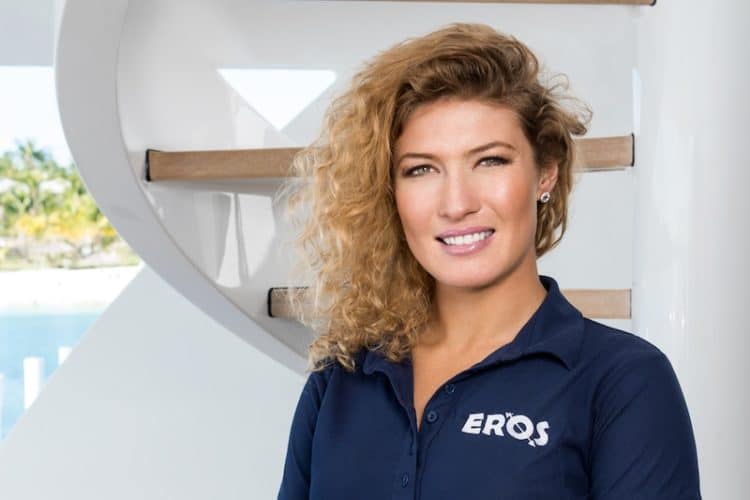 Viewers of the Bravo series 'Below Deck' have been introduced to some interesting characters since the show first aired in July 2013. The series is about a group of young people who work aboard a mega-yacht during the charter season. 'Below Deck' shows their working lives and also covers their personal relationships. While some people get on like a house on fire and have even developed intimate relationships on the series, other people can't stand other members of the crew and this has led to fireworks.
One particularly memorable character was Raquel 'Rocky' Dakota. In season three, she was the 3rd stewardess. Her turbulent relationship with Kate Chastain, the Chief Stewardess, became the main talking point of the series and had viewers tuning in just to watch the pair's confrontations.
Unlike Kate Chastain, who has remained in the cast since joining in season two, Rocky Dakota decided that one season of the series was long enough for her. After appearing in only season three, she quit the show to enjoy new ventures. If you were a fan of this cast member, then you may have wondered what Rocky Dakota has been up to since leaving 'Below Deck'.
In the first few months after leaving the series, Rocky Dakota started a new life traveling. However, she also took on occasional jobs working as either a stewardess or a chef aboard boats out of Florida. In this sense, her life was not much different from what viewers had seen when she featured in 'Below Deck'. The only difference was that she didn't have a camera following and documenting all her actions.
In December 2016, Dakota decided to move to Oahu, Hawaii. She had lived in Hawaii previously as she had studied in that state for her BA in History at the University of Hawaii at Manoa between 2006 and 2010.
Sadly, not everything has gone well for Rocky Dakota since leaving 'Below Deck' as she has faced personal tragedy. Her younger sister, Sophia Tiare Bartlow, was tragically killed in a car accident in January 2017. Prior to her death, she had been a stand-up paddleboard champion. Dakota shared the horrific news of her sister's death with fans in a series of emotional posts on Instagram.
Her posts showed pictures of her sister looking happy on the beach with her paddleboard. She said that she was heartbroken and lost for words following the tragedy and that she was trying to work through the different stages of grief.
Despite the tragedy, Dakota has also had happy moments in her life since leaving 'Below Deck'. Her main source of happiness has come from a relationship with a new man. Although she did not name her man, she featured many photographs of them together on her social media pages and shared with her fans when they celebrated their one-year anniversary together.
Most of the photographs she posted showed either her boyfriend or the pair together enjoying times on the beach or in a boat. This shows that a coastal lifestyle remains important to Dakota as it has done since her childhood. She was raised in a Californian aquatic circus by her parents who are both eco-activists. While her dad is a surgeon, her mother is a pioneer and world-champion surfer.
Dakota followed in the footsteps of her parents and became a competitive surfer and diver. She also enjoyed traveling the world. After gaining an athletic scholarship to study history at university, she went on to attend a culinary school in New York City.
A combination of her passions for life at sea, traveling, and cooking led Rocky to working on the yachts as either a chef or a stewardess. This is something she is continuing to do between enjoying her life to the full. Sadly, she has no plans to return to 'Below the Deck' despite continuing to work in the same industry. While fans of Rocky Dakota may be sad to hear this news, there is one person who definitely won't be inviting her back on board.
Kate Chastain, who Dakota enjoyed a fiery relationship with in season three, has made no secret of the fact that she is glad that Dakota is no longer on the series. While she has had trouble with other stewardesses since, she has described Dakota as being a whole different bag of crazy.