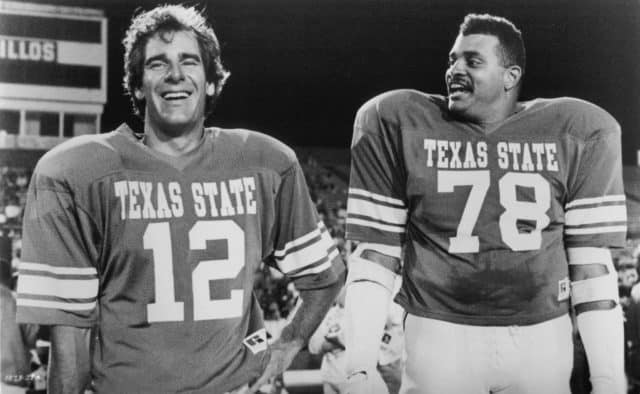 It wasn't the instant hit that so many people like to see with sports movies, but it was by far not the worst. Necessary Roughness even had a feel to it that made it more endearing to fans simply because the team was made up of a bunch of people you wouldn't ever expect to come together as a team. And, it had a female kicker, which was largely unheard of in those days just as it is now. But the unconventional coaching methods, the ragtag team, and the entire effort of making it work created a film that a lot of people won't be likely to forget.
So what's been going on the with the cast since then?
Scott Bakula – Paul Blake
Bakula has been a busy man since Necessary Roughness and has built up quite a resume since then. He actually finished up with Quantam Leap a couple years after the film and then went on to become a popular yet lesser known and very hard-working celebrity. His appearances were often applauded considering that he did happen to star in one of the hottest shows of the early 1990's. As of today he is still working between film and TV and has taken on the role of Dwayne Pride in NCIS: New Orleans.
Sinbad – Andre Krimm
Things haven't been all roses for Sinbad since his role in the film. He's had his ups and downs but has mainly been working his comedy routine wherever he can get a gig. The Sinbad Show aired in 1993 but was cancelled in 1994, leaving him to go back on the circuit and keep working his stand up. Since then his celebrity status has been kind of up and down considering that he had to pay back over $2 million in taxes and eventually give up his hilltop home.
Kathy Ireland – Lucy Draper
Ireland is perhaps one of the most successful cast members from this movie as she is currently an author and entrepreneur worth hundreds of millions. Her days of modeling are pretty much over, but she's still a knockout.
Robert Loggia – Coach Wally Rig
With a career spanning six decades Loggia is a certified legend in the film industry. He's done just about everything there is to do from film to TV. Sadly he passed in 2015 from complications due to Alzheimer's Disease. He will be missed.
Hector Elizondo – Coach Ed Gennero
It would take an entire article just to write about Hector. Much like Bakula he is a tireless, hardworking actor that has countless roles in film and TV. He's done voice-over acting as well and has a vast array of credited parts that he has executed flawlessly for various cartoons. It's quite impressive to say the least.
Peter "Navy" Tuiasosopo – Manumana
The runt of the litter, as he says in the film. He's been fairly busy since the film, doing background acting and cameos in TV and in film. He's never had any roles bigger than Manumana, but in truth he seems to be happy doing the personable big guy act. Personally I think he's got the acting chops to do more, but people tend to find the spot they want to be in.
There's a whole lineup of cast members that went on to do so much more, but those listed above stood out the most. Almost everyone on the Necessary Roughness cast went on to do something impressive with their career, as the film almost seemed like the leg up they all needed.