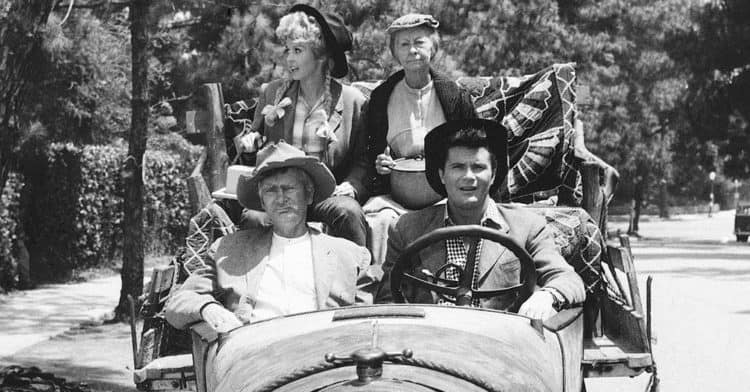 If you didn't grow up watching the Beverly Hillbillies at least once then this article might seem a little confusing since they were one of the funniest families in the history of the sitcom. A lot of people dreamed about making it big once they saw this show, but thankfully people didn't go shooting holes into everything just to see if it would strike oil. The tale of the Clampett's is one that a lot of people still remember and happen to love since it was so unreal but so entertaining that you couldn't help but laugh. Whether it was the ridiculous antics of Jethro and Granny or the appeal that Elly May brought to the show, people absolutely loved it and would tune in whenever the show was on. The opening them was pretty catchy too.
But what happened to the cast members?
Max Baer Jr. – Jethro Bodine
Max is the only surviving member of the original cast and has had his fair share of ups and downs since being on the show. As far as acting goes he was typecast in such a way that he never really reached the level of stardom that he wanted and instead went on to be a producer and a director, working primarily behind the camera as his career continued. After a while he had the idea to create a Beverly Hillbillies-themed casino but the first attempt failed as he tried to redevelop a WalMart as his desired location. The second attempt is still currently suspended unless something has changed, though it's hopeful that he'll get things going again.
Irene Ryan – Granny
Irene almost lost the part of Granny to another actress but thankfully was so feisty and convincing in her reading that the role was given to her almost immediately. Throughout her career this was probably one of the most memorable parts she ever did since she went back to singing and dancing shortly after the show wrapped up. She passed away at the age of 70 after suffering from a malignant brain tumor that caused her to collapse on stage. Throughout all the sitcoms that have come after this one Granny was perhaps one of the most well-known and well-respected figures out of any of them.
Buddy Ebsen – Jedd Clampett
If Buddy hadn't done another role in his life he would have still been remembered as Jedd Clampett more likely than not. He was simply that great and there was no one else that could have taken the role and ran with it so easily. To many he was the cornerstone of the show and was one of the only ones that couldn't have been done without. After his time on the show he went on to continue acting here and there but nothing ever really brought him the same kind of fame as he experienced while being Jedd. He did manage to get a cameo in the film version of the Beverly Hillbillies but apart from that he was retired at that time and wasn't doing much at all. He passed away due to respiratory failure in 2003.
Donna Douglas – Elly May Clampett
Like a lot of other people that had to deal with this issue Donna was typecast after the Beverly Hillbillies and was unable to do much more in getting her career to take off. She went on to become a gospel singer for a while and even practiced real estate for a bit. But nothing ever really kept her from going back to show business as she felt that this was where she belonged. Before she'd even gotten started she was a complete unknown, so she had to seriously outdo a lot of other women to get the role of Elly May. You would think this should have been enough, but the only role that ever really immortalized her was the one she took on the show. Donna passed away from pancreatic cancer in 2015.
A lot of fans will remember this awkward but funny family from TV and probably be able to sing the theme song without having to hear it. The Beverly Hillbillies were after all a favorite show back in their day and inspired a lot of other ideas that came much later. The attempt to make a movie out of the show wasn't all that successful and kind of left a bad taste in a lot of peoples' mouths since it was such a poor attempt that even watching the trailer was something that people didn't want to admit for a while. But the memory of the show should be enough to suffice, and the work done by the original cast is great enough that watching the reruns should make it all better. Sometimes the best thing you can do is remember the good times and think back to the original cast that made it something special.
Tell us what's wrong with this post? How could we improve it? :)
Let us improve this post!