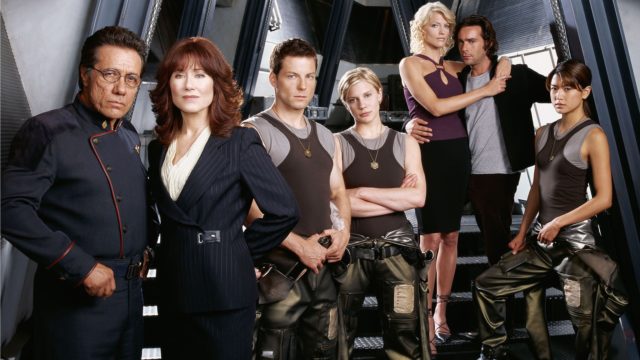 When Battlestar Galactica is brought up, some people will recall the 1978 series, but most people will recall its 2004 remake instead. However, it has been more than a decade since the remake started running, meaning that some people might be curious about whatever happened to its cast members.
Here are some examples:
Edward James Olmos
Fans of Battlestar Galactica will remember Edward James Olmos as William Adama on the 2004 remake, but it should be noted that he had a successful career before the series and he has continued to have a successful career since the series. Some of his best-known roles range from Martin Castillo on Miami Vice to Jaime Escalante in Stand and Deliver, while in more recent times, he played a S.H.I.E.L.D. leader in Marvel's Agents of S.H.I.E.L.D. and is set to appear in both Blade Runner 2049 and The Predator.
Mary McDonnell
On Battlestar Galactica, Mary McDonnell played the role of Laura Roslin, who started out as Secretary of Education but rose to become the head of the human survivors via the line of succession. Since the series, she has appeared in a couple of movies, a few TV movies, and a few TV shows. People who watched Fargo might recall her as Ruby Goldfarb, while people who watched Major Crimes should recognize her as Commander Sharon Rydor, seeing as how she has been the lead character for five seasons and counting.
Katee Sackhoff
Like a lot of the other names on this list, the actor for Kara "Starbuck" Thrace, Katee Sackhoff, has continued working in both movies and TV shows, with examples ranging from Riddick to 24 and Longmire. Furthermore, it is interesting to note that she has been active as a voice actress as well, as shown by her appearances in both Star Wars: The Clone Wars and Star Wars Rebels as well as a number of video games.
Jamie Bamber
Jamie Bamber played Lee "Apollo" Adama. He continues to appear in movies, TV shows, and voice acting roles as well as the occasional appearance in radio serials. In recent times, Bamber might be both recognizable as the lead on both Monday Mornings and The Smoke, though both TV shows were cancelled after just one season.
James Callis
James Callis is still best-known for his role as Gaius Baltar on Battlestar Galactica as well as Bridget Jones's best friend Tom in the Bridget Jones franchise. As a result, it should come as no surprise to learn that he reprised his role as Tom in Bridget Jones's Baby, which came out in 2016. Otherwise, some of his recent roles included the Dodger in Arrow, Emile Bonnaire in The Musketeers, and the voice of Alucard in the recent Castlevania animated series.
Tricia Helfer
After her role as Cylon Number Six, Tricia Helfer remains active in movies, TV shows, and video games. For example, she made an appearance as the Espheni Queen in the series finale of Falling Skies, while also voicing the character Sarah Kerrigan in the three games that make up Starcraft 2. Currently, people might recognize her as Lucifer's mother on Lucifer.
Grace Park
Recently, most people will recognize Grace Park as Officer Kono Kalakaua on Hawaii Five-0, which is her most famous role besides her time as Shannon Ng on Edgemont as well as her time as both Sharon "Boomer" Valerii and Sharon "Athena" Agathon on Battlestar Galactica. Recently, that role as come to a conclusion because of Park's refusal along with co-star Daniel Dae Kim to accept a lower salary than their white co-stars.