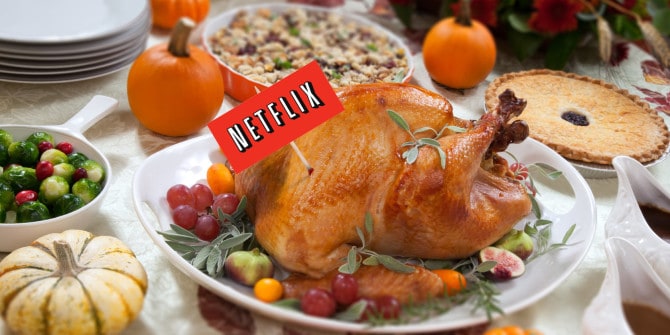 Well, the holidays are upon us and the mood has shifted from the transitory phase of saying a final farewell to the lingering remnants of summer and fully getting into the last part of the year as people scramble to get everything together for Thanksgiving and then Christmas. It's a time for stream networks like Netflix to scramble as well since they need to keep giving people a reason to watch what they have to offer or risk losing a lot of viewers to the other channels that have been established for quite some time. Just in case people weren't aware of it somehow, channels such as Lifetime and Hallmark still tend to rule the holiday seasons as their sappy but desired programming is enough to keep a lot of people watching since they offer a lot of feelgood movies that don't require a lot of serious thought. But Netflix isn't just laying down this holiday season as it's rushing full forward to give us some of the best programming it can.
Here are a few shows and movies that we're looking forward to.
5. Sugar Rush Christmas
Cooking and baking shows are pretty much a year-round thing but when the holidays hit it's nice to see just how into the spirit a lot of people can get in the kitchen. While the savory side of things gets interesting and quite tasty, the one delectable part of the holidays has to do with the sweets and pastries that are rolled out on a continual basis since the artistry and the flavors that go into making a great number of such sugary delights is just amazing. Some of them even go so far as to defy gravity as much as they can, while others simply go for an explosion of flavor that works out at times but kind of backfires now and again.
4. Let It Snow
Let's be honest, relationships throughout the year are hard to figure out quite often and don't actually need the holidays to be complicated. But for some reason the holidays seem to exacerbate the idea that relationships really need to be so difficult. Whether it's just telling someone how you feel or coming along to change their life in some fundamental way, the holidays are a perfect vehicle for showing the difficulties and dynamics between people since it's the time of year when emotions are running high and everyone wants to be happy but a lot of people don't seem fully capable. This continues onward until Easter it seems to be honest.
3. Klaus
There are dozens of stories having to do with Santa Claus in so many different ways, but an animated feature is usually nice since it tends to defy the limits of reality more often and creates a story that's a little richer for the fact that fantasy is a key component that the people get to see rather than imply with their own imagination. But in this movie it would appear that a town that is known for its people being nasty to each other is actively trying to keep the Christmas spirit from being felt, and it does seem like it will be a fierce battle to the end to bring a little bit of joy into an otherwise joyless place. And yes, it does sound as though Joan Cusack will be a part of it.
2. Holiday in the Wild
Some of these have already come out and are therefore able to be watched, but they're still those that have been anticipated since they star very well-known actors and are touching in ways that a lot of people expect when it comes to the holidays. One thing that people have to remember is that Christmas might be seen as a very exclusive holiday in a lot of parts of the world, but it's known so well that people have taken to celebrating it in their different ways around the globe. Sometimes though it's more about community, family, and getting together with those you care about than the gifts and the glamour of it all.
1. Merry Happy Whatever
There's nothing quite like trying to live up to the ideals of your girlfriend's family, especially when you get the impression that her father is either on the fence about you or is trying to drop hints that you might need to back off a bit. This makes the holidays kind of awkward to be honest since not only is it a time that a person might want to drop some very important news, but it's also the time when devastation comes in the form of snide relatives and those that might not think a person is good enough for their family member. Note, if it's a father and a daughter then the sad truth is that for a while, NO MAN will ever be good enough in the father's view, no matter if they like them or not.
Those are just a few shows that we're looking forward to, there are a lot more to see.