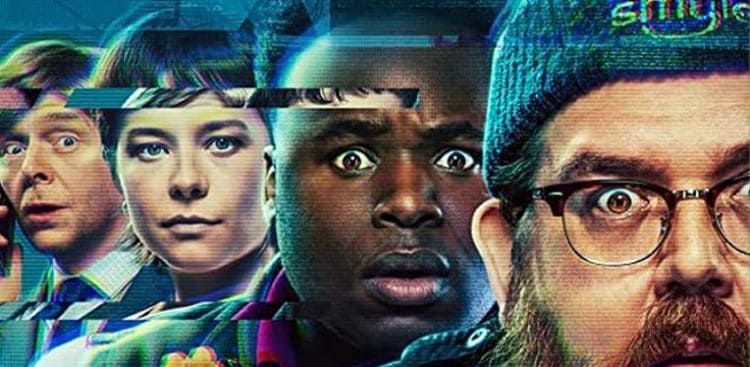 Amazon is making it clear that they're coming to play when it comes to the streaming game, and they're not kidding around. However, Truth Seekers might be a series that will make actual paranormal investigators cringe slightly since the whole idea of Simon Pegg and Nick Frost taking on this kind of work might make a person question just how valid any of the practices within the show are going to be. But that being said and put aside for the moment, it does look like it might open itself up for a bit of laughter as well as a good amount of horror since the whole idea of our world being stacked alongside so many others is one that isn't exactly new, but doesn't get explained or explored all that often. Ghosts are usually given one explanation or another that has more to do with why they're still around and what purpose they serve, though thinking that there's a world that exists beside ours, underneath it, and possibly all around it, is kind of creepy and should make for a good premise, especially with Pegg and Frost involved since the two can bring a great sense of comedy, drama, and even action to the series considering how effective they've been over the years.
Of course, Truth Seekers isn't just about ghosts, but also the more demonic entities that might surround us at all times and seek to subvert and ruin humanity for their own nefarious reasons. Bringing that element into play is going to be kind of interesting since we've seen Pegg and Frost with zombies and aliens, but with the supernatural, it could be a new kind of interesting that might take them down a very different road than anything we've seen to date. As I said though, it's likely that paranormal investigators in the real world might feel a big amount of cringe for this show, but it's also possible that they'll enjoy it as well since it's bound to be pretty funny given the actors that are starring in it. Both men have starred in shows and movies where they might not have been expected, but this somehow feels right up their alley and could possibly lead to something successful if the first season performs well enough. Anything about the supernatural is, like any other show, hit or miss, but it does have a distinct advantage since there are a lot of people that will watch it just to see if it's any good, while with other genres a person might just avoid the show entirely if it doesn't sound entertaining.
It's interesting to wonder if this is going to be a show that will spoof the paranormal in any way or if it's going to be entirely serious the whole way through with comedic bits thrown in to make it a little more palatable for everyone. The supernatural is, after all, something that does lend itself quite a bit to the spoof treatment, but looking at the trailer it does feel that Truth Seekers will be a little more serious than that and will stick to a well-rehearsed script that will throw enough comedy at the audience to lighten the mood now and then, while still delving deeply into the whole supernatural vibe. If you've ever studied the supernatural or how paranormal investigators work then you'll know that much like any other discipline it is real and it does yield results at times, though there's a lot more legwork and documentation to it than most shows or movies will depict, as people always want to get to the action rather than realize that there is a lot of work that goes into being a paranormal investigator. Some people go for decades without seeing much of anything and yet still hold their belief in the spiritual world that rests just beyond our own. But there are guidelines that are to be followed when taking on this kind of position since it's not something to be taken lightly, especially without knowing what one is stepping into. This show already looks like it's going to be covering such perils, and possibly at the expense of its own characters.
It does look like it would be worth the watch and with Frost and Pegg there it's enough to think that people will be interested just to see what it's all about. Paranormal investigation has been a big topic for a lot of years and it's easy to believe that it always will be since people want to know what rests beyond the mortal coil and are willing to be shocked, horrified, and overall entertained for a mere glimpse of what imagination can bring them. At the very least, it might be a good laugh given by two guys that know how to deliver.