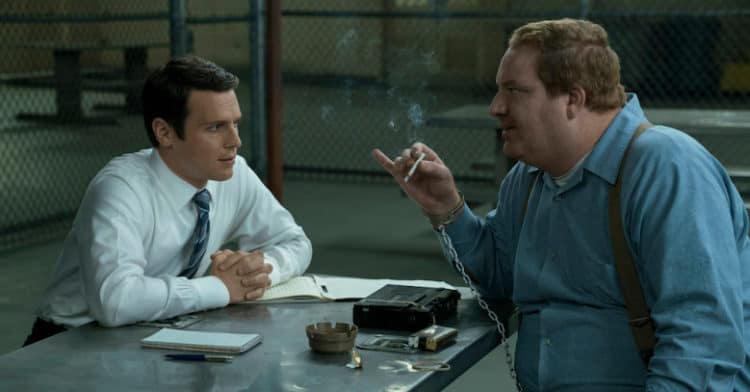 Fans of Mindhunter can finally relax: after a long wait, the much anticipated second season is almost here. Based on the 1996 book, 'Mind Hunter: Inside the FBI's Elite Serial Crime Unit', the show revolves around a team of FBI agents as they delve into the minds of convicted serial killers to help them crack a new wave of unsolved crimes. The first season, which saw David Fincher take on the role of executive producer, took Netflix by storm: within just a month of its premiere, it had already been renewed for a 2nd season. Scheduled to air on August 16, the new season is expected to build on the success of the first as it plunges us back into the world of true-crime, serial killers, FBI agents, and 1970's fashion. Fincher is back at the helm and is expected to add his directorial magic to both the season premiere and the finale. Viewers hoping for a taste of what's to come were recently treated to a little teaser in the shape of the official trailer- if you missed it, here's a peek into what we learned.
A Return of Old Faces
Season 2 of Mindhunter may introduce us to some new characters (more on which shortly) but expect to see plenty of your old favorites returning for a second round of thrills and spills. Everyone's favorite tough nut investigator, Bill Tench (Holt McCallany), is back at the heart of the action, as is fellow FBI Agent Holden Ford (Jonathan Groff). Despite the Behavioral Science Unit facing an uncertain future at the end of season 1, the pair seem to have reunited, at least if their visit to coed killer Ed Kemper (Cameron Britton) is anything to go by. "How do we catch a fantasy, Ed?" Tench asks as he and Ford attempt to enroll Kemper's help in catching a new (and so far, unidentified serial killer). "If he's any good, you can't," Kemper replies. Pessimistic much, Kemper?
Along with Tench and Ford, Anna Torv as psychologist Wendy is also confirmed to return, while EW has also indicated that Joe Tuttle is set to reprise his role as rookie agent, Gregg Smith, while Stacey Roca is returning as Bill's wife Nancy. New cast members include Albert Jones as an expected agent, Lauren Glazier as a potential love interest for Wendy, and Michael Cerveris and Sierra McClain in as yet unknown roles. At present, it's unconfirmed whether Hannah Gross will be back as Holden's girlfriend, Debbie. While Gross has been non-committal (telling Vulture) "I don't know, and I can't say. I can't say, and I don't know!"), it seems a safe bet to assume she will, even though season 1 did witness the end of her relationship with Holden.
The Introduction of Manson and Son of Sam
If you were silly enough to blink during the 1-minute long trailer, you may have missed the brief shots of some of the new faces set to feature in the upcoming season. Key among them are serial killers Charles Manson and David Berkowitz (Son of Sam). Charles Manson is to be played by Australian actor Damon Herriman, who, coincidentally enough, will also be playing the infamous cult leader (although in a slighter earlier incarnation) in Quentin Tarantino's historical crime film set during the era of the Manson murders, Once Upon a Time in Hollywood.
The BTK Killer is back
In addition to Manson and Berkowitz, the trailer also offered a glimpse of a masked BTK Strangler. Anyone familiar with season 1 will know BTK from the finale's creepy final image (not to mention most of the season's unsettling opening segments). While the constant references to BTK in season 1 would lead us to presume he'd be at the center of the new season's action, it's likely he'll remain a shadowy figure for a while… if for no other reason than how real-life Strangler (aka Dennis Rader) managed to escape arrest all the way up to 2005 (despite the fact that, like the Zodiac Killer, he would often write long, involved letters to the police and media, taunting them with the details of his crimes and identity).
A New Focus on the Atlanta Child Murders
During the trailer, we saw a number of images that seemed to be set in Atlanta, giving a clue as to the central story arc of the new season. Executive producer and director David Fincher has previously confirmed that season 2 will focus on the Atlanta child murders that took place in Georgia between 1979 and 1981 (as well as hinting at how this will influence the show's soundtrack): "Next year we're looking at the Atlanta child murders, so we'll have a lot more African-American music which will be nice," he told Billboard. "The music will evolve. It's intended to support what's happening with the show and for the show to evolve radically between seasons."
In real life, Wayne Williams was sentenced to life imprisonment for the murders, but despite his conviction, he has always maintained his innocence (with many supporting his claims that another serial killer was responsible for most of the deaths). How Mindhunter will deal with this, we'll have to wait and see.
Another Potential Serial Killer?
In addition to the official trailer, Netflix has also been kind enough to offer some additional insight into the new season via the 200 stills it released to the press earlier this year. As EW confirms, one such image shows Ford's team standing in front of a whiteboard with the words "Bateson-Bag Murderer" and "dismemberment of gay men" scrolled across it. The clip suggests that, in addition to Manson, Son of Sam, the Atlanta Child murderer, and BTK, we're likely to see yet another serial killer joining the mix in the form of Paul Bateson, a convicted killer who was the prime suspect in a series of unsolved murders of gay men known as the "the bag murders".