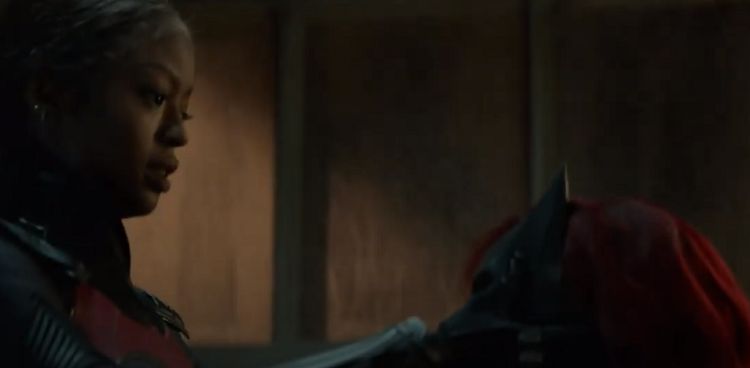 "Time to be powerful." This could be a positive and uplifting statement, or it could be another lead-in to a show that managed to anger a lot of people when it came to Kate Kane pushing a feminist idea with her words in the first season. Saying as much might be a risk simply because it might be deemed as an attack or the wrong kind of response to a woman of color taking on the role of Batwoman in her own way with her own style. As it's already been stated, the outfit that she's seen putting on in the teaser isn't going to be the final form, as she'll be getting her own unique look that will go a long way towards developing her own identity as Batwoman and giving her a different attitude altogether. It's almost as though this is happening in front of everyone and no one is expected to realize that this happened with Ruby Rose but is now happening with a POC, so things are somehow…different. Javicia Leslie is already extolling the virtues of the new Batwoman and a lot of people are likely going to be on board with her without fail, but at this point, the heroine has been much more convincing as an animated character since Ruby Rose's character had to break ground and really prove herself not just because she was a female superhero, but because it did feel as though she was pushing the idea that Batwoman was far more efficient than Batman.
In short, the idea of needing to provoke a response from the audience wasn't all that successful in the first season since it ensured that Batwoman would have a lot more prove if she was going to be effective on screen. The same thing applies to pushing the idea of a POC taking on the role this time around, and the hope is that the attitude of "I'm here and I'm better, deal with it" isn't going to be what the show will lead with. Adding more diversity in the superhero game isn't an issue in the least, it's the act of shoving it in the audience's face that becomes a problem since people will watch just about anything that's given to them so long as it's entertaining and can keep their attention. But overloading them with the idea that the character is going to challenge their viewpoints and what they believe in every step of the way isn't the safest play since alienating the fanbase has almost never been a smart idea. Batwoman season 1 had this challenge since the character of Kate Kane was made to be ultra-cocky and made it clear that Batman's arsenal and many different gadgets would only be perfect when they were suitable for a woman. The better idea would have been to state that after changing them they would 'perfectly suited to a woman' simply because this offers less of a challenge to the fans and can ease them into the idea that Batman's arsenal isn't one-size-fits-all. If anyone has ever thought that it was they were shown differently in season 1.
The whole issue of Ruby Rose not fitting in with the role is kind of odd since the shifting ideas that have been taking place over the last few years have been odd, to begin with. First, there weren't enough women in superhero movies, then women weren't being given big enough roles, then it became a race issue that POCs weren't being given enough representation, then POCs weren't being given big enough roles. One has to wonder just what's going to be the next hot button topic that affects the superhero genre since the shifting trends have done enough to convince a lot of people that once one demand is given into there won't be much to stop other demands from being pushed and possibly met since the precedent has been set. It's interesting enough to make the superhero genre diverse since when one looks at the comics there really are a lot of heroes and villains that haven't been tapped yet that could add a lot to the overall story that's being told no matter what universe it's in. But focusing on race, gender, and whatever else one might want to push as far as inclusivity is concerned is becoming more than a little tiresome since the awesome nature of a superhero doesn't exactly need an extra push to get it going so long as the story is sound and the characters are strong enough to stand on their own two feet.
In a big way, being proud of anything other than the fact that one gets to play a superhero is fine, but using that to push the idea that THIS or THAT figure is even better because of who and what they are gets kind of old, and very quickly.