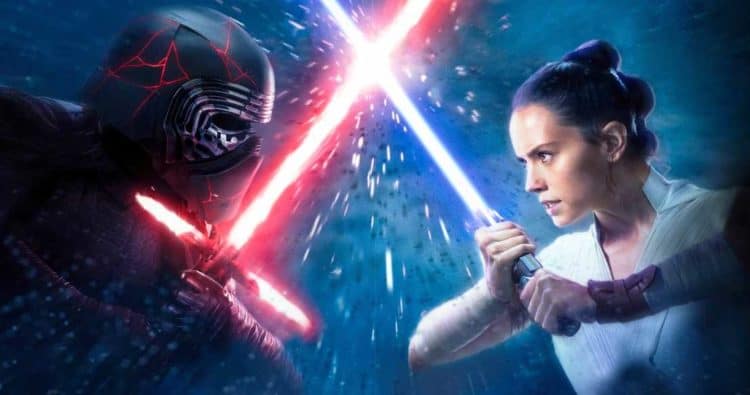 If you haven't watched this trailer then go watch it NOW, because it's worth it and it does raise a lot of interesting questions as to how the whole thing is going to end. Megan Crouse of Den of Geek! has a few predictions that people might want to read, but there are a lot of things we can guess at, some we can say for certain, and some that seem to be built up to a level that seems almost too high to really try scaling at the moment. What is going to happen is that this will be the last in the Skylwalker line as we've been told, which could easily mean that Rey is actually NOT a Skywalker as so many people still want to believe, Kylo Ren will finally meet his end, or something that we're just not being shown as of yet. What it does seem like is that we will be seeing the influence of Emperor Palpatine even if we don't necessarily see him that much, though it'd be wise to not show him at all since to do so would almost be to ruin the effect. Simply hearing his voice speaking in such dire tones as he did with Luke in Return of the Jedi is enough to chill the blood and make one think that the master tactician has another trick or two up his dark sleeves and will be rolling them out as of now. It could be that the theory of him being somewhat responsible for Rey being born might bear out eventually, however unlikely it might seem.
The Rebels are still fighting and are still standing as firmly as they can against the First Order, which apparently has ships that can break through solid ice as you see in the trailer, and are gathering more and more people to their cause as they seek to stand against tyranny and the dark forces that threaten to eliminate them. There's not much doubt that if Poe hasn't taken control of the Rebels that he's still being listened to by those that have assumed command, but it'd be a lot better to see him in the field more often where he seems the most comfortable than sequestered in a command bunker, where he might be a lot more edgy considering that he's a pilot and he likes to be out in the action. You could have said the same about General Leia Organa, but during The Force Awakens and The Last Jedi it was kind of obvious that she was a bit too old to go wandering in the field and risk getting shot down, otherwise her fiery spirit wouldn't have allowed her to sit in the command room either. As it was her expertise in a command situation was perfect since it allowed her to lead by inspiration as well as experience. But when it comes to Rey, and Finn, and all the others, their place is on the battlefield obviously as this is where they're most effective.
Another thing we see is that C-3PO seems to be readying himself to say goodbye, which as Olivia Truffaut-Wong of Bustle would indicate is cause for great concern to a lot of fans since the golden droid has been there since the beginning and has been one of the favored characters of the franchise for a long, LONG time now. In fact he's one of the first two characters we saw when the movie started up, and trying to imagine Star Wars without him, or without being to think that he was out there somewhere in the galaxy, is kind difficult even now. One can only hope that if he does meet his end in this movie that he'll be given the kind of end that's fitting for a Star Wars legend and not be allowed to simply fade away after a mock battle that leaves him drained and unable to do anything else. It seems like a fine time to say that Disney was given a gift despite the expense and has actually managed to squander a couple of great characters already, no matter how much some folks want to say that it needed to happen this way.
Lando is back obviously, but it will be interesting to see in what capacity and how many scenes he'll actually be in since one of the big points of this trilogy seems to be saying goodbye the old and bringing in the new. That kind of makes me wonder if R2-D2's number is going to be up too, but that seems kind of ludicrous since the astromech has survived so many different mishaps throughout the years that simply crossing the droid off the board now seems like it would be an inexcusable offense if Disney made such a decision. Bea Caicoya of CBR has a few things to say to this as well, but tt wouldn't be the first time unfortunately. One thing that you should know about this movie is that the expectations are quite high, higher even than they were for The Last Jedi since the middle film was almost universally hated. No pressure, right?