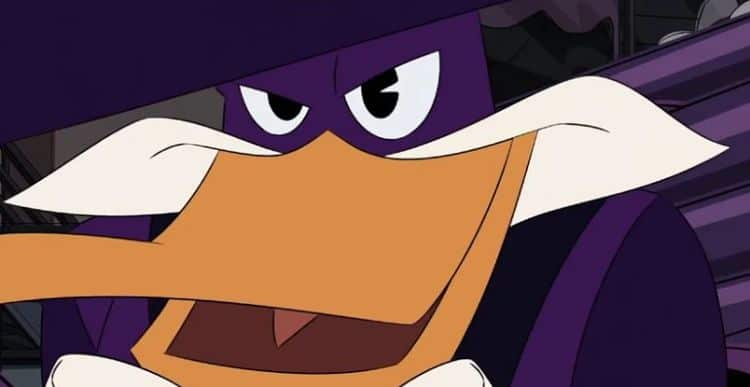 There's no need to state the obvious that Ducktales is definitely different from what a lot of us remember, but there are still plenty of things about it that are familiar, and it would appear that another one is coming this next season since it would appear that Darkwing Duck is making a splash when four supervillains make their way into the Ducktales universe to wreak havoc. Back in the day, Darkwing Duck had his own show and actually shared Launchpad as a similarity with Ducktales, but it would appear that things haven't gone quite the same way as they were when the shows were originally aired. But fans are still likely to be happy to see DW coming to the screen again since despite being kind of like a discount Batman character for Ducktales, or the Shadow, or a combination of the two, he was still a fun and engaging presence that was able to gain some popularity while he was around. The character of Darkwing Duck is one that was definitely different from any of those that he was seen to share a time slot with, but at the same time, it's because he was different that it worked in a big way. As a superhero, he was also the comic relief at times since there were moments when his whole schtick didn't really work and he ended up being more of a joke than a hero.
Ducktales has undergone a few changes since Mrs. Beakley is now the nanny as well as a bodyguard. Webby and the triplets, Hewey, Dewey, and Louie all have definite attitudes that are easy to accept given that the show has been updated, and the triplets' mother, Della Duck, has returned. Also, Della's brother Donald has taken on a more prominent role in the show since in the original show he would appear every now and then before venturing off to do whatever it was that he did for a living. In short, Scrooge was left with the triplets to start with and Webby and her grandmother came later on. The fun thing is that Mrs. Beakley was fairly tough in the old days since she did manage to fend off a few bad guys here and there, but now she just looks tough, kind of like the cartoon version of the Trunchbull from Matilda, but a lot nicer and definitely not as mean-looking. But as it's already been seen she's not one to be crossed since she'll make certain that her word is followed.
Thankfully we've seen the return of a few familiar faces such as Launchpad and Gizmo Duck, but there have definitely been some alterations to the rest of the cast that speaks of the many updates that have taken place. It's not such a big deal really since things do need to change and stuff does have to happen that might make the cartoon feel as though it's keeping with the times and catering to a generation of kids that wouldn't relate to the original cartoon quite as well. It's funny to think of things in that manner since growing up a lot of us probably felt that a cartoon is a cartoon and so on so forth. But when we look back at the cartoons that came before our time and how they were created and what kind of subject matter they contained it's obvious that things needed to change now and again in order to keep up with societal norms that people wanted to see instilled within cartoons that would influence kids and help them learn. To be certain, if there's anything to be learned from Ducktales it comes in the form of morals and ethics that are touted by the characters since otherwise it's not really an educational program unless one is going to stretch the definition in a big way.
Seeing Darkwing Duck return though could be nice since it would be a special episode to be certain since the crime-fighting mallard was an interesting character back in the day and despite being kind of hilarious as well as a decent addition to the show, it could help the world continue to expand since Ducktales was definitely a cartoon that gave rise to a couple of other characters that attempted to make good on their own as spinoffs. It didn't always work since the material appeared to dry up after a while, but it would be interesting to see if other shows could be brought back eventually since the Rescue Rangers, Talespin, and a few others could be kind of interesting to see if plans ever arose to bring them back. Disney has the time and the opportunity it would appear, so perhaps one day we'll get to see something happen with other properties that we used to enjoy as kids.