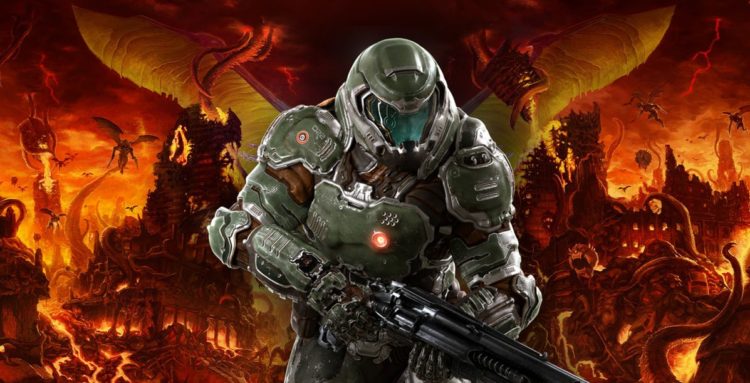 Just so people don't get too excited this isn't a show focusing on a new Doom series, but is instead focusing on the creators of the popular game franchise and how it came to be. As Ricky Miller from ScreenRant has written, Dave and James Franco are teaming up to executive produce this series that will be based on how the game came to be and how the friends turned rivals that were responsible for it managed to create one of the greatest game franchises in history. A lot of us can probably remember sitting at the computer and traversing up and down the multitude of hallways only to be ambushed, attacked, and have to fight our way out of a dire situation while pressing keys in a maddened manner so as to simply get away and blow the enemy to pieces. When it first premiered in the 90s Doom was one of the hottest games to come around, and as the years progressed it only got bigger and bigger.
It did have a serious flop that came in the form of a movie starring Dwayne Johnson and Karl Urban, but thankfully the game never really disappointed so many people at once as it still continues to be one of the more popular titles out there today. It does sound as though there's another movie on the horizon though and it's going to be released sometime this year. Hopefully this one will be something worth watching since despite the fact that it had a decent cast, the movie that was created years back had a decent start but didn't really follow through with the action in the way people wanted, or the story. This is unfortunately what can and usually does happen when it comes to adapting a video game into a movie, a lot tends to get lost, a lot gets interpreted in a different manner by the director, and the fans get noticeably upset. One would think that sticking to the source material, when possible, would be the desired goal for any filmmaker, but then again the vision of one person is bound to be different than another, and while that works in some cases it obviously didn't work in this one.
Getting back to the idea of the show, it will no doubt offer a lot of insight for those that know just a little bit about the game or nothing at all since the show seems aimed at describing the overall process that went into the game and how it came to be. It's not for certain when the show is going to be released but it is bound to shed a lot of light on how Doom was created, as Michael McWhertor of Polygon reminds us that it's going to be based on the book by David Kushner that details just how the game came to be one of the most popular ever marketed. Back in the day there were a lot of people that would look at this game and shake their heads at those who so easily mastered the keystrokes necessary and seemed to disdain the use of a joystick, but as the years went on more and more people grew used to this method and eventually Doom began to change and to evolve into something even greater than it had been when it first started. Seeing this presented on TV will no doubt a great way to learn just how things developed and came to be the way they are now.
For those that are truly interested in the show it would probably be a good idea to read the book just to understand what's coming and how to really get into it. Otherwise it could be a great deal of explanation without much context to go by, meaning that the average individual could likely become very confused and have to resort to Google to fill in any gaps that aren't addressed during the show. But all in all this could be a very interesting program and something that people who like the game and even those who show a mild interest in it could enjoy. There's a big hope that it won't ruin for anyone since explaining how something came to be can sometimes ruin the whole legend of it, but in this case it doesn't seem as though that's much of a concern since really it seems like more of an homage to something that was created a couple decades ago and is still a very popular part of the gaming world today.
One thing is certain though, the game has changed quite a bit since it's initial release, and it's going to be interesting to see how that point gets addressed. To be honest it might even convert a few people into fans of the game when all is said and done.