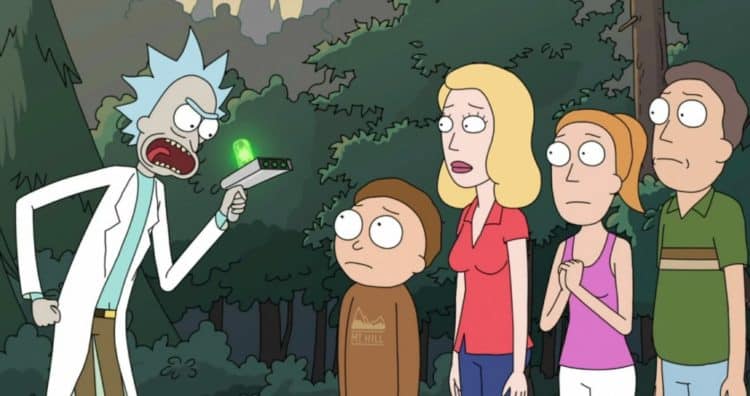 If you are into animated series with dark comedic side, then you are probably aware of Rick and Morty. If not, then you will probably want to do a little binge watching on one of the many streaming channels out there. For the fans of the show, here is the dilemma. The end of season 3 aired more than a year ago, and fans are still waiting on the premiere date for season 4. This show wacky storylines and abstract humor has served to enrapture millions of television fans since the show debuted way back in 2013. Now, everyone is wondering when is the show coming back with a new season.
According to the series composer, Ryan Elder, the episodes for season four are still in the process of being written. Once the writing of the episodes nears its end, Elder will get involved to compose the animation.
Meanwhile, there have been some not so good news reported concerning the franchise. Netflix UK has reported that they have pulled season two and three from their lineup. There was no initial indication as to why the show was pulled. Unlike traditional TV, streaming is an on-demand service, meaning that no slot has to be reserved and as long as shows are in demand they will remain in the lineup. It could be something with a licensing issue, but there is no way to know for certain at this point.
Despite the problems that are pervading the franchise for past seasons, all indications are that there will be season four. Unfortunately, it looks like the powers that be have sort of dragged their heels in getting the show into production. Not only has a season 4 been okayed by the executive producers and the managing studio, but a massive 70 additional episodes have been commissioned. To put things in perspective. All three previous season total of 31 episodes, so Rick and Morty will likely be on the air for quite some time.
At this point, no one is clear as to how many episodes the coming season will have. Justin Roiland, the co-creator of the series has been very expressive in his celebration of the extension of the series – first with an impromptu drawing he shared on Twitter, and then with a video on Instagram. The use of social media platforms has allowed companies and celebrities to leverage their fame to enhance their brand. What I did not mention about the video Roiland shot for Instagram is that is was shot while he was showering. No, I am not kidding.
Now that we are aware of the fact that there will definitely be a season four, how long will fans have to wait for it? Unfortunately, all indicators are that is will be quite a while before the fourth season of the series takes to the air. There is a lot that goes into the production of animated series and it will be some time before the entire process is completed.
In fact, there is a scene in the season-3 finale in which one of the popular bring-back characters, Mr. Poopybuthole, suggests so subtlely that the fourth season would a long time in the making. Right now, most people who are in the know are suggesting that fans may have to wait until the end of 2019 to be entertained with new material. However, there is a possibility that a Christmas special for 2018 is in the works. There is nothing written in stone, but I would keep my eyes and ears open for any announcements.
Account to Ryan Ridley, one of the writers, the show could be done at a much more rapid pace, but the powers that be are simply not in a hurry to push the process along. Ridley has been quoted as saying all of the major players spend more time partying than working. That is definitely one way to shelve a project. Hopefully, this will not become a theme moving forward.
The current writing team, which include Roiland, have been in the writing room as far back as June of 2018, but there is still more writing to be done. Based on an interview of Roiland by Entertainment Weekly, season four will likely air between 10 and 14 episodes.