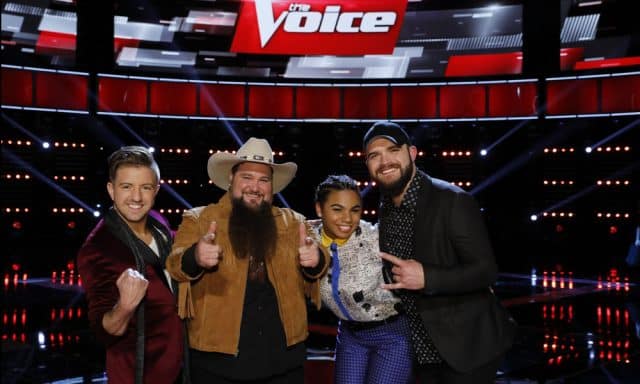 Tonight starts the The Voice season 11 finale! This two-day extravaganza will of course have performances from the top four: Billy Gilman, Wé McDonald, Sundance Head, and Josh Gallagher. However, there will also be guest performances from the group The Weekend and the legendary superstar rocker, Sting!
[youtube https://www.youtube.com/watch?v=nyw_nuMPUS4?rel=0]
For those that are blue about their favorites being eliminated, there is some more good news.
SURPRISE GUYS!!! Tune in to The Voice Mon&Tue!! I will be back with my Top12 fam performing for the Finale🙌🏾🙈 Super Excited! Dont miss it!

– Ali Caldwell (@iamAliCaldwell) December 10, 2016
That's right, the top 12 will be back to perform! Granted, I'd love the eliminated semi-finalists – Ali Caldwell, Christian Cuevas, Brendan Fletcher and Aaron Gibson to be able to do one more song. It was hard saying goodbye to them, but they seemed okay with it. Especially Ali….
[youtube https://www.youtube.com/watch?v=AYSEWst3YXk?rel=0]
I wonder what she meant by "Good things are already happening!"? Who knows, maybe she and Brendan are going to form a band! Goodness knows their duet is one of the best performances of the season!
The Voice Season 11 Finale – Who Will Win?
This is a hard one to call. Normally I'd just go with who has been selling the most and the longest on iTunes. That person would be Billy, with Sundance and Wé vying for second. This season though, iTunes hasn't been the usual reliable predictor – and honestly, that's a good thing. Part of reason iTunes hasn't been the deciding factor is that it's been a times five multiplier instead of a times ten. In any event, because the voting has had more influence this season, I'm going to say that it's going to come down to Billy & Wé for first place. If Wé knocks it out the park like she did with a couple of her earlier songs I think people will vote for her. The kid that everyone made fun of ends up winning it all just makes a better story.