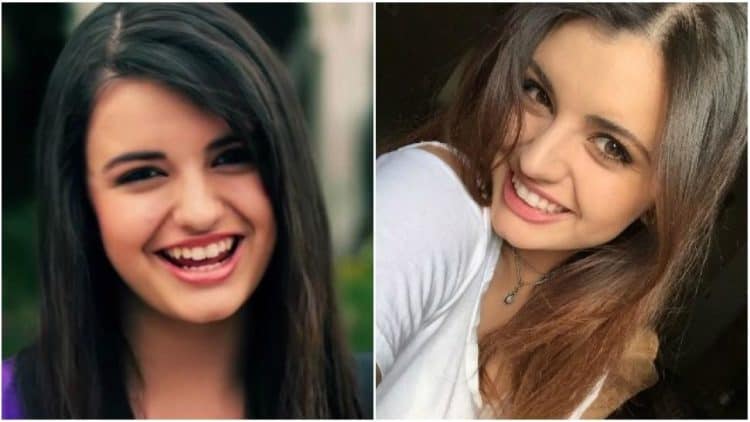 Rebecca Black's story kind of reads like a cheesy self-help brochure in a lot of ways starting with 'I was down and out at one point, no one liked me' and so on and so forth. That type of feeling came long largely because once she recorded Friday and it earned so many dislikes that she felt incredibly insecure and unsure of what she was doing, and yet she kept on doing it. At the age of 13 getting so much negative feedback and even death threats online seems as though it could scar a person for life and might well have had she not had backers that had some clout in the music industry. Her song Friday is pretty cringe-worthy, but death threats seem well over the line no matter how anxious the song might make a person feel. Really, it's not that great, but when you think back to how many songs really shouldn't have been released to the public simply because they're not that good it's not hard to see how she got a pass from a lot of people. That being said though it's a little bit amazing how she pushed forward and continued to do her thing despite the overwhelming negativity. As Lyndsey Parker of Yahoo! seems to indicate Rebecca has been pushing forward with her career since that time and while this is quite impressive it's still enough to leave one in a bit of confusion and remaining anxiety since those that get famous off of doing something so cringe-worthy tend to make people wonder just what in the world the standard is for fame these days.
To be honest her voice isn't so horrible (in fact it's quite good today). This isn't like listening to William Hung, who really can't sing, and yet has a net worth of hundreds of thousands of dollars for some reason simply because he turned a truly horrible act into a sideshow that people were willing to pay money for. There's one thing to be said about having confidence since it does seem to carry some people forward, but confidence and little to no talent is something else since it means that people are willing to pay to hear someone that has heart but really nothing else to offer. Rebecca at least has a decent voice that's matured as she's grown up and continued her career, but again, it's still enough to make a person frown and wonder just why this seems to be the case when there a lot of talented people out there, genuinely talented people, that get passed over for some reason. It might sound a bit cynical and even kind of harsh, but Rebecca's own self-doubt might have saved her a bit of mental hardship back in the day if she would have pursued her dream without stepping into such an open forum to begin with. This seems to be the way a lot of people do things these days and it's hard to fault them for it even if in hindsight they would have done things differently. Putting yourself out there for others to see isn't necessarily a bad thing, in fact it's what gets a lot of people noticed, but doing so without having that much of a plan or really meaning to go so far is usually enough to make a person wonder 'why am I doing this?'. Rebecca has admitted that she enjoys performing so her reasoning is pretty sound and her actions have a definite purpose to them, but the Friday video was just, yeesh.
What's she up to Today?
Recently Rebecca has been something of a pop sensation and has really pushed her career to new heights with songs like "Anyway", "Sweetheart", and a few others she's been gaining more and more positive attention throughout the years and has stuck with it enough to really turn into someone that people want to listen to. While she's remained independent for the most part she has admitted that she'd like to be attached to a big label and possibly work with a few individuals that have been seen as truly big and notable talents. At this point she's still moving forward and becoming even more of a pop icon hit with some very interestingly dark undertones to her music that are bringing out the experiences of what she's had to go through and reminding people that it hasn't been all sunshine and rainbows on her way up.
For her sake it's great that she pushed through the negative comments, which seem to have served a purpose as well since they obviously spurred her on even as they were trying to break her down. Anyone that would give death threats to a 13-year old though has some serious issues, and thankfully she didn't take any of these to heart, at least not in a way that would have killed her career by making her stay away. While some might still hold reservations about her continuing forward simply because it's hard, sometimes, to get behind someone that gets famous for doing something that was considered to be so bad that it people eventually think it's good, the truth is that Rebecca has been pushing forward and finding that more and more people are willing to back her and finally get into what she can offer. The whole idea of continuing onward while looking back and being somewhat grateful for the chance to do so is a part of the game to be honest, since there are a lot of stars out there that didn't have such stellar beginnings and yet are even now in possession of amazing fan bases and careers that they didn't think would ever happen.
Tell us what's wrong with this post? How could we improve it? :)
Let us improve this post!