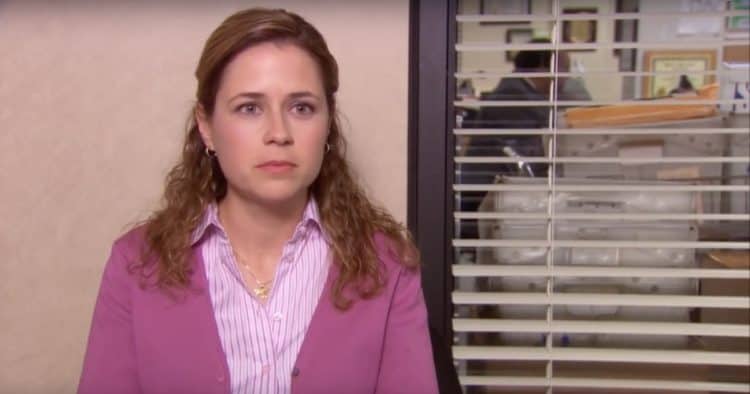 The Office hasn't been on the air for a decade now, but that hasn't stopped newer generations of audiences from discovering the hilarious mockumentary. With Variety reporting that the sitcom was the most-streamed TV show of 2020, with 57 billion cumulative minutes of stream time, The Office continues to prove that it's still deserving of its place as one of the best sitcoms in recent history. The Office stars Steve Carell as the regional manager of Dunder Mifflin. The show also features Rainn Wilson, John Krasinski, Jenna Fischer, Ellie Kemper, Ed Helms, Angela Kinsey, Brian Baumgartner, Oscar Lopez, Kate Flannery, Phyllis Smith, Leslie David Bakker, Mindy Kaling, BJ Novak, Paul Lieberstein, and Creed Bratton, all playing employees of a paper company that always seems to be on the brink of bankruptcy.
Jenna Fischer plays Pam Beesly on the show, a mild-mannered secretary who always finds herself having to tolerate her boss's inappropriate antics. In an interview with NPR, Jenna Fischer explained how she snagged the role of Pam Beesly in the series, describing how the audition process was like for her. According to Fischer, she was not given a script and was only asked to act as a secretary. "My very first audition for "The Office," I had to sit in a chair, and the producer interviewed me in character. There was no script. He just said, we want you to act like Pam, or your idea of Pam. And we're going to interview you like a documentary film crew might. And they asked me a lot of questions about – did I like working at a paper company? How long had I lived in Scranton? How did I feel about being filmed by a documentary crew?" Fischer continued, explaining that Pam Beesly wasn't supposed to be media-savvy, so she acted that way throughout the audition: "And my take on the character of Pam was that she didn't have any media training, so she didn't know how to be a good interview. And also, she didn't care about this interview. And so, I gave very short one-word answers. And I tried very hard not to be funny or clever, because I thought that the comedy would come out of just, you know, the real human reactions to the situation. And it was great. It was great. We clicked quickly. And they liked that take on it."
Fischer's Pam Beesly was also notably involved with John Krasinski's Jim Halpert in The Office. The two are often regarded as one of TV's most adorable couples. However, the character has not been immune to what has been described as "sexist" attacks, according to People. Jenna Fischer took note of a particular storyline in the series that really got some fans riled up. "I just want to say that when Pam went to art school for only three months when she was not yet married and didn't have children, people came down real hard on her because of Jim's feelings… Then, when Jim invested in a business without telling Pam, and left his family, and left Pam alone to care for their two children while he chased his dreams, people came down on Pam again for not being supportive enough of Jim. So in both of these instances I just want to say I noticed a lot of hate for Pam. Do I want to call it sexist? I do."
Like the rest of The Office cast, Jenna Fischer has been involved in a few notable projects after playing her most famous role. What has Jenna Fischer been up to since her The Office days?
Jenna Fischer's personal life
In The Office, Jenna Fischer's Pam Beesley and Angela Kinsey's Angela Martin were particularly cold towards each other, but behind the scenes, Jenna and Angela are real-life besties. The two met each other in the show and became friends after a particularly long week of shooting. After a couple of days on the set, they've practically told each other their life stories, according to BuzzFeed. Fischer is married to director Lee Kirk. Before that, she was married to Suicide Squad's James Gunn. Jenna Fischer has two children. The actress' current net worth, according to Celebrity Net Worth, is $14 million, having been paid $150,000 per episode of The Office during its later seasons. Jenna Fischer has written a book titled The Actor's Life: A Survival Guide, with Steve Carell writing its foreword. She has another book coming up, co-written with Angela Kinsey, titled Office BFFs, which will feature their time on the set of the sitcom.
Jenna Fischer's post-The Office projects
Jenna Fischer appeared in a few shows after The Office, most notably the British series You, Me and The Apocalypse, which aired in 2015. The actress starred in the show alongside Joel Fry, Rob Lowe, and Matthew Baynton. The show only aired for one season but was favorably reviewed by critics. Most recently, Fischer starred in a short-lived series called Splitting Up Together, costarring Oliver Hudson. In an interview with Collider, Fischer explained how she took on her role for the show. "I read the script, and then shortly after that, I met with (creator/executive producer) Emily Kapnek and (executive producer/pilot director) Dean Holland. They talked to me about how very important it was to them that we capture the heartbreak and reality of the situation while, at the same time, capturing the comedy. They didn't want to gloss over the real feelings associated with the complications of divorce."
Jenna Fischer's podcast
Fischer runs a podcast with fellow Office alum Angela Kinsey titled Office Ladies, where they share behind-the-scenes info and commentary on episodes of the hit sitcom. They've had multiple guests from the show on their podcast, including showrunner Greg Daniels. Describing the podcast to Entertainment Weekly, Fischer was quick to point out that her banter with Kinsey is meant to be interpreted as a casual commentary on the show: "I should say, what the podcast is not is a critical evaluation of The Office, or of comedy, like you might have done by a television-critic-type person. We're really sharing our personal stories and behind-the-scenes memories and taking questions from fans, so all of those things get weaved into the episode. Angela has become a little bit of our background expert, spotting these weird, obscure details in the background and then figuring out why they happened or what was going on." Earlier this year, Office Ladies won Podcast of the Year from iHeartRadio Podcast Awards, according to UPI.