Anastasia Keramidas, a vibrant 30-year-old woman originally from Baltimore, joined The Bachelor's 27th season. She was one of 30 women vying for Zach Shallcross' heart. Hailing from a large and affectionate Greek family, Keramidas yearns to discover a love akin to the warmth she experienced growing up. Seeking a mature partner who possesses a clear sense of direction in life, she finds solace in watching Harry Potter films. She equally enjoys visiting her family in Greece and immersing herself in Rufus Du Sol's music.
Having grown tired of casual dating, Keramidas was prepared to embark on a quest for genuine love. However, her journey on the show took an unexpected turn. While on a trip to the Bahamas, she made the difficult decision to depart on her own. As such, she forfeited the opportunity to explore her connection with Zach. This unfortunate twist reveals that real-life challenges can arise even in the midst of a televised romantic adventure.
The Bachelor's Anastasia Keramidas Is A Marketing Manager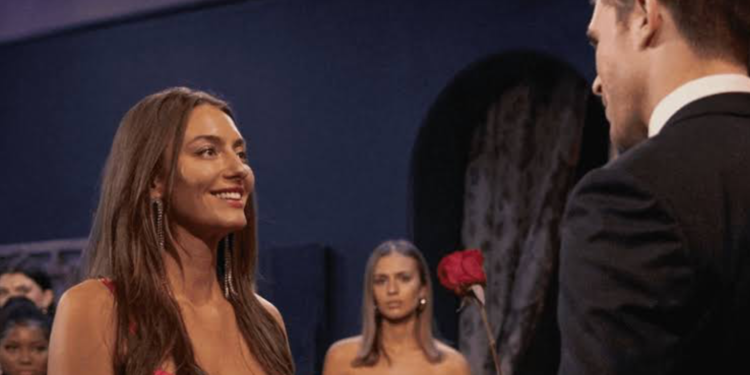 Anastasia Keramidas works as a Content Marketing Manager at Mint Mobile. However, this wasn't her first job role in the marketing realm. She previously held positions in marketing departments at Likewise, Lyft, and Grubhub. The reality TV star also holds a Bachelor's Degree in Psychology from St. Mary's College of Maryland. Despite her professional commitments, she tries to balance work and leisure.
She's also quite active on Instagram, where she shares her life through pictures and stories. At the moment, she goes by the username @anastasiamidas. Keramidas posts everything from stylish fashion shots to moments with friends. One of her most memorable posts showcases her at a music festival. Most recently, she announced her participation in this season of The Bachelor with her official photo from the show.
She's Accused Of Being On The Bachelor For Instagram Followers
Anastasia Keramidas was on The Bachelor in hopes of winning the heart of the titular bachelor, Zach Shallcross. But then, another contestant, Kylee Russell, insinuated that Keramidas was more interested in getting more followers on Instagram than anything else. This scared Russell, and he was quite worried that her feelings weren't genuine.
However, something sad happened. Keramidas found out that one of her good friends had died. This cemented her decision to leave the show before she got a chance to get a rose from Russell. Anastasia Keramidas is generally known for sharing a close bond with her friends, and she often shared pictures with them on Instagram.
What Happened On The Finale Of The Bachelor Season 27?
On a Monday night, the star of the show, Zach Shallcross, had to make a hard choice between two women, Gabi Elnicki, and Kaity Biggar. The final episode came after a big fight about a personal topic. Shallcross previously shared information about his private moments with Elnicki with the other women. This caused a lot of stress and drama in the final stages. In fact, most of the final episode covered the fight. But in the end, he asked Biggar to marry him.
But before all that, he had to let Elnicki know that he wasn't choosing her. Naturally, she was quite upset and felt like he had led her on. After the show was filmed in Thailand, there was a live event where the trio talked about the intense events that transpired. Elnicki was immensely upset with Zach Shallcross for sharing their private moments with everyone else. Fortunately, he acknowledged his wrongs and apologized, and said he didn't mean to hurt her.
Another contestant, Ariel Frenkel, was also at the live event. She was disappointed with the bachelor because he apparently told her he wasn't going to be intimate with any of the women. Altogether, she felt like she had been left out of the loop. Naturally, he apologized to her too. Even after all the drama, Shallcross and Biggar ended up happy together. They appeared live at the event as an engaged couple. Even more, they're planning to move in together in Austin, Texas, this summer and get married in 2025. The couple looks forward to being together without the cameras around. The next season of The Bachelorette will star Charity Lawson, another contestant from Shallcross' season.