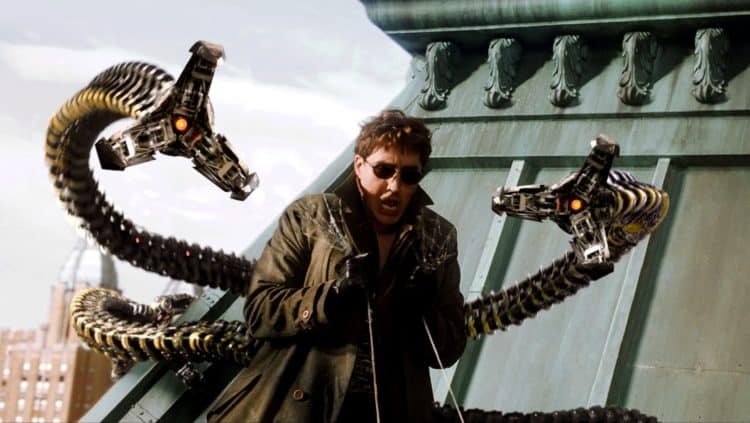 Well, if 2020 has been good for anything, it has certainly been filled with surprises. If you told me Jamie Foxx was coming back as Electro a few months ago, I would've laughed. Heck, I thought Ben Affleck coming back as Batman was just wishful thinking, but look what happened. Ben is back, Jamie is back, and we're even getting the Snyder Cut of Justice League. What more can we possibly be hit with? Well, it ain't stopping here, because some rather fascinating news has been confirmed today. As of now, we can add Alfred Molina to the list of past actors returning to reprise a comic book role. Boy, oh boy, just hearing about this news brings back memories. Before, I talk about the main topic here, I want to take a trip down memory lane.
Wind the clocks back sixteen years ago, there was a little superhero film called Spider-Man 2. Before the shared Marvel Cinematic Universe was even an idea, there was the Sam Raimi Spider-Man trilogy. I was a little kid when the first one came out and I instantly fell in love with Tobey Maguire's Peter Parker/Spider-Man. Just when I thought he couldn't do better, he wowed me with his performance in the sequel. Yeah, there was also a third one, which he did a little dance to (which I thought was funny), but it's just best we forget about that movie. While Spider-Man 3 is considered to be one of the most disappointing superhero movies of all time, Spider-Man 2 is considered to be one of the greatest. At the time, Spider-Man 2 was at the top of the list for the very best superhero movie ever.
There are many reasons as to why, but one of them is Alfred Molina's performance as Doctor Octopus. He was different from many regular comic book movie villains, especially Wilhelm Dafoe's Green Goblin. Alfred Molina's Otto Octavius wasn't an arrogant and self-centered billionaire scientist like Norman Osborn. He did have an ego and he was highly ambitious, but his ultimate goal was to use his intelligence for the good of mankind. He even revealed this during his first conversation with Peter Parker. Otto was a fine mentor for Peter, right up until the incident that turned him into Doctor Octopus. Even during his introduction as Doc Ock, Sam Raimi through in his horror elements. The way the arms had minds of their own and manipulated Otto was quite terrifying.
Otto was very much a victim of his own overinflated ego and the mechanical arms exploited that. He was willing to do whatever it took to complete his insane science experiment, including destroying the city of New York. What really made him unique, however, is that he actually found redemption in the end. Peter reminded him of the lesson that he taught him when they first met: intelligence is a gift that he should use for the benefit of mankind. This made Otto realize the dark path he was walking on and he managed to regain control of the arms. He even gave his life to destroy his machine, saving New York City.
The important thing to take away from this is that he died. He went to the bottom of the river with his arms and his machine and was never mentioned again. Alfred Molina's Doctor Octopus was a tragic villain, but a truly dangerous one who pushed Spider-Man to his greatest limits. He's among the best comic book movie villains and undoubtedly the best of the Raimi films.
Now, back to the main topic. Alfred Molina killed it as Doc Ock, but never, in a thousand years, would I have expected him to reprise the role. I mean, his character died, so how he possibly return in any form? Well, that apparently isn't stopping Kevin Feige or Sony, as they are reportedly including him in Spider-Man 3. This is probably the most peculiar MCU-related news we've heard in a while. We've heard the rumors about this last month, but now that it has been officially confirmed, it raises a lot of questions. Is Alfred Molina's returning the slam dunk we need to believe that Marvel is indeed going forward with the Multiverse?
When I first heard about Jamie Foxx returning as Electro, I wasn't fully convinced that Marvel was going to do the Multiverse. Now that was my first thought, but I also believed that Kevin Feige just liked Foxx enough to bring him back. He's said it specifically and he's always been adamant about keeping the MCU under his vision. That's good. He's earned the right and I trust his decisions. But just like many other MCU fans, I'm very curious. I initially believed that Jamie Foxx's "new" Electro wouldn't be the same Electro from The Amazing Spider-Man 2. Foxx even took to his Instagram when the news broke out and claimed he wouldn't be blue this time.
So if he's not blue, he'll probably be taking on a more comic-accurate look in Spider-Man 3. That's fine with me, but a part of me thinks he'll look that way because Feige wants to largely divert from the AMSM 2 version. If he liked Jamie Foxx as Electro that much, he would want him back so he can have him portray the character the right way this time. Understandable, considering Foxx's performance as Electro the first time was just… not that good. Foxx is a phenomenal actor and he deserves a second chance with a proper script, but once again, I didn't fully believe that him coming back meant the Multiverse was coming.
However, after hearing Alfred Molina's return as Doc Ock, I'm leaning very close to the Multiverse route. Let's say they do go for it, what does that mean for the MCU? The answer is simple: Marvel is doing the Multiverse. If so, then I'll take it. What's interesting about it is that he's a villain of Tobey Maguire's Spider-Man. This is important because Jamie Foxx's Electro was a villain of Andrew Garfield's Spider-Man. A villain from each Spider-Man, but what about the Spider-Man who's the star of Spider-Man 3? Tom Holland's Spider-Man will have many villains gunning for him, but if you ask me, Mysterio is not dead.
Oh, and Vulture certainly isn't dead. I'm emphasizing on this because these are the villains of the original Sinister Six. All we need is Kraven the Hunter, who I predict will be a central villain of Spider-Man 3. Marvel teased this from the beginning and they want it, and if they're bringing back Jamie Foxx and Alfred Molina, they're two steps closer to forming Spider-Man's greatest threat.
Oh, and if Foxx and Molina are returning, you can bet that Andrew Garfield and Tobey Maguire won't be far behind. Yes, yes, a million times yes. Neither actors got to complete their Spidey's stories fully and this is their chance. If they're willing to bring back an actor who played a villain who died on-screen, I'd say Tobey and Garfield's return is inevitable.