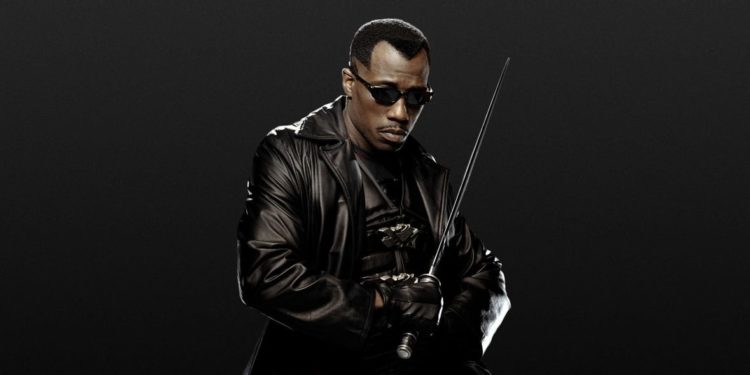 So Wesley Snipes interviews as Blade then becomes Blade, then goes back to talking about Blade. And he does this all in his 'Blade' voice. Is that creepy? Or is it just method acting to an extreme that a lot of people don't tend to go to in an interview unless they're asked to? This kind of makes me wonder if the interviewer was on the brink of laughing or if they were holding together and thinking how nice it would be when the interview could be over. Obviously Wesley Snipes was fully into his character for the movie when it came out and didn't often break character, much to his costars irritation at times, since he did manage to do this for the third movie as well, even going so far as to openly irritate his costars without fail. But one can at least say that not only did Wesley do a couple of things before they were celebrated during the release of the Black Panther, but he also did them in a way that was great because he exemplified the character in the first movie. The only unfortunate part is that the second and third movies were a humongous waste of time. In fact, if not for Ryan Reynolds' sense of humor and Jessica Beal's sex appeal it might not have been mentioned that often after it's release. Oh yeah, and Parker Posey and Triple H from the WWE were in there too.
One thing you can say is that he did bring a black superhero to life, well before Black Panther ever hit the screen, and the first movie was pretty good since it gave us something we hadn't seen before from Snipes and in general when it came to vampire movies since Blade was definitely a step up from other vampire hunters. But his intensity when he was in character was something else, and his ability to hold onto his character was a bit, well, odd. This was actually one of Snipes' best movies at that time and afterward his career kind of hit a lull until he finally found himself in trouble with the law, and had to watch his reputation go down the tubes when he went to prison. Upon his return, he did try doing his best to make an upward climb back to prominence, and he has starred in some interesting movies since, but the Passenger 57, Demolition Man, White Men Can't Jump, Blade days are over at this point since not only is he getting older, but it does feel that he's been doing his best to try and keep up with the younger talent, and it's just not working out the way he wants.
Hands up if you thought Wesley Snipes was the man when he was on top of his game and in his prime. It's true that a lot of people thought this guy was something special and it certainly looked to be the case since he was a huge action star and Blade only confirmed that. But it does feel that even had he not gone to prison and tarnished his reputation in a few ways that he might have been one of those that was destined to try and hang on to whatever glory he could find as he struggled to stay relevant, which is what he's doing now. Snipes is still a famous actor, but a lot of his fame is in the past, and trying to bank off of that would be a huge mistake right now. The fact that he's not being brought back for another Blade movie, as Mahershala Ali is going to be the next Blade apparently, is pretty telling, and it's likely that a lot of people are wondering if they even want to work with him when rumors of how he acted on the set of Blade Trinity have been circulating. Those that don't think that Patton Oswalt is the best source to go to might want to ask the other actors just what it was like to work with him, since apparently a lot of the shots of Blade weren't even Wesley, as he reportedly stuck around for closeups and was otherwise back in his trailer doing who knows what.
Does Wesley Snipes have anything left in the tank? Possibly, and it's even possible that he could make his way back into the action scene in a big way in the years to come. But without having any other style of acting under his belt, he's not a comedian, he's not a great dramatic actor, and as far as horror goes he might actually be one of those that dies early on in the movie, there's not a lot of other options open to him. Blade was one of his biggest roles, and at this time it's pretty much lost to him.