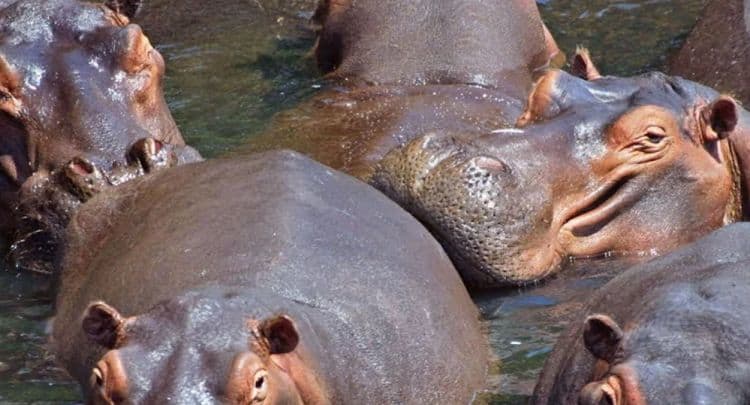 The images that the title Cocaine Hippos can generate in the minds of so many is likely why a lot of people, upon hearing about it, are wondering just when the project will begin and when Netflix will be releasing it to the public. Well, at this point there's not a lot of information to be given other than the low-down on how the story even came to be. Pablo Escobar, the most infamous and profitable drug lord of the past several decades as Kevin Burwick of MovieWeb alludes to, was the kind of man that would get what he wanted and would get it quickly since he had the money and the resources to make such a thing happen. When he wanted a zoo on his property, it happened, and when he wanted hippos, he got them. The only problem with this is that when he took in 4 hippos they eventually began to breed, turning into dozens of hippos after a while as they continued to thrive. Had they been taken back to Africa there's a good chance that they might have survived, or not, but as of now Colombia has hippos, though no one really knows whether that's a good or a bad thing.
As Christie Wilcox of National Geographic has written there's really no agreement as to whether the four escaped hippos that became dozens are harming the environment or if they're doing just fine and should be left alone. At this point it would almost sound as though being left alone might be the best option since they've become the basis for the upcoming Netflix comedy as treasure hunters are seeking the lost fortune of Escobar and are obviously bound to run into the hippos at some point. The downside of this however is that not only are hippos notoriously territorial, but they're one of the most dangerous land animals that account for a large number of human deaths in their home environment. And now that these hippos count Colombia as their 'home environment', guess what?
Anyone stepping on their territory is going to see just how quickly a hippo can move and how insanely dangerous they can be. They might look like gentle, rotund animals that might not hurt much more than a thousand pounds of marine vegetation per herd, but these animals can open their jaws roughly 180 degrees and have a bite force of roughly 2000 pounds per square inch. What that means is that they could bite a human in half and not even feel a twinge in their jaw for the effort. In fact after watching a video of a hippo being fed an entire watermelon, which it reduced to mush with one snap of its jaws, it does appear fair to say that hippos are more dangerous than many animals since apart from a saltwater crocodile, which averages 4,000 psi per bite, the only other known creatures that could match a hippo are currently extinct.
The upside about being territorial is that they're far more so in the water than on land, but like any animal if they feel threatened there's a good chance that fight or flight response will kick in, and no one in their right mind would want to be in front of a hippo if the animal chose to get aggressive, as they're known to be. Tom Hennigen of Answers in Genesis has more to offer on this subject. The comedy that Netflix is planning is likely going to play up the danger even more since if one remembers how the dangerous creatures were represented in Jumanji: Welcome to the Jungle, then it should be realized that despite being CGI, the depiction wasn't too off the mark since hippos aren't known to be patient creatures unless they're being left alone. Given their size, their ferocity, and their ability to tear down just about anything in front of them it feels safe to say that this comedy is going to be a CGI-fest or something along the line of being similar to Without a Paddle, where close-ups will be handled by a mock creature that will barely be shown. Of course given how cheesy that might look it feels safer to say that CGI will be involved in a big way.
From the title a lot of people might excited simply because of the prospect of seeing an already dangerous animal go berserk after somehow being exposed to a substance that's known to make some people absolutely nuts. But then in a morbid way one has to wonder just how much of the drug would be needed to really affect a hippo given its size. Thankfully we won't have to find out since the comedy will focus more on their origin in Colombia and the search for Escobar's fortune. Unfortunately there isn't a production or release date yet, but there will be more to come as the project gets going.