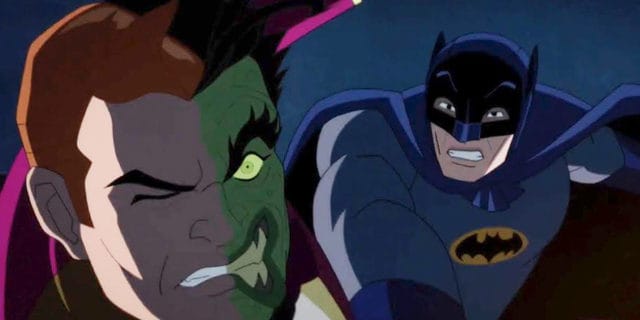 Once derided as a cringe-inducing black mark on the Batman franchise, the prevailing winds of recent years have been kinder to Adam West's 1966 [easyazon_link identifier="B00PVBCSNA" locale="US" tag="tvovermind00a-20″]Batman TV series[/easyazon_link]. Maybe it was the dogged persistence with which it kept cropping up over the years since its cancellation, or maybe we've just reached such a grimdark extreme with the character — with him mowing down criminals with heavy artillery strapped to the tank that currently passes for the [easyazon_link identifier="B06W56ZXFX" locale="US" tag="tvovermind00a-20″]Batmobile[/easyazon_link] on the big screen — that we all need to submerse ourselves in something a bit more light-hearted.
Despite pop culture's turn against his Batman in the decades since the show's cancellation, Adam West has forever remained enshrined in the pantheon of Pop Culture Icons: right up there with the likes of Walt Disney, Stan Lee and Satoru Iwata. He was an entire generation's first Batman and is, increasingly, seen as one of the best.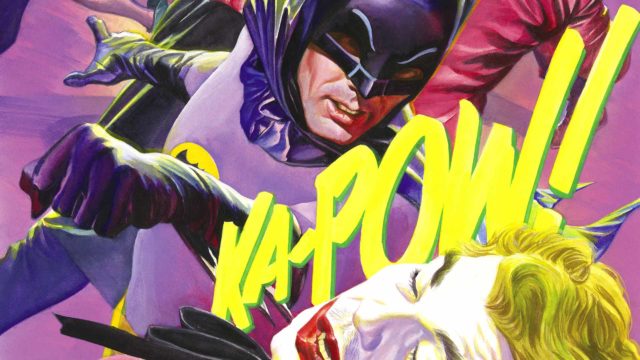 So, in many ways, the fact that we're two movies deep in an animated revival of his version of the character shouldn't come as a surprise to anybody who has been paying attention. After all, it's entirely in line with Lego Batman: a campy, fun-first spin on a character too often resigned to glumly brooding in the shadows, celebrating the entirety of the character's storied history, not just those few dark years when he came to blows with Superman.
[easyazon_link identifier="B01KYRX23U" locale="US" tag="tvovermind00a-20″]Batman: Return of the Caped Crusaders[/easyazon_link] was the best Batman had been in the better half of a decade, and the most fun he'd been in far longer. Reuniting the show's celebrated cast — including West, Robin actor Bruce Ward and Catwoman actress Julie Numar — the film was a refreshing return to form for a character that has seemed singularly focused on being as miserable as possible (both in-character and to watch on screen) for far too long.
You got the classic cast, the bad puns, the cheesy dialog and the groan-inducing one-liners all in one, slickly presented feature. It took some well-meaning jabs at the more recent, more serious-minded outings for the Dark Knight and was a Hell of a lot of fun in its own right.
When Adam West passed away earlier this year, there was a great deal of concern about his next-planned outing as Batman: a Return of the Caped Crusaders sequel entitled Batman vs Two-Face. The silver lining in the whole affair — such as there was one — was that the film had already been completed, and all of his lines for it had already been recorded.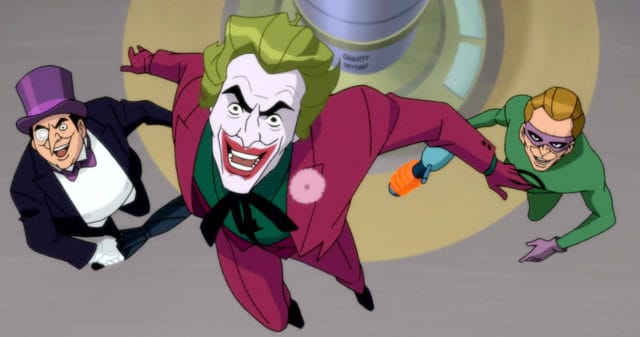 That movie comes out on Home Video on October 10th. And, what's more, it finally has a trailer.
It the campy style to be expected of this series, Arkham's Hugo Strange invents a machine intended to extract all of the Evil from the asylum's inmates, instantly reforming them into productive members of society. Something goes wrong, however, and an explosion showers District Attorney Harvey Dent with a concentrated blast of pure, unadulterated evil from every supervillain in Gotham.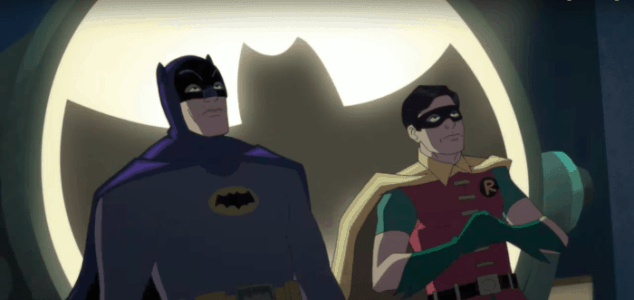 The results aren't pretty. Half his body becomes horribly disfigured, and the Evil Extract from Strange's machine transforms him into the city's newest menace: Two-Face. His plan is to auction off the captive Caped Crusader's secret identity to the highest bidder: in this cast, all the aforementioned villains locked up in Arkham.
The movie looks like a fiendishly good time, in the familiar style and tone that people love from the series it continues. If you enjoyed Return of the Caped Crusaders, or the admittedly more popular Lego Batman, than this definitely isn't a movie you can afford to skip.
https://youtube.com/watch?v=hx5UCaNlkQI%22+frameborder%3D%220%22+allow%3D%22accelerometer%3B+encrypted-media%3B+gyroscope%3B+picture-in-picture%22+allowfullscreen%3E%3C
Save
Tell us what's wrong with this post? How could we improve it? :)
Let us improve this post!