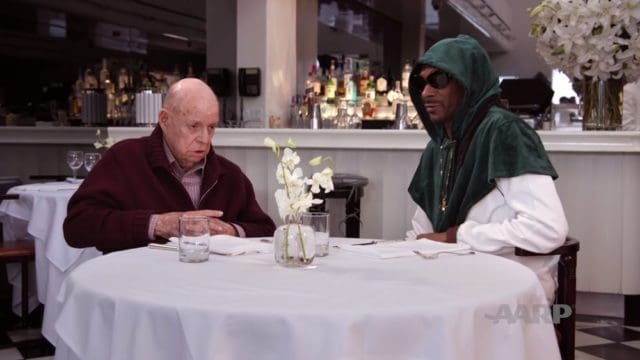 Snoop Dogg and Don Rickles don't seem like a usual pairing of greats but the effect created was something pretty special. If any of you don't know who Don Rickles is then go back in the archives of comedy and type in his name to see what you can come up with . If you're not laughing after the first few clips then you might want to check your pulse, because this guy was among the funniest comedians of his time and any other. Obviously during his final years he was slowing down and getting a little less capable of that insanely infectious energy he used so frequently in his younger years, but he was still an absolute legend.
If you don't know who Snoop Dogg is then I don't think I can help you. Because quite honestly Snoop Dogg is one of the most amazing rappers to ever enter the business. He's been more than instrumental in make rap a well known and well respected genre since stepping into the game so long ago. He's still going strong but has diversified throughout the years by stepping into a number of different arenas, not the least of which is to sit down with Don Rickles and discuss just how each of them came to be so well known in their respective roles.
There's a lot of respect at the table as you can see, which is something that might not have happened quite as easily when Snoop was first starting out. Back then Rickles was still acting and doing his comedy bit while Snoop was an edgy young rapper that was all about laying down the tracks that would eventually get him paid and on the way to a stellar career that had almost no limit in sight. It's very possible that back then these two men wouldn't have quite seen eye to eye. Now however, with Rickles being an old man that has seen better days and Snoop being older and definitely wiser, the feeling is that the respect that lies between them is mutual and can smooth over anything that might be said.
One thing Snoop Dogg is at this point is a family man and someone who is extremely grateful for what he's earned in life. He's even said that without his family the business might have broken him at one point, to which Rickles could only agree. Even the great Don Rickles, and he's earned that distinction, could admit that at several points in his career he could have broken quite easily had he not had at the support of his wife. Married just a little over fifty years he and his wife were no doubt partners in life as well as husband and wife. That's what it takes to make a marriage, and Snoop Dogg has obviously found this one out as well since he's been married for about 20 years at this point.
Whatever they were and however they acted in their younger years both men became legends in their own time that are and were deserving of respect and admiration.
Don Rickles passed away back in April of 2017. Rest in peace sir, you've certainly earned your place.