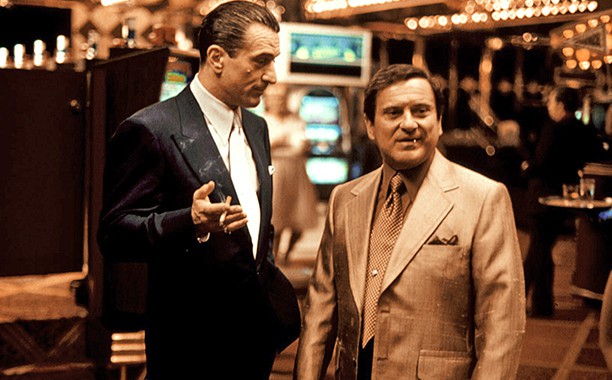 By watching Casino you know that the language is absolutely off the charts, but when being put on TV the amazing job that's done with one of the most foul-mouth scenes is kind of impressive. It's not perfect by any means but it definitely should be credited to whoever did the voice-over and the dubbing. The editing effect goes a long way towards cleaning it up and not managing to leave anything out, meaning that overall integrity of the scene is still there. This movie was brutal in its portrayal of the Mafia and how it controlled Vegas for so long, but it's still a mystery as to how such a thing managed to happen.
How it happened wasn't that hard to figure out. The Mafia wanted a place where they could run the show and take a cut all at the same time. It wasn't exactly a day to day robbery job when people would gladly give up their money for games of chance. But when the games are run by a criminal organization it's safe to assume that the house is going to win on a regular basis. If they don't then they look for the reason why and take care of it. If someone happens to pull a fast one on them they tended to remember and deal with it right then and there. The Mafia wasn't known to play nice with other, and the rumors of people being buried out in the desert to settle debts and scores might be mostly rumors, but just like myths and legends, some rumors are based on the truth.
I find it amusing when watching this scene that Joe Pesci takes the offensive since the truth is that Sam warned him before moving out to the desert that the local folk didn't like people like them, gangsters in other words, and it was no joke. And yet when he makes his way out and starts doing as he likes it's all Sam's fault when things start going sideways. Pesci's character is such a narcissistic hothead that he can't take the blame for anything that might be his own fault when it's pretty obvious that things started going south when he moved to town. His tendency to get into trouble, to cause trouble, and to refuse to take the blame laid it all on Sam's doorstep with a big F-bomb filled to the brim with expletives and accusations along with thinly-veiled threats. Stranger still is that Nicky is supposed to be Sam's protector in Vegas, the guy that looks out for him, and instead he goes into business for himself and kind of leaves Sam to his own devices.
It had to be kind of difficult to work on making this film capable of being shown on TV since the language throughout Casino is pretty rough throughout most of it. Joe Pesci along is responsible for a good part of the filthiest language, especially in this particular scene. And yet the scene seems a little less without the cussing in it, as though a bit of the fire's been robbed from the characters.
The sad thing is that keeping kids from hearing it there doesn't stop the rest of the world from exposing them to that kind of language.