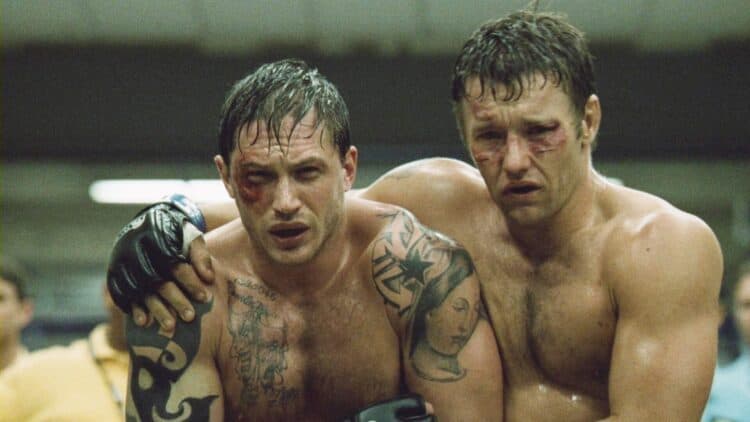 If you ask me, the best movie of 2011 was Gavin O'Connor's sports drama, Warrior. The title of the movie speaks for itself, as it centers around two brothers battling each other, their personal demons, their complicated past, as well as their own hardships. By the end, this intense sibling rivalry ends in the MMA cage in a fashion that would make the toughest of all tough guys tear up. I seriously challenge you to watch the ending of that movie and not shed a tear. You can't do it.
But if you have indeed seen 2011's Warrior, you'll know that it's about far more than just mixed martial arts. Sure, it's definitely a movie that fans of MMA can and should appreciate. However, the true strength of the movie lies in its deep emotional core. And of course, it all works because of the stellar performances of the two leads, Tom Hardy and Joel Edgerton as Tommy and Brendan Conlon. Their heated rivalry stemmed from the abuse they both endured from the hands of their alcoholic father, played masterfully by Nick Nolte. Aside from their deep family drama, the two brothers had to battle serious issues in their personal lives that led them to the MMA cage.
Call it fate or destiny, but the Conlon brothers would eventually have the chance to unleash all the anger that boiled within them in the spectacular final scene. A bloody and intense war in the cage is what it took for these two brothers to finally work out their issues and in the end, forgive their remorseful father. Hey, sometimes the hard way is what it takes to settle the issues. That is what made Warrior such a powerhouse of a movie, not just by its incredible fight scenes, but the relatable struggles of family tensions and life itself.
Now Gavin O'Connor has always intended for Warrior to be a one-and-done type of deal. That was probably the best course for that movie, because there was really no need for a sequel. Okay, so I'll admit, I really wanted to see more of what happened after that big fight, but I settled for the emotional reconciliation. But the thing is, it's pretty rare we see sports dramas tackle the struggles of MMA fighters in and outside the cage. Warrior showed the negative stereotype of what a thuggish MMA fighter is like with Tommy's first opponent, Mad Dog. While he represented the abusive fighter who relishes in talking trash, Brendan Conlon represented the everyman.
What made Brendan the protagonist we could all root for was the fact that he wasn't fighting for his own personal glory. His motivation for gruesome training to prepare for a all those cage fights was for the very survival of his family. And the most relatable part of it was the fact that he was a full-time high school science teacher. While MMA was a part of his past, it wasn't his whole life. He was the perfect embodiment of the underdog and it showed during and after his fights. Even with his more aggressive brother Tommy, the motivation behind his involvement in MMA was to fight for the widow of his former comrade. No personal glory for either fighters, just the selfless desire to help their loved ones.
This kind of depiction of the players and the sport can be replicated. However, it won't be in a sequel for Warrior, but in a 10-episode series for Paramount+. Deadline reports that Gavin O'Connor will be adapting Warrior into a series for Lionsgate Television and will be developed for Paramount+. Interestingly enough, O'Connor told Deadline that Lionsgate had approached him to turn Warrior into a television series several times. However, he rejected the idea each time, saying it never really interested him. He went on and explained on how his attitude towards it changed when Adair Cole came to him and pitched a different idea for it. O'Connor apparently liked it and they both decided to pursue a series for it.
According to O'Connor, they sketched out the characters, two men and two women, and figured out how their life struggles would lead them to the MMA cage. O'Connor would elaborate further and explain how each character's desperation and aspirations would drive them to pursue MMA. The whole theme of the series would be to test our loyalties, as well as our sympathies, very similar to how Warrior did the same for the audience.
And who will be the two men and two women for this Warrior adaptation? The only details we have are the two leads for one of the male fighters and the other female fighter. One of the female fighters will be played by Gina Rodriguez, who's character will be named Jessica Flores. Her character will be married to a Muay Thai fighter and her father is a popular boxing referee. Basically, she grew up fighting and that shaped who she would become.
That sounds like a good start, but who will the first male fighter be? Well, what better way to cast a character who's a mixed martial artist than to get a former two-time UFC champion? Oh yes, the Warrior series will be getting none other than Daniel "DC" Cormier to play the male lead. Okay, for me, there are no further details needed. If you get DC on board, then I'm all in. DC will be playing a man who just lost his wife to cancer. Not only is he left raising his child alone, but he is also burdened with a plethora of expensive medical bills. After failing to save his wife, DC's character will be basically forced to return to the cage and fight for his family's survival.
This all goes back to what made Warrior so special. It wasn't about the fight in the cage, but the fight of life itself. Now this Warrior series won't continue the story of the Conlon brothers. That is unfortunate, but you never know, Tom Hardy and Joel Edgerton can return for cameos at least. As for the four fighters leading the series, their stories will eventually come together. It will be very interesting to see how their journeys will intertwine, even more so on how each of them will face their life struggles. Just like the movie, I predict the show will depict how these fighters will show how being a warrior means more than just cage fighting. We will likely see how the hearts of these fighters will see them through their tough situations and it will truly show what their made of.
What are your thoughts? Are you excited for an adaptation of Warrior? I know I am and I can't wait to hear more details for this upcoming series.