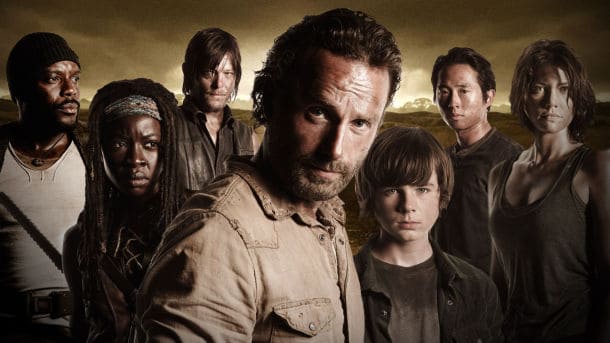 Thanks to an increased focus on character and less on "what used to be" and endless zombie head shots, The Walking Dead's gone from being one of TV's most disappointing shows to must-see television by giving dimensions to the many survivors existing in the post-prison world. However, to get there, we had to sit through some of the most laughable characterizations imaginable. Here are the absolute worst characters to appear in multiple episodes of The Walking Dead:
T-Dog
How could we write this list and include T-Dog? This list should just be called T-Dog's Teammates, because of all the bad, one-dimensional characters in TWD's history, T-Dog stands head and shoulders above the rest. In reality, the show never gave us a great reason for having T-Dog around: a fact that couldn't have been more obvious when, during a zombie attack, T-Dog gets a life-threatening injury… from a car door. Somehow, he survives that, life on the farm, and a few episodes in prison before the show finally puts him out of his misery, robbing the internet of a meme machine when he takes the "heroic" way out, sacrificing himself to prison walkers while Carol runs to safety.
Carol & Beth 1.0
As the show's two most-improved characters, Carol and Beth have been transformed before our very eyes from useless widow and weak teenager to butt-kicking survival machines, the finest examples of the show's newfound ability to build character. Remember how awful these two were early on? Carol's search to find her dead daughter lead to the worst string of episodes on the show, and early Beth (farm/prison Beth) didn't seem to exist, except to sing songs and get oddly attached to Rick's baby, after Lori dies. Thankfully, season four marked a new path for both characters, transforming them into two of the show's strongest characters, male or female.
Andrea
A lot has been said and written about Andrea, who along with T-Dog, was a lightning rod for criticism during the show's first three seasons. Her constant need to "prove" herself (and fail in the process), the laughable romance she starts with The Governor, the even more-laughable attempts to conspire with the prison folk…. all in all, Andrea never seemed to exist except to struggle and struggle, complaining about everything until someone stepped in to help her with her ridiculous logic. Did she deserve to die the way she did? Maybe not, but her death marks a turning point for the show, a definitive moment when the old guard was being left behind for The Walking Dead 2.0 – and the show's much better for it.
Lori (and by proxy, Carl 1.0)
Notice anything about this list? Yeah: The Walking Dead struggled mightily with female characters early on, never getting a grip on anyone until Michonne showed up and Scott Gimple took over. Fortunately, Lori Grimes was already gone at that point, victim to one of the show's most unsettling events (emergency c-section, and Death by Child's Gunshot), an act that removed the show's biggest dead weight, transforming Rick and Carl's character in the process. Like the comic, the show never seemed interested in treating Lori like a real human being, instead slut-shaming her for seeking comfort in Increasingly Unstable Shane when she thought her husband was dead, and generally spending lots of time complaining and failing at completing simple tasks without putting herself in danger (see also: Andrea, Carol, etc). Lori's death not only rid the show of a problematic character: it immediately gave new depth and much-needed pathos to the characters of Rick and Carl, who've become an emotional centerpiece of the show moving forward.
Image via AMC