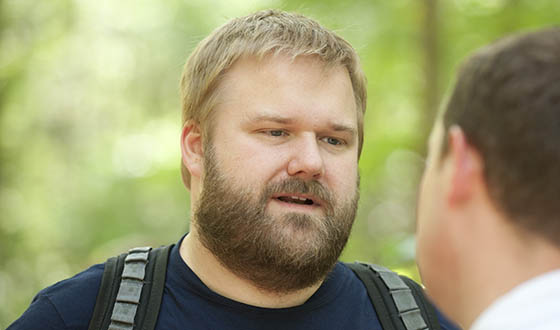 Each year, the Comic-Con events are a chance to learn all the latest news regarding new comic characters and about television shows that are set to launch in the upcoming months. The 2017 New York Comic-Con has revealed some particularly exciting news as a major announcement was made. Comic book writer Robert Kirkman is currently working on a new comic book series.
Kirkman is best-known as the co-creator of 'The Walking Dead' and 'Invincible'. His new comic book series will be called 'Oblivion Song' and the writer has described this series as 'apocalypse-adjacent. He is working on this new series in collaboration with the renowned Italian comic artist Lorenzo de Felici. This will be Felici's debut into American comics.
While talking to Entertainment Weekly, Kirkman revealed some further information about the book. He has said that the theme of the stories will revolve around a Philadelphia disaster in which approximately 300,000 people are thrown into Oblivion, which is a hellish alternate dimension.
The series starts a decade after the disaster has taken place. Although most people have given up trying to find disasters, the comic's hero Nathan Cole is still on a quest to search for anyone who has survived.
The plan is that this series will be ongoing and to make sure that it is released on time, Kirkman and Felici have already tackled several issues. The planned date for the release is March 17, 2018. Therefore, comic fans still have a little wait before they can find out if 'Oblivion Song' matches up to the standards Kirkman has set with his previous projects.
Kirkman was also interviewed by People TV about this ongoing project. He described the new comic book series as more science-fiction than horror and that it is not really a superhero comic. He went on to compare it to his other comic book series. Kirkman stated that it is more depressing than 'Waking Dead' and not as fun as 'Invincible'.
The comic writer's past work has been a huge success, with two of his comic book series being adapted into a television series. The first episode of 'The Walking Dead' aired on AMC on January 21, 2010. A companion series called 'Fear the Walking Dead' was also created based on the comic but this features new and original character. This show debuted on AMC August 23, 2015.
The other comic series he has written that has been adapted into a television series is 'Outcast'. The first comic book issue of this series was 'A Darkness Surrounds Him' and this was published on June 25, 2014. Cinemax bought the rights to produce a television series based on the comic in 2013 before the first issue was even published. The show premiered in June 2006.
Based on these previous successes, there is every possibility that fans of Kirkman's work can look forward to a television adaptation of his new comic book series 'Oblivion Song' in the future. This is more than just a theory as Kirkman has recently signed a development deal with Amazon so there is the potential for 'Oblivion Song' to become the first show that comes out of the deal.