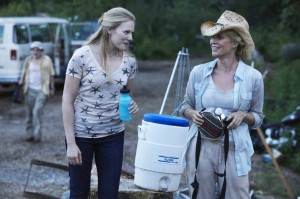 I'm not sure what I was expecting going into "Vatos." The Walking Dead turned my expectations inside out three times before, though, so its no surprise that I came out of the episode with my mind completely blown. One would expect that from the comic creator Robert Kirkman, though, who totally delivers on all levels for this episode, as one would expect. It was the best, most balanced episode of the series thus far. There was a lot of good character moments, and there was a lot of blood.
There were two main parts to the episode: one dealt with Rick's group trying to find Merle and finding the Vatos instead, and the other dealt with the survivors at camp. The two storylines crashed together for the rousing finale. But there's one thing I absolutely must mention that I'm afraid no one else has noticed: we saw the show's first human deaths tonight. It doesn't seem like it; there's been plenty of blood to go around. But the only deaths we've seen have been those of the already dead. But with the abusive Ed being the first to go (it's nice that Kirkman chose to wipe out a character that he didn't create first) and the lovely Amy being the second, it was almost refreshing to see some real carnage. Refreshing, of course, but also devastating.
The entire storyline with the Vatos was well-conceived, and I didn't expect anything less from Kirkman. Having seen the brutal Governor from the comics, I was afraid that the Vatos (Spanish for "The Dudes") would be another group of bloodthirsty crazies. Thankfully, they weren't, and their story left me actually much happier. There was also a conversation about the world being the same in there that was a little too blatant, but then again, no one said Kirkman was a brilliant crafter of dialogue. He's been known to slip up from time to time, such as with Rick's painfully cheesy "We are the walking dead" speech from the comics. But for the most part, this episode was solid and believable.
Perhaps because Kirkman, despite his sporadic cliche dialogue, is a brilliant craftsman of character, my complaints about underdevelopment from last week were completely erased with this week, which left me actually really loving the characters. We got bits of Amy and Andrea's relationship which was just fantastic, and their discussions about their father set up for the heartbreaking end of their relationship — and Amy's life. Dale's growing on me, and Jim, who was hardly around for the first few episodes, came into his own as the tragic character that he really is. I like him much more than I like the comics version of the character, strangely enough. After all, he ended the episode on the show's most poignant cliffhanger yet: "I remember my dream now." A

Click here for Pics and a Clip From Next Week's The Walking Dead: Wildfire