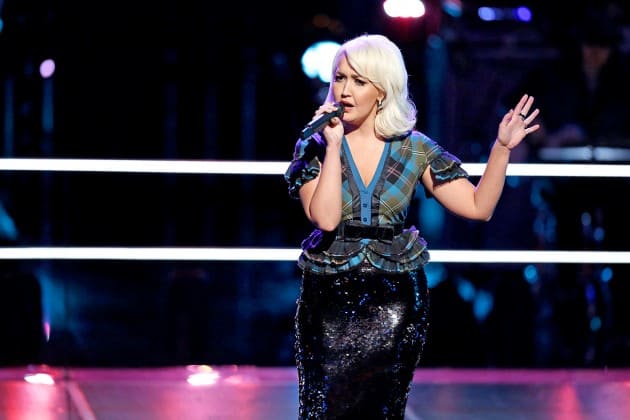 The Voice moved onto the next stage of the competition last night, a stage that only the most talented singers made it to. The closer and closer singers come to the live performances, the more intense The Voice gets. Contestants are currently facing the knockout rounds, where once again the teams will be cut in half, with each coach getting one steal. More amazing talent than ever before was sent home last night, showing just how difficult it is to make it to those coveted live performances.
In the knockouts, contestants have the chance to choose their own song, a variable that can either make or break their performance. There are many factors for them to consider as they make this choice. They want to stand out on their team, showing that they can bring something different, but at the same time, they need to pick something that they know they can shine on, as well as a song that they feel emotionally connected to. In the end, these are the components that the coaches will consider when deciding who will move forward in the competition.
The first knockout of the night and of the season was between Ashley Morgan and Sonic from Team Christina. Once again, we were reminded that Sonic is deaf in one ear, just in case we had forgotten all the other times they'd talked about it. For Ashley, the biggest challenge is performing on stage. It's Ashley's lack of personality in her performance against Sonic's natural ability to connect with the emotion of the song and the audience that determines the winner of the knockout, with Ashley's time on the show ending.
Next up was Brian Johnson and Sarah Potenza from Team Blake, who according to Blake both have such powerful voices that it would be unfair to pair them with anyone else. This seems to me like it would be a good reason to pair them with someone else so that both could move on, but Blake has proven that he knows what it takes to win so I won't question his decision too much. Brian picks an upbeat song for the first time in the competition, showing a different side of himself and nailing it. But in the end, Sarah is the better vocalist and has a much more unique style than Brian, causing Blake to pick her. Adam, however, is quick to steal Brian, and though he clearly has talent, I doubt this will come back to hurt Blake in the future.
Clinton Washington and Nathan Hermida from Team Adam took the stage next. In the battles, Clinton had proven that he deserved to stay, with his emotional performance that had inspired Adam to steal him. He came out last night with another powerful and emotional performance, showing his range but also his ability to reign it in when necessary. If I were Adam, I would have picked him to move on. That wasn't the case though, as Adam picked Nathan, who despite some pitchy moments when he went into his falsetto, gave a solid performance.
Because Anthony Riley had to leave the competition for personal reasons, Pharrell had the job of pitting three contestants against each other, with only two moving forward. Those three were Mia Z, Paul Pfau, and Sawyer Fredericks. There was no question about who Pharrell would pick as the three performed with Mia and Sawyer giving standout performances. Paul is a great musician, but his voice is not unique enough for this competition.
Another easy decision was made in the next knockout between Meghan Linsey and Travis Ewing, who were paired together because they were both stolen by Blake in the battles. Travis gave it his all and brought a lot to his song, but there was no doubt that Blake was going to go with Meghan. She had opened for him in the past and had a preexisting relationship with him, which almost seems unfair to the other contestants. Not to mention the fact that she's had her shot at being a star in her old band, an opportunity the others haven't had yet. There's no denying how strong she is vocally and as a performer though, so I can't be too mad at her moving forward.
The final knockout of the night was between Kimberly Nichole and Koryn Hawthorne of Team Christina. In my opinion, there's nothing about Kimberly that stands out, other than maybe her ability to work an audience. Her voice doesn't have the unique quality that's needed to win a competition like this. Koryn, on the other hand, was able to bring emotion to the song, and you could actually feel her passion as she sang. I'd have given her the win, but Christina picked Kimberly leaving the door open for Pharrell to steal Koryn.
All in all, it was an exciting night of performances on The Voice, as we keep getting closer to the live performances. There are a handful of contestants who could easily go far in the competition, and it will be fun to watch as it further unfolds.
[Photo via NBC]
Tell us what's wrong with this post? How could we improve it? :)
Let us improve this post!