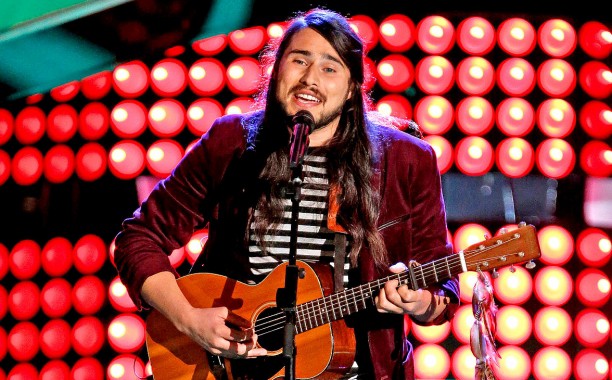 After an entertaining season premiere on Monday, The Voice fell into its same old routine last night. It may have been because a four-hour premiere week was simply too much, but I found myself losing interest in the second round of blind auditions as singer after singer took the stage and tried to impress the coaches with their vocals. There were a few strong performances throughout the night, but overall, the talent was much weaker and not even the coaches' bantering could make up for it.
With the first week of auditions coming to an end, it is clear right now that Pharrell has the strongest team, vocally. His laid back, charming demeanor is attractive to singers as is his promise to work with them and allow them to become the singers they want to be. Last night he added Anthony Riley to his team, a street performer from Philadelphia who is not only strong vocally, but knows how to win over a crowd. Also joining Pharrell's team was Mia Z, a fifteen-year-old blues singer who has the potential to go far with a bit of coaching.
Blake has also had no trouble getting strong performers, with his history of success on the show. At this point, he has the second strongest team, adding Brooke Adee last night. At only sixteen, she is surprisingly mature and has had to grow up fast, after her mom was diagnosed with Lupus. Her performance was compelling and pure, giving Blake another team member with talent and the potential to go far in the competition.
Team Christina gained two more singers last night, one of whom was Gabrielle Wolfchild. His name was chosen for him at a Rainbow Gathering, immediately making him the contestant with the most interesting backstory of the night. His folk vibe and interesting arrangement was enough to turn a few chairs, despite not having the strongest voice. He ultimately picked Christina because of her willingness to tailor a plan exactly for him. Joe Tolo also joined Christina's team, as he impressed her and Blake with his range. It may have been pitchy, but it was enough to land him a spot on Christina's team.
The big question that remained to be seen last night was whether or not Adam would finally be able to convince someone to join his team. They played up the drama of the situation, as we saw Adam get more and more desperate in his pleas to the contestants. At the same time, Blake became more and more gleeful at Adam's inability to win anyone over. In the end, Adam managed to add three members to his team, one of whom has the potential to go far.
His first get of the night was Tonya Boyd-Cannon, a woman who works in corrections and leads a choir in the prison. She lost everything during Hurricane Katrina, but did not let that stop her. It's Adam's risk-taking that draws her in and ultimately makes her the first person to join his team. Blaze Johnson, who happens to only have the second coolest name of the night after Wolfchild, also joined Team Adam, but he'll need a lot of work with his pitch if he's going to go far. It's Deanna Johnson who is easily the strongest member of his team so far, as she delivered a beautiful performance to close out the night. Adam is the only coach who is honest with her, telling her that there are some ways that she can improve, and it's because of that that she picks him.
Throughout the night, there were a handful of other contestants who did not have what it took to go further. It's always difficult to see someone struggle through a performance, especially after hearing about their backstory and the diversity they've faced throughout life. At the end of the day though, it's a competition and only the best can move on. With the first week of auditions complete, there are quite a few contestants who have stood out in their performances. It'll be up to the coaches to take them to the next level as they try to become the very best.
[Photo via NBC]
Tell us what's wrong with this post? How could we improve it? :)
Let us improve this post!