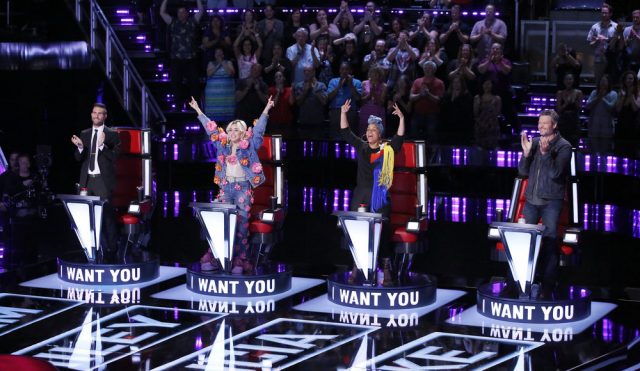 With The Voice season 11 premiere just hours away, NBC has released another Blind Audition! This time it's a two-chair turn, but oh boy! It's showtime for the bromance as coaches Blake Shelton and Adam Levine fight for the classic sounding teenage dream, Riley Elmore!
[youtube https://www.youtube.com/watch?v=dL4nhFUVU2U?rel=0&w=640&h=360]
Riley's sound is from a bygone era, and he's really good at it! More than that, he's adorable. I can see young teenage girls going gaga for him. Given the history of these kind of shows that immediately makes him a contender! (For those of us a bit older, I'd like to think Adam did that bit just for us.)
Also, didn't coaches Miley Cyrus and Alicia Keys play the perfect groupie girls standing and swaying in their chairs? They really work well as a united front. It makes a great counterpoint to Adam and Blake's bickering. It will be interesting to see how the women's dynamic evolves as the competition heats up.
What else was good to see is that Miley Cyrus is no lightweight in terms of asking important questions and understanding the importance of focus. I liked that she jumped right in! Her question made sure that the sound and style Riley presented was the direction he wanted to go in.
This kind of question doesn't just help the artist. At times there have been singers that have gotten on the show only to change artistic direction. This can be tough on coaches. Her question was a great way to help out Adam and Blake in their approach to recruiting Riley.
As for what coach he'll pick…if it's not team Adam I'll be shocked! Still, we'll find out for sure tonight. I can't wait to see what other new artists we'll discover!
It's almost time…are you ready for the The Voice season 11 premiere? It's tonight at 8pm ET on NBC. I'll be watching and reviewing, so come on back to TVoverMind for thoughts on all of tonight's action! You can also follow me on Twitter for live tweeting!