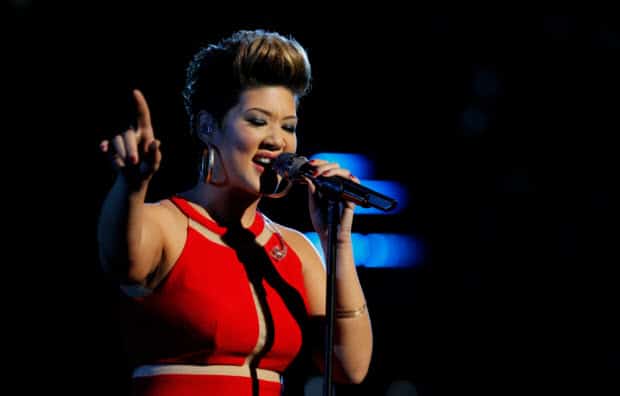 Did the finals of Season 5 of 'The Voice' open the door for any of the three performers to win on tonight's show or is it a dead issue? Will Champlain, Tessanne Chin, and Jacquie Lee had three opportunities last night to win over the masses one last time in what was a terrific finals for the show. Each performer sang three times. The first song was their original blind audition song performed again. The second, which was the best part of the show, was a duet with their coaches. Lastly, each performer took the stage to perform a coach's choice one last time. Knowing who the fan favorites are it's pretty easy to guess who is going to win tonight, but if you had to go by the performances – it's anyone's to win.
Tessanne Chin: Tessanne opened with the song that got all four coaches' chairs to turn around, "Try" by Pink. She then teamed up with coach Adam Levine for a beautiful rendition of "Let it Be" by the Beatles. Finally, in her last performance she went all in with Whitney Houston's "I Have Nothing". Ultimately, the Whitney Houston performance won the competition for Chin. Most of the night she was middle-of-the-pack (which isn't a knock because all three performers were great), but her final performance was mind-blowing and will get her the title.
Will Champlain: Will opened his trio of performances with "Not Over You" by Gavin DeGraw. His second performance was his duet with Adam Levine. Levine, who said Will has a very similar style to himself, chose "Tiny Dancer" by Elton John. Personally, I thought this was one of the best performances of the night, but Will's been an underdog from the beginning and it just wasn't enough. He closed solidly with "(Everything I Do) I Do It For You" by Bryan Adams. The most touching moment of the night was when Will made his way over to his family at the end of the song. Adam hit the nail on the head with Will. For all that he's been through, he's already a winner. He's not going to win this season, but he has nothing to be ashamed of.
Jacquie Lee: The 16-year old wonder opened her night by revisiting "Back to Black" by the late Amy Winehouse. She then teamed up with Christina Aguilera to perform Christina's song "We Remain" from 'The Hunger Games'. Her final performance was "I'm Telling You I'm Not Going" by Jennifer Hudson. Here's the thing with Jacquie – she's going to make it no matter what happens. I thought going into last night she may have been a slight favorite over Tessanne. Now, I believe she's third. Her duet with Christina was lackluster and her final performance was the same thing she's always done just burst out vocals. The kid is a phenom, but she didn't finish strong.
It's pretty clear to me that Tessanne Chin is going to win tonight. Ultimately, all three are winners. As we've said from the beginning we were hoping Will Champlain would win, but he just doesn't have a strong enough following. There's no doubt that each performer is going to make it in the world of music, but Tessanne just has the fan appeal and oh, she's a magnificent vocalist.
Tell us what's wrong with this post? How could we improve it? :)
Let us improve this post!