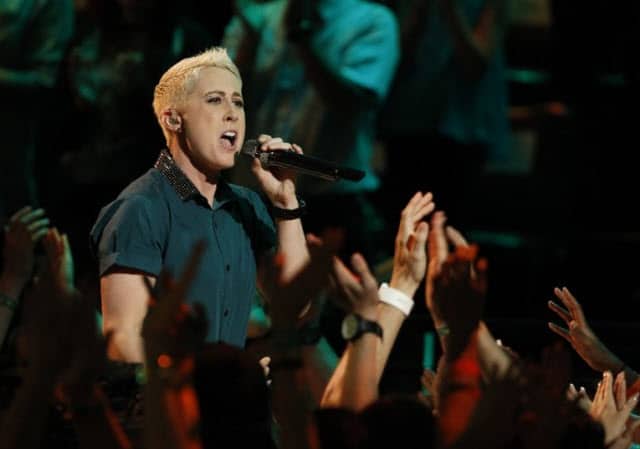 There was a bit of a blonde theme last night Season 6's 24th episode of The Voice. Gwen Stefani, next season's coach, made an appearance to perform 'Hollaback Girl' and Adam Levine rocked his new blonde locks. Levine, who dyed his hair blonde over the weekend, says he digs his new look and feels like a "cyborg". Joining Stefani for her performance was another coach joining the show next season Pharrell Williams. He also performed his song "Come Get it Bae", which he collaborated with Miley Cyrus (she wasn't there though). Rounding out the celebrity performances was Blake Shelton with Season 2 competitor Gwen Sebastien.
On to the performers:
Sisaundra Lewis (Team Blake): Lewis performed Tina Turner's "River Deep, Mountain High" , which she dedicated to her mother. It was a classic Lewis performance, powerful, beautiful. The coaches were full of praise for the show's frontrunner.
Audra McLaughlin (Team Blake): McLaughlin performed Rebecca Lynn Howard's power ballad "Forgive". It was a stripped down simple performance with just a piano. She put together a really strong performance, but this isn't her wheelhouse so we'll see how it's received.
Jake Worthington (Team Blake): Blake's third performer opted to sing Brooks and Dunn's "Hillybilly Deluxe". Worthington was a little under the weather this week, but scrapped together a fun performance. The problem is I'm just not sure this is going to appeal to the majority of the audience.
Josh Kaufman (Team Usher): Team Usher's only remaining performer decided to go with Bon Iver's "I Can't Make You Love Me". Despite being called "as perfect of a performance as I've seen on the show" by Blake Shelton, I just didn't see if turning audience heads. Don't get me wrong he's great, but I'm thinking how the audience is going to vote.
Kristen Merlin (Team Shakira): Merlin went with Lee Brice's "I Drive Your Truck". Merlin has overcome a lot this season, but this may have been the worst performance of the night. I'm just not seeing Merlin's confidence. She could be out.
Kat Perkins (Team Adam): Perkins and Levine decided to take a risk and have a little fun with Pharrell and Daft Punk's "Get Lucky". It was a pretty unique performance as she turned the fun-loving song a little dark, but everyone could dig it. I thought it was pretty nicely done. It was certainly well-received by the audience.
Delvin Choice (Team Adam): Choice picked R. Kelly's "I Believe I Can Fly". It was an emotional performance and Choice hit some major notes, but something was missing. I don't know what it was. Usher praised him, but he appeared to be bored during the performance. This was my anomaly of the night.
Christina Grimmie (Team Adam): In the "what the?" song choice of the night, Grimmie picked Lil' Wayne's "How to Love". It actually worked out really well and I found the performance oddly intriguing. The coaches and audience seemed to feel the same way because she got a warm reception.
So the big question is: who is out tonight? Check out the elimination show tonight at 8:00 PM on NBC.
[Photo via Trae Patton/NBC]