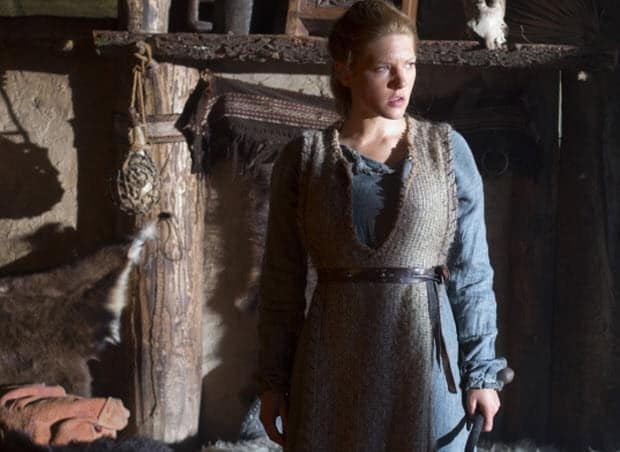 As more and more television networks try to get into the original programming game, History built a solid foundation with Vikings – its first ever original series – last year in a debut season that was equally quirky and interesting as it was underdeveloped. If "Brother's War" is any indication, those aspects are still all there, but the second season premiere also suggests that Vikings might begin to feel more like a recognizable cable drama even if it doesn't look and sound like one.
And, to be clear, not looking and sounding like the average cable drama is what gives Vikings so much of its charm. There is a moment in "Brother's War" when we see civilian vikings either doing laundry or washing meat – I couldn't quite tell, it was so quick. This kind of immersion and attention to detail is something the series provides without a care in the world regarding the audience's understanding. Sure, certain rituals or traditions might be explained when the narrative calls for it, but the background in any scene is full of images and items that a documentary series about of vikings on History might take painstaking time to explain. That's not Vikings' game, and it's better for it by just letting the world breathe.
Indeed, the series hardly follows television tropes. We spend just a little bit of time with some of the main characters in the cold open; then, all of the sudden, we're thrown into a battle. Without the contextualizing "last season on Vikings" bit, new viewers would have no idea what is going on while being totally enthralled by the weird skirmish between two "armies" that aren't really that big and which ends abruptly. Later in the episode, the lawgiver says of Rollo – who is responsible for stopping the battle – that "he behaved in an interesting and unexpected way," which is as apt a description of Vikings as any. It's also a great example of how the dialog and its delivery in this series is capable of coming off utterly stilted (I gave off an audible chuckle at that line, which is a rare occasion; this is probably not the reaction creator-writer Michael Hirst was going for) and wonderfully foreign and compelling. It's as if being strangers in a strange land gives us the inclination to be amused by how these people walk and talk, which isn't all that far removed from reality. So, too, can that dialog stir passion and emotion. While Travis Fimmel certainly deserves a lot of the credit for making everything that comes out of Ragnar's mouth interesting, the monologue that Hirst gives him as he sits on the shores of Kattegat and speaks to the spirit of his dead daughter is the example of the control Hirst has over the language he's created. Steven DeKnight's writing team developed the language of Spartacus carefully and methodically over seasons to the point where syntactical inversions or omissions of pronouns felt completely natural. Hirst isn't 100% there yet, but he's already dangerously close. The nuance of a line like "…I'll gently stroke your long and beautiful hair once again with my peasant hands" (my emphasis) is nothing short of invigorating.

From the "If I Had a Heart" title sequence to stylized shooting of a scene like the aforementioned shores one, Vikings has nailed most of the technical aspects. It's by looking at the story that things become a bit trickier. There is a recycling of ideas in "Brother's War," which – I suppose – could be attributed to the fact that it is a season premiere intent of bringing us back up to speed. That said, the question of Rollo's allegiances has become a tiresome inquiry, and it has made it difficult for his character going forward in both gaining the viewer's sympathy (which, of course, isn't necessary at all) and being a source of engaging plotting (which is necessary if he's going to remain a series regular). Similarly, that Ragnar implores his fellow raiders to set their sights to the west rather than focus too much on their internal conflict is nothing new. I've always liked that Ragnar's justification for being our main character is because he's a forward-thinker in a mostly insular society, but actions speak much louder than words in a series like Vikings.
What might polarize viewers is how "Brother's War" handles Lagertha's story. When looking back, "Brother's War" hardly seems like the most appropriate title given that the relationship between husband and wife takes precedence over the fraternal relationship in terms of the story in this episode. Aslaug, carrying what may or may not be Ragnar's child, sails in and essentially forces Lagertha out. Ragnar makes weak pleas to his wife, including the suggestion of a polygamy, but at the end of the day, he lets her (and Bjorn) take off without putting up too much resistance. There's a certain melodrama to the whole thing that feels somewhat out of place in the Vikings we were introduced to last year, but I'm of the opinion that as long as the other aspects of the series remain "interesting and unexpected," grounding the narrative with more familiar tropes and character dynamics can help make the whole thing more accessible, opening up more opportunities for emotional investment. It may feel like a betrayal of the tone of the show, especially since Ragnar and Lagertha's marriage wasn't all that conventional to begin with, but I'd rather see what Hirst can do with this kind of more recognizably dramatic storytelling than play it safe.
There are, after all, other interesting characters to explore, so why not get to know them and their personal tribulations more intimately? Donal Logue gets promoted to season regular, which is about the best way one can fill Gabriel Byrne's shoes. Gustaf Skarsgard is still darkly comedic as Floki, the ship-builder. And, more than anything else, we can look forward to seeing more Athelstan (who is almost entirely absent in this premiere) as our entry into this world and our bridge between it and England. There's plenty of material to be mined and a lot of season left to do it in. Welcome back to the strange world of Vikings.
[Photo via Jonathan Hession/History]