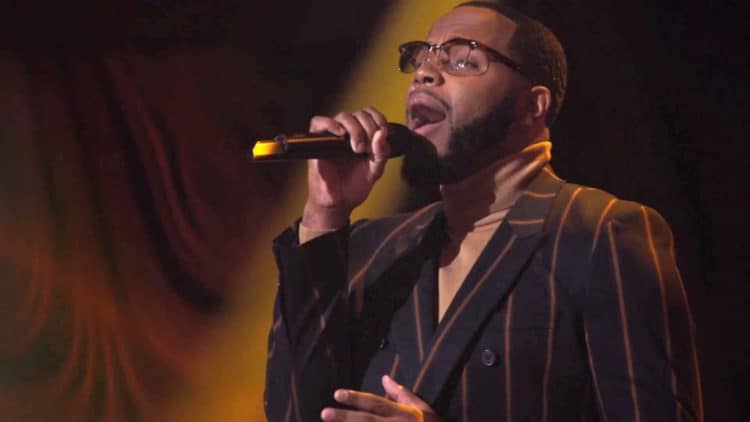 Most college seniors are stressing about what they're going to do after graduation forces them to enter the 'real world'. Victor Solomon, however, is focused on winning one of TV's top singing competition shows. As a contestant on season 20 of The Voice, Victor has already gotten a lot of attention thanks to his blind audition. His performance of "Glory" by Common and John Legend resulted in three of the four judges turning around, including John Legend himself. As you might be able to guess, Victor decided to join Legend's team and his future in the competition is looking very bright. Here are 10 things you didn't know about Victor Solomon.
1. He's An Illinois Native
Victor is originally from Illinois and he is a 2017 graduate of Peoria High School. He is currently a student at North Carolina A&T and he hasn't shared whether or not he plans to stay in North Carolina or return to Illinois after graduation. Of course, it will largely depend on how things go for him on the voice.
2. He's Already Setting Records On The Voice
Anyone who has ever seen a show like The Voice knows that it's always a huge risk to perform a song that belongs to any of the judges. Still, Victor felt very confident in his ability to perform "Glory," and rightfully so. With his blind audition, he became the first person to get John Legend to turn around while performing one of his own songs.
3. He Already Has A Large Social Media Following
Being on The Voice will undoubtedly get Victor a lot of attention, but he isn't exactly starting from scratch. Even before going on the show he had built a pretty impressive social media following. At the moment he has almost 13,000 followers on Instagram and that number is sure to go up.
4. He's Also Performed "Glory" In Front Of Common
Victor's audition for The Voice isn't the first time he's performed the song "Glory" in front of some very important people. He previously sang the song in front of Common who was very impressed by Victor's rendition on of the hit. Common even went as far as to share the video of Victor's performance on his Instagram page. This suggests that his blind audition on The Voice may not be the first time John Legend has heard Victor sing.
5. He's In A Fraternity
Greek organizations have been a very important part of the African American community for more than 100 years. As a member of Alpha Phi Alpha Fraternity, Inc. Victor is very proud to be a part of that legacy. The fraternity has along list of notable members including Omari Hardwick, Lionel Richie, and Keenen Ivory Wayans.
6. His Faith Is Very Important To Him
Victor hasn't gotten into the specifics of his religious beliefs, it's clear that he is a devour Christian and his faith in God is one of the most important things in his life. He often sings Christian music and has already released a couple of Christian songs.
7. He's Studying Business Administration
Music may be his passion, but Victor is also all about his business. He is currently working towards earning a bachelor's degree in business administration. While this major may not have anything to do with the creative side of things, it will still equip him with skills that can come in handy in his music career.
8. He's Thankful For All The Support He's Gotten So Far
Most successful people will tell you that they wouldn't have been able to get where they are today without the help of others and Victor Solomon is no exception. He has been blessed to be surrounded by a very strong support system and he's thankful for all of the people who have shown him love along the way.
9. The Voice Is His First Competition Show
Even though he's been singing for a very long time, The Voice is the first time that he's really put his skills to the test on a major competition. While he may not have as much experience as some of his fellow contestants, Victor is still ready to give it his all.
10. He Loves Fashion
Not only is Victor going to shut it down every time he steps on the stage, but he's going to make sure he looks good while doing it. Fashion is another way that Victor likes to express himself and he has a great sense of style. No matter what the occasion is, you can bet that Victor is always going to come through looking his best.