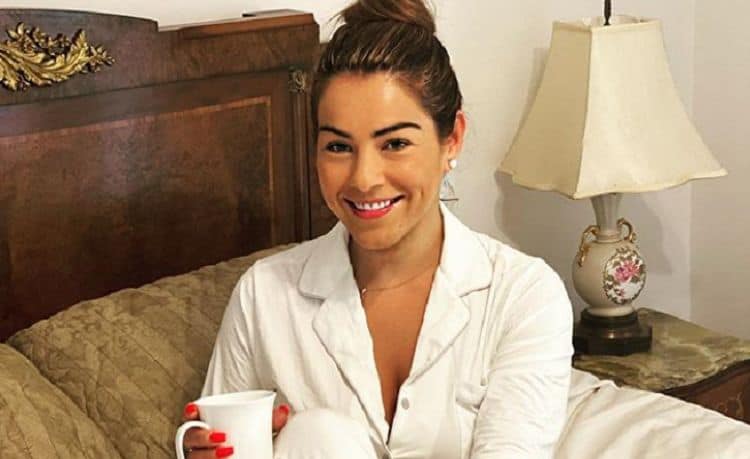 Veronica Rodriquez may not be a main cast member on 90 Day Fiance: Before the 90 Days, but she's made an impact nonetheless. Veronica was featured on the third season of the show when her ex-fiancé, Tim Malcolm, began dating a woman in Colombia. Although Veronica and Tim have been broken up for some time, they are still great friends who spend a lot of time together to co-parent their child. Despite sometimes appearing jealous of Tim's new relationship, Veronica continued to be a strong support system as Tim found himself going through ups and downs. Now a regular on 90 Day Fiance: Pillow Talk, fans can't get enough of Veronica's sly comments and sarcastic sense of humor. Keep reading for 10 things you didn't know about Veronica Rodriguez.
1. She Has Cuban Ancestry
Since Veronica wasn't a main cast member on Before the 90 Days, fans weren't given much information about her outside of her relationship with Tim. Some viewers had questions about her ethnicity – Veronica was born and raised in the United States, but at least one side of her family immigrated here from Cuba.
2. She Speaks 3 Languages
No matter where you live or what you do for work, being able to speak more than one language is something that can always come in handy. Luckily for Veronica, she is able to speak three. According to her LinkedIn profile, she speaks English, Spanish, and French fluently.
3. She Studied Business
%0AVeronica Rodriguez is not only good looking, but she is also smart. From 2003 to 2005, she studied at the University of Rochester and earned an Associate's Degree in Political Science and Government. The following year, she went to Florida International University and obtained her Bachelor's Degree in Business.
4. She Has A Full-Time Job
Let's be real, the cast members of 90 Day Fiance rarely seem to have jobs. At the start of each season, they often mention what they do for work, but it always appears vague. Nonetheless, we do know that Veronica is gainfully employed and has been for some time. Her LinkedIn page indicates that she works as a Lead Sourcing Relationship Manager.
5. She's From Miami
Like Tim, Veronica currently lives in North Carolina and it appears she has lived there for several years. However, she is originally from the Miami area and, judging by her Instagram posts, she still visits frequently, so many of her relatives likely still reside in Florida.
6. She Makes Videos On Cameo
Appearing on Before the 90 Days and Pillow Talk have greatly increased Veronica's social media presence. She currently has over 62,000 followers, and she has capitalized on this to open other opportunities as well. She has an account on Cameo, where she offers personalized videos for $30. Fans can request the video to be recorded in either English or Spanish.
7. She Claims To Support Tim Financially
When Tim initially appeared on the show, he identified himself as an entrepreneur and made it clear that money wasn't a concern for him. However, in November 2019, Veronica dropped a bombshell when she posted on social media that she was financially supporting Tim. She even alleged that she had bought some of the presents that Tim gave to Jennifer. It's uncertain whether she meant that she had always been supporting him or if she was helping out because he had encountered financial difficulties. In either case, this was in stark contrast to the way Tim had initially presented himself.
8. She Loves Yoga
Veronica loves staying active, and one of her favorite ways to do that is by practicing yoga. Whenever she has time, she enjoys getting outside and working on yoga poses. It's clear that she's been at it for a while because she makes even the more challenging poses look effortless.
9. She Enjoys Hanging Out By The Water
Even after years of living in North Carolina, Veronica is still a Florida girl at heart. This means that she loves spending time outdoors, especially at the beach. When she is back in Florida visiting her family, Veronica spends a lot of time out on the water, doing things like boating, swimming, and paddle boarding.
10. She Was Arrested
Veronica isn't a hardened criminal by any means, but she has had a run-in with the law. In 2016, she was arrested for driving while impaired. There aren't many details on the incident, so it appears that she didn't get into any serious trouble. Her mugshot was taken in Rowan County, North Carolina.
Tell us what's wrong with this post? How could we improve it? :)
Let us improve this post!