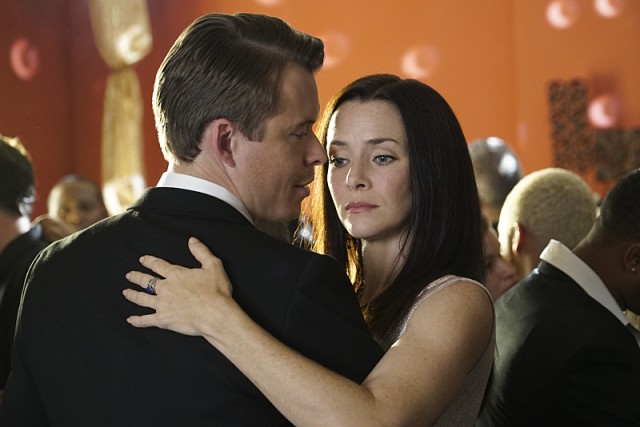 A bittersweet death occurred on The Vampire Diaries this week. Rather senselessly too, since the intended suicide repercussions backfired on the character. Amidst that depressing thought, there were mixed feelings about the rest of the episode.
Let's talk about the latest installment of the future. Three years down the line, Damon will be dying of a werewolf bite in the Texas news station where Caroline works. At first, it looks as though Lily is his captor, maybe even possible savior, until the truth of his condition is revealed. He was hallucinating when he thought he was talking to his mother because he is in fact dying. This accomplishes one of two things: sets up a potential crossover with The Originals, which should be interesting given the time jump that's not happening over there, and it also proves that Damon lives with the regret of never making things right with Lily when he had the chance.
In retrospect, this was a fitting farewell to Mama Salvatore. I knew that she'd ultimately choose to sacrifice herself in order to save her children, but little did she know that Julian already unlinked themselves. Her conversation with Stefan about their regrets and exchanging advice for dealing with Caroline and Damon was foreshadowing her death, especially the part about needing to only give Damon time until he comes around to see her side of things again.
Stefan benefited from Lily's advice about Caroline's pregnancy. He was rightfully confused and slightly weirded out at the entire situation when she first told him. Good for Caroline not waiting any longer, though. They are better off now that they both acknowledge how crazy this "magical baby transplant" will be! I can't help but laugh every time Caroline comes up with a new way of explaining her pregnancy, because at least the Vampire Diaries writers are having fun with the whole idea, too.
With Lily dead now, this leaves all the Heretics and the Salvatores to deal with Julian on their own. Julian's already causing problems between Nora and Mary Louise, who act more self-involved than anyone else on the show. Seriously, they seem to pose no threat to anyone so long as they can live in a happy bubble all to themselves. Mary Lou accepts Julian's ancient ring to use to propose to Nora, which she interprets as his meddling in their relationship. Honestly, I could care less about this couple. Maybe they are breaking ground as being the first gay vampire couple on the show, but their drama is more annoying than anything. Let them ride off into the sunset together and they will not be missed.
Speaking of unwelcome vampires, Matt finally said exactly what I've been thinking about Enzo: why is he still there? Lily didn't want him. Neither did Damon or anyone else for that matter. His presence in Mystic Falls (and on The Vampire Diaries) is pointless. Matt started taking matters into his own hands, and I'm very curious to see who this group of people is that he's recruited to help maintain the peace in the already deserted town.
What did you think of this episode of The Vampire Diaries?
[Photo via The CW]