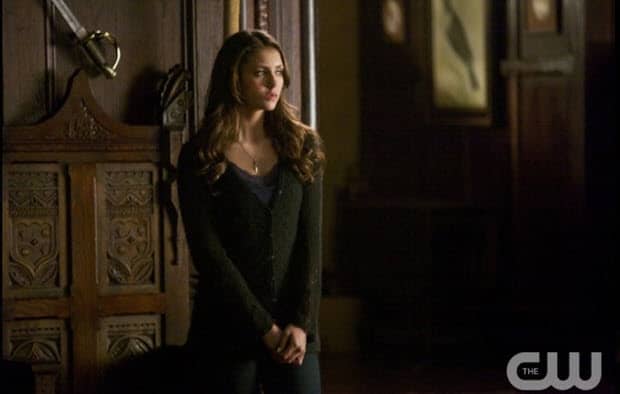 Last year The Vampire Diaries was all about the elusive Cure. That word alone was spoken an unbelievably annoying amount of times, and this season appears to have its own identifying theme: doppelgangers!
Apparently there's another doppelganger of Stefan, because why not? This is the craziest season yet with the introduction of all these extra doppelgangers and Travelers. At least the two go hand in hand in the sense that the Travelers need to find (and subsequently kill) Stefan's other doppelganger. If you think about it, I suppose it does make sense that there is another Silas doppelganger because Silas and Amara were destined to be together. Then Stefan and Katherine were born in the same era, and they had their own tragic love story. Now we're introduced to the youngest doppelganger, who is possibly a human. That could be interesting to see Paul Wesley play more of this human character, but since Caroline and Enzo volunteered to find him and deal with him, he probably won't last long. Caroline won't want to kill an innocent human, but he does have a large group of witches waiting for his blood so I don't think he'll be around for much longer.
It seems like we've only just begun to see the real side of the Travelers. These gypsy witches have been around in the background all season so far, but until now we haven't gotten many answers about them. A while ago, before Elena was hijacked by Katherine, the Travelers had once trapped Stefan and Elena and drained them each of a few buckets of their blood. That has been bugging me ever since it happened so I'm especially happy to see that storyline is starting to pay off.
Just before Katherine gave up her control of Elena's body, she had found Dr. Wes' latest experiment and injected it into Elena. At first I thought it was just werewolf venom, but this week we learned that it is actually a deadly combination of the vampire ripper virus mixed with the venom. The Travelers claimed that this next doppelganger's blood will produce the antidote since Stefan's blood did nothing when combined with Elena's. I'm not entirely sure that Stefan and Caroline should be so trusting of the Travelers because for one thing, they collected that blood long before Elena or Damon had the virus. I also don't think these witches are exactly out to help vampires, but for now Stefan and Caroline are trusting that Enzo has Damon's health in his best interest.
Something is definitely up with Damon and Elena. They had been kept apart because they're both infected with the virus that would make them want to drain each other of blood, but they were able to talk to each other on their cell phones. It was pretty funny when Elena started freaking out about her hallucinations from the werewolf venom and broke her brand new phone that Stefan just bought her. These hallucinations, in addition to Katherine's entries in her diary, filled her in on some of the missing weeks of her life, but they also made her paranoid. She thought she had killed Aaron Whitmore, but Damon tried to calm her down by confessing that he was responsible for Aaron's death.
Elena had threatened Liv's life if she didn't allow her out of the dorm, and Damon did the same to poor Matt and Jeremy to let him out of his chains in the Salvatore basement. The two met up on the deserted Whitmore campus, and were interrupted by Enzo with what he claimed was the antidote for the virus. Since we had last left Enzo with Caroline, Stefan, and the Travelers, I don't see how that could possibly have actually been Enzo with Damon and Elena. Their love scene after that was suspiciously shot much differently. It appeared more light and similar to Elena's other hallucinations. That could just be me being extra paranoid, but we'll have to wait and see what exactly is going on!
The addition of a new character Luke at the college didn't faze me at first, but then we learned of his connection to Liv, the witch that Bonnie has been teaching. They're brother and sister and definitely up to no good. Luke said something to Liv about Bonnie being totally clueless until she realizes that her friends are in danger. They could be talking about Damon and Elena, or Stefan, or Caroline and Enzo, or all of them!
What'd you think of the episode?
[Photo: Annette Brown/The CW — © 2014 The CW Network, LLC. All rights reserved]