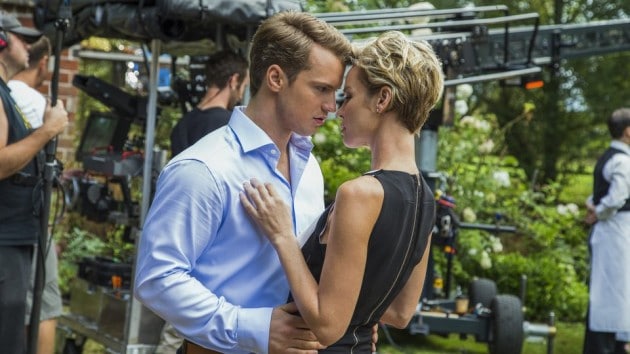 There are many inauthentic things about reality shows, paramount among them simplicity: in order to create a clean story line that can be introduced, conflicted, then resolved in the course of an hour, the complexities of real life must be stripped away. After all, life is but a complicated web of subtleties, and that doesn't always make for satisfying television; in fact, most of the time, we're left unsatisfied. That seems like a very half-glass thing to say, but it isn't; the beauty of clarity in life is that it doesn't come often, despite us spending so much time in pursuit of it. Reality television tries to massage a false truth out of the lives of the people they film; that life can be clean and direct, and if we can survive a little bit of drama, we'll always come out with clear eyes and hope in our hearts.
Unlike a lot of television – reality or otherwise – UnREAL understands this is all a bunch of BS; there's no point in trying to placate the world with visions of simplicity, because life doesn't work like that. Every character, be it on the production team or the cast of Everlasting, come with their own stories and sets of complications; for some, these stories haven't been addressed yet, like the cocktail of pills Mary takes every day (or the psychological remnants of her abusive marriage). For more prominent characters like Rachel and Adam, "Wife" (and its three predecessors) has spent a great deal of time slowly revealing pieces of their past, continuing to inform their character in conflicting ways.
That's not a sign of inconsistent character writing – sure it can be, but how "Wife" in particular uses the unspoken complexities of its characters to bring the actual plot to life makes for unexpectedly engaging television. Think about how much is left unspoken about Adam and his ex-fiancee; his moment of weakness is mostly explored as a dramatic element of Everlasting's trip to his (boarded up) vineyard in Napa, although it gives great definition to who Adam is, and further complicates our understanding of him. There are moments he seems geniunely interested in finding human connection, be it with a girl on the show or Rachel; he's also a guy still trying to mature, and making all the mistakes that come along with it (this week, he agrees to sleep with the wife of Chet's friend, so that they will invest in his struggling vineyard). He's not forgiven for his actions, and although "Wife" goes out of its way to remind us how charming he can be, it doesn't shy away from the poison cloud around his magnetism either, colored by his immaturity and inability to look himself in the mirror and be honest about what he wants.
If there's a theme to "Wife", it's that idea of honesty with self: just as Rachel has to come to terms with admitting the truth to Jeremy about his promotion to DP (in that she had nothing to do with it), characters like Quinn and Adam come to important crossroads in this episode, with the third act going to great lengths to contrast the difference between show runner and star; while Quinn finally decides to take power back in her relationship with Chet (professionally or personally; turns out leaving his wife isn't the only lie Chet's told, having stole the original idea of Everlasting from Quinn and her ex), Adam's still left powerless by the end of the hour, something UnREAL neither villianizes or victimizes them for.
The ability to observe without judging is tough for any show; even The Sopranos and Breaking Bad went out of their way to admit what their characters were doing was wrong. Their sympathies only extended so far for their own protagonists; UnREAL doesn't take that approach, dealing out positive and negative moments with equal aplomb in "Wife"; the only real villain turns out to be pervy Chet, who makes his case for most horrible human being in the world with his continued dick-ish behavior on and off set; he makes a nice mirror into a potential future for Adam and Rachel, should they continue their little game of romantic cat-and-mouse with each other throughout the season (which looks to be an increasingly dangerous affair; given what happened last time, this could get ugly fast – UnREAL certainly does not hold back on story lines). Adam's already manipulated her into fixing up his vineyard to try and win investors; it's not a stretch to see their "love story" playing out the same way Chet and Quinn's did, which comes to a slamming close when she hands Chet the original show pitch, which does not have his name on it, proving he stole the idea from her.
Don't let UnREAL fool you; as its satire of reality television has faded into the background a bit (or just become an accepted part of this world's reality, dampening the comedy factor), episodes like last week's "Mother" and "Wife" have been able to really dig into its characters, building out a much bigger world than the contained set of this season's Everlasting. Driven by the performances of Appleby and Zimmer, UnREAL is much deeper and character-driven than its premise suggests; and as we reach the halfway point of its first (and hopefully not only) season, is firmly establishing itself as must-see television.
[Photo via Lifetime]