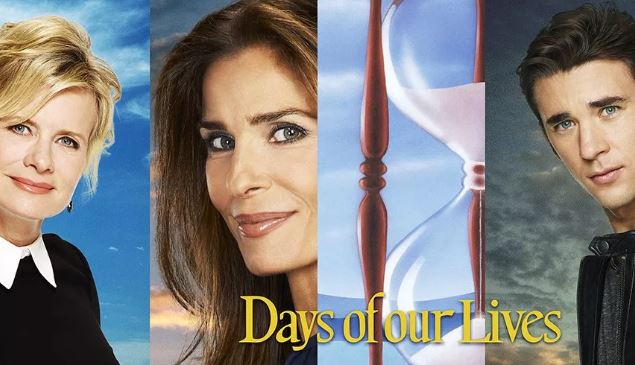 Days of Our Lives fans are often confused by some of the family tree situations on the show. It's not uncommon to wonder how the Brady family and the Kiriakis family have their ties together, and we often find people asking how some people are related and how some are not, and that is a complicated and very loaded answer. It seems that more people are related than not related, and we get that. But there is a chance that we can figure things out ourselves if we get to the bottom of things in a certain manner. For one, let's get started with these two families and how some of the current characters are related to one another to help you better understand the story lines.
Dr. Kayla is A Brady
How is it that Kayla fits into this situation? Well, she's a Brady. She is the biological daughter of Shawn and Caroline Brady, who are both deceased. She was first married to Jack Deveraux in the 1980s, but they divorced the same year and she married Steve, Patch, the following year in 1988. They had Stephanie in 1990, and then they had Joey in 2008 (he was rapidly aged a few years later). They were divorced and remarried at one time because their first marriage was not a valid marriage.
Bo Brady is a Kiriakis
This is where things get complicated. You see, he is not technically a Brady. Bo was not actually the son of Shawn and Caroline, but he was the son of Caroline and Victor biologically. However, he was raised by Caroline and Shawn. He married Hope back in the 80s. They had a son by the name of Shawn, their son Zack died, and they also had Ciara. Shawn, their son, went on to have Claire with his wife, Isabelle.
Claire is Ciara's Niece
This is where things get all kinds of crazy for this situation, and it's where most people have trouble understanding what is going on. Claire and Ciara are mortal enemies, and that's obvious to anyone and everyone around them. However, there is a problem with so much more than just that. They are also family. Ciara is the aunt of Claire. Claire's dad, Shawn, is Ciara's older brother. They don't get along at all, and Ciara likes to go out of her way to make her niece's life miserable, and vice versa. It's a complicated familial relationship to say the least.
Marlena is Sami's Mother
It gets crossed sometimes that this is a real relationship. You see, Marlena was married to Roman Brady for a time. She was his wife when they had Eric and Sami, who are twins. Sami was engaged in an affair with Lucas Roberts-Horton, and she had a baby. That baby is Will. Will is gay, but he had a one night stand with Gabi, and she had a baby they named Arianna. Sami and Lucas got married later, and they had another child, Allie. Then Sami married E.J. DiMera for some time, and they had a son by the name of Johnny. Johnny is the twin of her daughter, Allie, who was born when she was married to Lucas. It's all kinds of complicated, and there is not much that we can say about Sami except that she's a big fan of keeping things complicated with her marriages and her baby making.
We mention this because there is a good chance she is going to show up here shortly walking around Salem with a new baby, and that new baby will undoubtedly belong to Rafe. He and Hope are finally back together and happier than ever, and things are certainly looking up for them. But that is not all. There is a lot more that they have to deal with, and it might just involve a baby and a lot more issues than we had to deal with in the past. This is not going to end well, and we thought it might be important to go through and explain a little bit of the familial relationship with some of the characters on this show so that you know who is who and how.
Tell us what's wrong with this post? How could we improve it? :)
Let us improve this post!