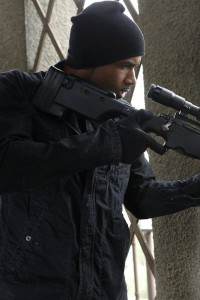 Last night, Undercovers gave us Samantha's "cover" story on why she left the CIA five years prior, but like Steven's explanation last week, I hope that it's more to their stories than what was given.
Lima, Peru
As Peru's President Elect is about to officially be inaugurated as the country's president, a sniper prepares his weapon and is ready to do some damage.
That sniper happens to be Steven Bloom.
Three Days Earlier…
Los Angeles, California
As Steven playfully nags Samantha for getting too involved with the lives of their clients, Lizzy informs them of a potential client waiting in their office. The client, Jennifer Anthony, happens to know Sam personally from their days at Yale. Jennifer brings up a piece of Sam's past in journalism school about how a professor named Schilling thought Sam was a genius. The mention unnerves Sam, who reports that Professor Schilling died in a car accident. Thanks to Carlton Shaw, the Blooms are called off before we learn more.
The mission of the week: Find out who's out to kill the President Elect of Peru Alberto Loya. After capturing the original hit man, who squealed about the hit, the CIA and Shaw needs the Blooms and Leo to find out who hired the hitman's boss, a guy named Ivanov, and to make sure everything is kept under the radar while keeping President Elect Loya safe.
Later that night, Sam marvels over an old bracelet Professor Schilling gave her and reveals how much of an inspirational man he was. He seems to have had a great impact on Sam due to his knack for finding the good in people and made changing the world look possible. She wonders if Schilling would still be proud of her. Steven says absolutely.
Lima, Peru (Two Days Earlier)
As the group infiltrates the press conference event, Sam (under her guise as a news reporter) meets another journalist named Matt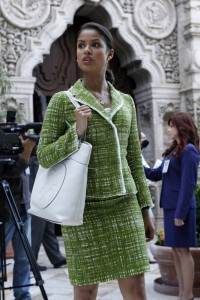 Hunt (David Anders), who tells Sam that despite President-Elect Loya's squeaky clean image there are always enemies, but you just have to find them first.
As Sam meets with Loya, she immediately sees the same qualities in him that Professor Schilling had, making her grow fond of him super quick. Meanwhile, Leo causes a diversion to distract Loya's super tight security detail lead by a guy named Cortez. With the bodyguards gone, Sam reveals to Loya someone might be after him, but he doesn't buy it. Sam relates Loya to Schilling as her explanation when he asks why is she trying to save him. Steven warns Sam about getting attached due to her recent nostalgic reaction involving Schilling. He then offers their next step in plans, which involves proving himself to Ivanov to be the new assassin to take out Loya. Smart, I say.
Rio de Janeiro, Brazil
While at Ivanov's club, Sam, Steve, and Hoyt break into Ivanov's safe and steals a computer drive, which holds the plans of the assassination. Elsewhere, Steven meets up with Ivanov and proposes to take over the hit on Loya due to the previous guy being "dead". Ivanov gives Steven a meeting the next day where Steven's supposed to kill a guy to prove his loyalty to Ivanov. After the team discovers who and why Ivanov wants this particular guy dead, they trail the man and stage a show where Steven "kills" the guy, who is actually Leo in disguise, while Ivanov watches from afar. Pleased with what he sees, Ivanov gives Steven the job. Luckily, Leo is a master of disguises, because I can't see how else they could've pulled that off.
Sam plans to go speak with Loya again to see who could be behind the assassination plot. She mentions how Loya wants to just help people, which Steven reminds Sam again of getting too close due to Schilling. Leo enters with news of a lead by snagging a copy of Loya's inauguration speech through some sexpionage of his own. Turns out that Loya plans on severing ties with a foreign oil company named Despina Oil in favor of a Peruvian company. The move could cost Despina millions of dollars and gives plenty of motive for a hit job.
While at the dinner, Sam runs into Matt Hunt again, but before the two can talk, Lizzy calls complaining about Jennifer. While calming Lizzy down, Sam finds out the whereabouts of Loya and goes to meet him, but stops as she witnesses a tender scene between Loya and his daughter. Thinking she's a threat, Loya's men catch her and pushes her into the chapel where Loya was being kept safe. This gives Sam the chance to warn Loya of Despina Oil, but he still wants her to not worry about him. Cortez enters and throws Sam out, but not before she takes a pic of Cortez to give to Hoyt for analysis.
Meanwhile, Ivanov finds out about the ruse Steven put on to get the sniping job. As he explains himself to the mysterious person behind the entire assassination plot, Ivanov is killed for his insolence.
The day of the the assassination, Hoyt finds out that Cortez used to be the head of security for Despina Oil, which sends Sam running to warn Loya against Hoyt's pleas of staying put, because she will not let another man die. Ruh Roh? Steven prepares himself for the takeout, which begs me to ask why risk getting caught for something you weren't planning on doing in the first place? Maybe that's why I'm not a damn spy…
Anyway, Steven gets the call from the mysterious person, but notices that Cortez is not the person making the call, meaning the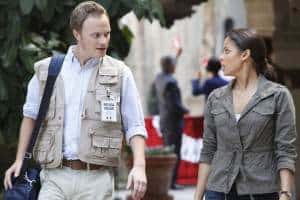 actual person is still on the loose. While Sam is turned away at the door, Matt Hunter offers another way into the inauguration. As all this is going down, Hoyt finds another connection to Despina Oil and it happens to be none other than Matt Hunt, who is an actual family member of the owners of the company. It's too late though, because Matt has Sam hostage and warns Steven that if doesn't take the shot to kill Loya then Sam will die in his place. Womp womp.
With Hoyt's help, Steven finds Matt and Sam's position through a window and shoots Matt just as Leo finds them. Mission complete.
After his inauguration speech, President Loya spots Sam in the crowd and thanks her for everything even though he has no clue of what happened. As a token of his gratitude, Loya gives Sam a lapel pin, which reminds her too much of Schilling giving her the bracelet.
Los Angeles, California
After being debriefed by Shaw, Sam finds Leo and Lizzy having quite the talk and seem to be bonding. This scares Sam…
Later, Sam finally comes clean to Steven about Schilling, who actually was the man who recruited her in the CIA in the first place. Turns out that Schilling died on a mission with Sam five years ago, which Sam declares is the reason she left the CIA. Hmmm… Not what I was expecting, but God I hope there is more behind both of their stories…
So do you guys think there is something else going on with the Blooms' excuses for leaving the CIA? Or do you think the real mystery lies in why they were reinstated back in the field in the first place?
See you guys next week!