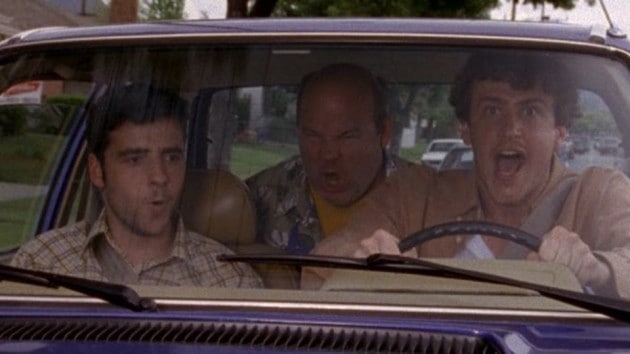 It's obvious how much Judd Apatow and company were enamored by the talent and charms of Jason Segel; the three episodes that Eric is mentioned in the title, Undeclared basically hands over the reins of the entire show to him. In his first appearance, we see him on campus; this time around, our first scene with Eric is spent off-campus (the first off-campus scenes that weren't Will Ferrell's house), with his copy shop cronies joking about Lizzie cheating on him. When Rachel lets it slip to him that, in fact, Lizzie had cheated on him (and with Steven), the crew heads over to pay Steven Karp a little visit – and from there, turns Undeclared into Segel's own starring vehicle.
There really aren't any other plot lines in this episode: "Eric Visits Again" is squarely focused on Lizzie and Eric finally breaking up, a product of them growing apart more than the singular act of Lizzie hooking with Steven. As with most young couples, physical distance can create emotional space, especially in the euphoric sea of new faces and experiences that is the first year of college life. Clinging onto someone, particularly someone older lacking in the same ambitions, just doesn't work: and unfortunately, the wedge that finally drives the two apart is the skinny, gawkish kid who Eric thought was a friend to him and Lizzie both. That's the only story to this episode – but Undeclared uses this to explore a variety of various emotions and positions that stem from this single, endlessly familiar situation.
Initially, "Eric Visits Again" is all about building the conflict – and finding a terrific way of doing it, thanks to the use of the Mortal Kombat soundtrack setting the stage for Eric chasing an open-robed Steven across campus (Apatow would again utilize a Mortal Kombat game in The 40-Year Old Virgin, in the "you know how I know you're gay?" scene), bringing to light the over-the-top masculinity both Undeclared and MK embody (plus, both game and TV episode feature fist fights in closed spaces, with clean exchanges between players… like an awkward, flesh-y fighting game). Steven is "taught" how to fight by a slightly sadistic Lloyd (which brings out Steven's mad face), and Eric stews over Mystikal's "Danger" (which is a stone-cold southern classic: "Get on the floor!!!…. DANGAH!!!") – and then the second act hits, and Eric realizes what's really happening between him and Lizzie.
All credit to Segel: his ability to make Eric pathetic, endearingly honest, and hopelessly immature all in the same sentence is exactly the kind of skill that would lead to his breakout performance in Forgetting Sarah Marshall, although he's slightly more arrogant (let's say immature? He's really kind of a dork, and knows it) here, which makes the contrast between emotions so much stronger. Eric runs the full gamut of emotions in Lizzie's room as they break up, going through the five stages of grief in a matter of minutes – and it's pure showcase material, with Carla Gallo able to do nothing but stand aside and let Segel's growing star (which had already shown some serious potential on Freaks and Geeks a year earlier) shine.
Of course, things end with a silly fight, where Steven breaks his tooth and Eric leaves campus with a bloody nose and no girlfriend. It all kind of fizzes out, as most conflicts of this sort do: the drama of matters related to the heart often are revealed to be much more slight when they're out in the open. Wounds left to fester internally will undoubtedly last much longer – and in a way, Eric's outburst in this episode probably helped him through a situation he was unwilling to face just a few episodes earlier. Steven and Lizzie hooking up was just means to an end they both knew was coming, and it takes Steven smashing his face for the truth to actually hit Eric right in the mouth.
If there's one complaint to find in such a fantastic episode of TV, it's how Lizzie is essentially made a passenger of her own story, the show using Eric's journey to ultimately inform Lizzie's emotional state. Unfortunately, we only really get to see this in the final scene when she's getting rid of his pictures, and putting up new ones of all her new friends (including Steven, which makes him giggle), and in a few brief moments during her conversation with Eric. Part of letting Eric dominate this episode puts the character we really care about in the backseat, left to react to Eric's loud, childish antics, never really giving her a lot of opportunities to speak or drive the story herself (thankfully, it mostly avoids the pitfalls of slut shaming when Tina isn't around, especially when Eric realizes he's been holding her back the whole time).
But this is a small complaint. Thanks to Segel's presence, "Eric Visits Again" is one of the strongest episodes of Undeclared, capturing the combination of relatable, poignant, awkward, and hilarious that a good chunk of Undeclared could never quite figure out early on. "Eric Visits Again" is also an episode that marks many great things to come for the show, often recognized as the catalyst for the show's best string of episodes to follow.
[Photo via FOX]