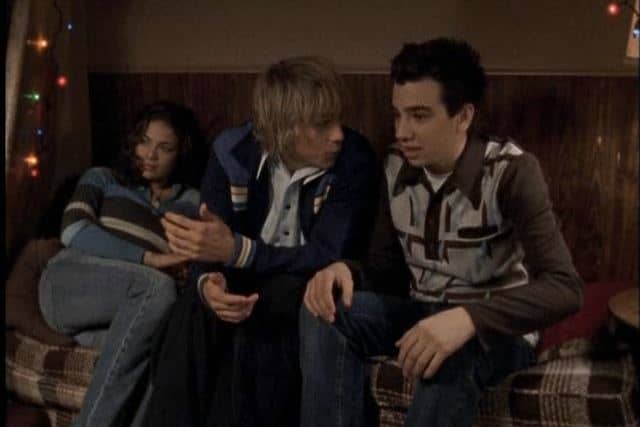 When Undeclared was firing on all cylinders, it really was something special. The last few episodes have stood testament to this, exploring various aspects of college identity (and particularly, masculinity) with a unique blend of hope, humor, and hopelessness – a trend "The Day After" proudly continues, piggybacking on its recent predecessors and existing as arguably the most romantic Undeclared would ever get.
There just isn't a second of "The Day After" that rings false: equal parts universal and specific, "The Day After" is a masterpiece of balance, exploring the odd dissonance that often comes with a new relationship, both between new lovers and their friends, who are often left dealing with either an empty space in their social life, or a suddenly cramped one – especially on campus, when people have to share rooms together, and all of a sudden, a two-person room becomes a shared three-person space (with two of those people constantly trying to fool around, of course).
"The Day After," which picks up the day after the Greek fiasco ends, first presents us with the ripple effect of Steve and Lizzie starting to date: each of the male characters begins to take on his predictable roles. Lloyd gets defensive, the player who is probably secretly jealous he can't get close to a girl (remember, he already tried – and failed miserably) and laments the guy who finds someone he can really connect with. His various diatribes in Steven's ear about the dire situation of his infant relationship are so wonderfully constructed, tapping directly into the insecurity that drives so much ribbing between male college friends. It's that passive-aggressive domination game, and Lloyd's mad he's not on top of the sexual totem pole anymore.
Ron and Marshall fill their roles quite nicely, too: Ron as the fake who talks a big game until his girlfriend shows up, and Marshall as the guy who never gets the chick – every group has one, and Timm Sharp has a field day capturing that awkward desperation with Marshall, who flocks around Lloyd all night trying to get his "runoff" girls (which Kelly keeps ruining, on instructions from Ron), the lonely guy who feels like the third wheel in every social situation amongst his friends. "The Day After" captures all three of these immature viewpoints so perfectly; it throws the audience right into Steven's confused shoes. How should he approach Lizzie, since they aren't "official" yet?
Of course, Steven overcompensates, which sends Lizzie off mad, bringing in Rachel, The Smart Girl Who Parties A Little Too Hard. She coaxes Lizzie to go out to a bar with her, and proceeds to get hammered, flashing everyone at the bar and setting a new record (assumedly) for body shots taken and received, to the point she has to take her own body shot by the end of the night. Rachel's often a cipher for stress on Undeclared, and her version of "letting go" and having fun is predictable; however, it's yet again perfectly embodied with Monica Keena's hilariously committed performance, which is really important, because her behavior (like Lloyd's) is what brings the two together for the final scene, the most adorable moment Undeclared ever produced.
That final scene is the key difference between Freaks and Geeks and Undeclared. Where Freaks mired in the temporary hopelessness of high school, Undeclared reveled in the hope of college, embracing new identities and embarking on personal journeys – and Steven running back to campus to Lizzie's empty room, only to find her waiting in bed for him, is the beauty of Undeclared, the true untapped potential of the show. That shared moment of connection is so important to a college hook-up turning into a meaningful relationship – and it marks a huge shift in the show's structure, with Undeclared's de-facto protagonist in a relationship for the first time in his life.
The story still contains its dark underside – Lizzie just got out of a relationship, and hasn't had much time to be alone in college – but it's hidden underneath the surface of the moment they embrace, expertly edited as the final thing we see in the episode. It brings to close a half hour about partying, romance, and the ever-changing dynamics of a group of friends in college when relationships begin to form; things are beginning to change on Undeclared, and "The Day After" flawlessly depicts the beauty and horror of that shift, all wrapped in a wonderful take on what a night of partying is really like for a freshman (no matter how fondly we may reminisce about it, looking back).
[Photo via FOX]