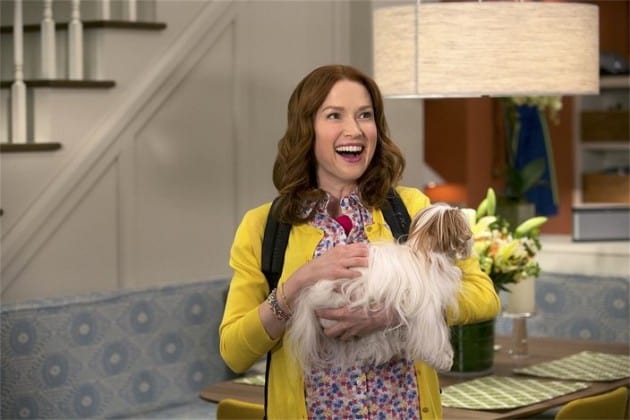 After a successful premiere, Unbreakable Kimmy Schmidt's second episode proves that what could just have been love at first watch has the potential to become a solid series-viewer relationship.
While the pilot episode made it clear that Kimmy may not yet have street smarts, "Kimmy Gets a Job!" banks on what she has, indeed, acquired over the years as part of the cult: bunker smarts. And they work like a charm, both as a comedic goldmine that Ellie Kemper exploits with proficiency, and as the solution to the problems of the supporting characters.
Throughout the first two episodes, it is established that Kimmy is a ray of light in any situation. When she was in captivity, she developed her own brain over matter tools, and it seems like she was the glue that held the women together. In the same effect, at first glance, her coping mechanisms come in handy for Titus, who is two seconds away from giving up on his dream, and for Jacqueline, who, as I suspected, is a collection of train wrecks. Both of them, the man who has nothing and the woman who has it all, are learning from the girl who has no idea. And that makes for an enjoyable product.
After being fired, Kimmy begs Jacqueline Voorhees for a second chance, which she gets after promising to produce a superhero-themed birthday party for Buckley. While she is trying to official get her job back, Kimmy learns that Jacqueline failed to mention the fact that she has a stepdaughter, and a very obnoxious one, who in no time declares war on the show's lead. Xanthippe, whom Kimmy hilariously calls Sumpabeh and Xanadu, is a spoiled brat of a teenager, who is used to getting away with murder and then some. Though the construction of the character relies on a heavy-conceived, yet realistic, stereotype, the evil teen, played with dexterity by Dylan Gulula, makes for an interesting antagonist for Kimmy, who has to tame this out of control young lady since her dad is MIA and her stepmom has given up.
In the meantime, Titus, who was the victim of a scam and cannot return his Iron Man costume and thus get the money he needs to be able to launch his career, summons the costumed workers of Times Square and convinces them to confront the manager of the costume rental shop. As a result, a troupe of characters, demand to have their deposits, along with their freedom from the characters they embody, back. When, again, the scammer refuses, Titus retorts that he has broken the law by infringing copyright regulations. It's a win after all for the Times Square squad. What in my opinion worked best in this storyline is Titus's backstory being told. His knowledge regarding copyright infringement is a lesson imparted to him by accident, when he was slapped by Disney's lawyers after he staged his own DIY production of The Lion King, which was priceless to see.
In the meantime, Kimmy has to tackle another Voorhees's meltdown, when Jacqueline's husband Julian, misses his son birthday. Buckley is not all that devastated by his dad being absent; however, he is upset about his party not being what he wanted. He announces he doesn't like superheroes, like his mother thought; he is more partial to the villains. Showing her nonexistent motherly qualities, Jacqueline explains to her son that his birthday has nothing to do with him. She, then, rustically eats some cake, right after firing Kimmy again.
A defeated Ms. Schmidt finally considers the possibility that she might be doomed as a result of her years in captivity. However, while thinking of the few tools she had while she lived in the bunker, she remembers the book The Baby-Sitter's Club Mystery #12: Dawn and The Surfer Ghost, one of the only two she had at her disposal. The story rings a bell: she, by chance, makes the discovery that the relationship that Xanthippe was bragging about in front of her friends is fictional. Using her evidence as leverage, she grounds the teenager, who promises to get her revenge.
In another successful development, Kimmy gets Titus to get his costume back, for a good cause. She lets Buckley beat up "Iron Man," therefore making him a villain of sorts. That stated, the biggest win of the episode takes place when Kimmy gets Jacqueline to open up to her and admit that her marriage is spiraling down. As a result, the, yet again, rehired nanny teaches her boss to live life ten seconds at the time. The scene is both brilliantly crafted and touching. Jane Krakowski and Ellie Kemper shine without eclipsing one another.
Highlights:
– Titus's super indie production of The Lion King. All of it was funny. The cat as props, the poorly designed and executed costume, and the intent itself. I have never laughed with anything related to The Lion King, until now.
– Kimmy acting as nurse when Xanthippe's friend is drunk and saving them from having to go to the E.R. is priceless. The contrast between the rich with resources at hand, being unable to solve a simple situation, against Kimmy's skills, courtesy of her life in the bunker (which completely save the day), is delightful.
– "Your stepmother expects you to be at your half brother's party when your full father gets here" is too good of a line to be true. Also, it wouldn't fully work if Kimmy's character was not of a sheltered nature.
– The housekeeper announcing Kimmy as a girl who looks like Wendy from Wendy's is invaluable.
Have you checked out Unbreakable Kimmy Schmidt yet? What do you think of the show so far?
[Photo via Netflix]