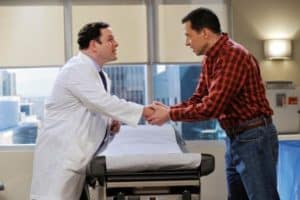 It was the 200th episode of Two and a Half Men, according to Chuck Lorre's vanity card, and it involved some classic Alan Harper mooching. In last week's episode, Alan suffered a minor heart attack and was visited by a female version of his dead brother. This week, Alan is home from the hospital and everyone–except Zoey–wants to make sure he has everything he needs.
Walden wants to cater to Alan's every need, partially because he's sweet and partially because he has witnessed a ton of unexpected deaths throughout his life. Throughout the episode, Walden brings up a multitude of stories about the weird and wacky deaths of his family members–face down in his Legos, at an Easter egg hunt, death by fireworks, falling down an elevator shaft, etc. He has a lot of guilt weighing on him, and Alan admits to himself that he's willing to use it to his advantage.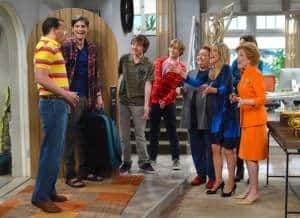 Evelyn, Jake, Lyndsey, Eldridge and Berta are all waiting to surprise Alan when Walden brings him home. As though the surprise was too much for him, Alan fakes another heart attack, but soon says, "Gotcha!" Zoey, nearby in the living room, is the only one who is unsympathetic to Alan.
Walden has gone so far as to redesign Alan's bedroom. He now has a new bed that has remote control tilt functionality and a high def TV with a sports package (but Alan also wants movies and porn, which Walden agrees to add). Walden also tells him to not worry about the bills–he will take care of it. This essentially means that Alan has no reason to go back to work.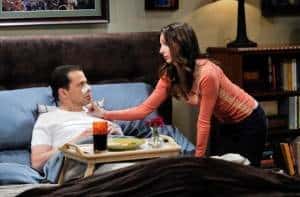 It's not just Walden who is doing everything for Alan. Berta is cooking his favorite foods because she's worried he might haunt her. Jake lied to him that he aced all of his exams–although that was too unbelievable so he told him that he found out that he's definitely straight (good news for gay people). Judith showed up to offer him use of her Palm Springs condo and to tell him not to worry about child support payments. "House in Malibu. No child support. Free condo in Palm Springs. Why would anyone want to eliminate heart disease?"
Just when Alan thought it couldn't get any better, Lyndsey shows up while Alan is watching porn and eating cobbler in bed. She offers for him to continue doing what he's doing while she does something else for him. Alan now thinks, "This is the best day of my entire life." Starting with the Judith scene, I began to think this was another episode that was only a dream. Yes, people often get nicer when a loved one falls ill, but neither Judith nor Lyndsey strike me as the type to go terribly out of their way. Well, it wasn't a dream.
Video chatting with Zoey, she explains she can't come over to visit because she has her daughter, Ava. Walden says he can't go to her place because he has Alan. Zoey thinks Walden is nuts for waiting on him hand and foot, "A week after nuclear Armageddon, the world will be populated with nothing but cockroaches and Alan Harper."
Jason Alexander guest starred as Alan's doctor, who brought Alan two pieces of good news: one, "I'm banging my receptionist," and two, Alan's heart is fine. Alan explains to him that his life has been better since the heart attack. The doctor says that he's healthy, but as a guy who is banging his receptionist, two pharmaceutical reps and occasionally his wife, Alan should lie his ass off. There's no hesitation from Alan, and he goes back into the waiting room to tell his mom that it's bad news. Evelyn is willing to get him anything he wants, but when he says he always wanted to be a cowboy, she says she won't buy him a horse.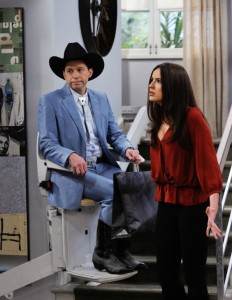 Back at the beach house, Walden has installed a stair lift. Even though there's no reason for Alan to ever go upstairs (or need a stair lift), he explains to Zoey that Alan needs to use the whirlpool tub. When Alan returns home in a full cowboy get-up, it's obvious that Evelyn would actually buy him a horse. Alan breaks the bad, fake news to Walden that he may need a heart transplant, "Let's just hope that somewhere there's a baboon with a healthy heart riding a motorcycle without a helmet."
While Alan is getting treated by a masseuse at the house, Zoey walks in and brings him a banana smoothie, to which Alan requests, "Would you mind sticking the straw in my donut hole?" Zoey gets down to his level and tells him that she knows he's full of crap and to stop taking advantage of Walden. He's been warned, and Alan knows he has to get rid of her, but he doesn't do it soon enough. One day, when he comes downstairs, everyone that greeted him when he first arrived home is now waiting for him at the bottom of the stairs. Zoey hired a private investigator from her law firm to follow Alan around and captured him on video playing a rough game of beach volleyball with some girls on the beach. He tries faking another heart attack, but it's no use. Not even Walden believes him. Later that night, Alan remains on the ground and tells Walden he's waiting for the shame to pass.
Zoey's character baffles me in a split personality kind of way. In general, she's very sweet to Walden and her daughter, while she's utterly mean to most other people. In this episode, she finally had a really good reason to be mean to Alan and she did her job well.
What did you think of "The Straw in My Donut Hole"? Watch Two and a Half Men, Mondays at 9/8c on CBS.
Tell us what's wrong with this post? How could we improve it? :)
Let us improve this post!