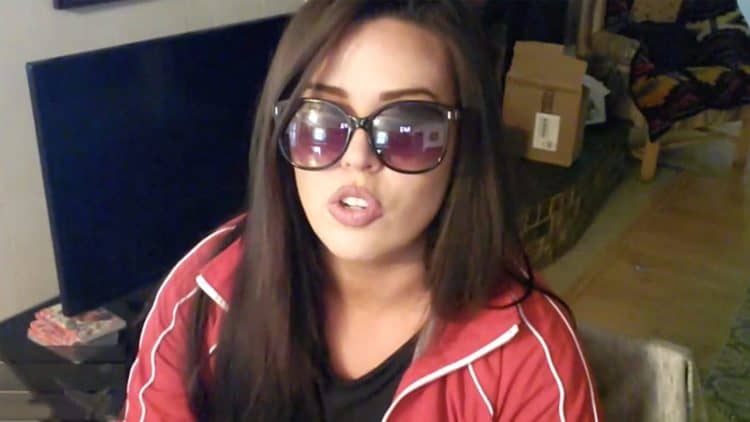 Life can be tough, but passion keeps us going. Kaceytron is one of the people who managed to make it despite the obstacles that came along her way. She had to undergo life's toughest struggles to achieve her dreams. Born in 1992, she has grown to become a popular streamer on both Twitch and YouTube; a streaming career that has blossomed to make her who she is today. If you are yet to know Kaceytron, here are some facts about her to enlighten you.
1. She is not afraid to pose in some risque outfits
In her streaming career, Kaceytron has never been afraid to appear you know, in her posts, yet she aims to empower women to fight against sexual abuse. She posted on twitter that females should not be afraid to wear revealing clothes in the streaming career. In one video that she posted on 19th July 2019, she was wearing a jeans short and a top that exposed most of her body. Kaceytron referred to herself as a 'nasty sl*t' and was not sorry to anyone for saying so as we find out in her Twitter post. She has gone ahead to raise money to assist victims of sex trafficking around the globe. She believes that posting herself with her body parts exposed is a way of getting attention to support her mission. It is ironic that she wants to fight sexual abuse but still refers to herself as a slut.
2. She is from a humble background
Our backgrounds should not define our destiny, and many people from humble upbringing have made it in life because of their struggles. Kaceytron grew up in poverty with her young brother and sister. Her young brother had autism while her mother was a drug addict; hence, she and the young siblings went to live with their grandmother. Despite the poor background, Kaceytron was determined to turn things around for her and her family.
3. She has received several harassments
Feminism has never been easy, and Kaceytron has been through a lot in her fight for the rights of women. People have harassed her both in person and through the internet; someone once posted on twitter that Kaceytron should be kidnapped and sold as a sex slave to Nigeria. Some of the people have confronted her physically to torment her as she says on her Twitter account. On Heavy, she exposes the physical harassment she got, and despite going through such inhumanity, she has remained strong.
4. She has nearly 500,000 followers on Twitch
Since the start of Kaceytron's career as a streamer on Twitch, she has been in the position to post around 500 videos and earn herself a total of 500,000 followers. It is safe to assume that Kaceytron gets followers through the poses that reveal her body, which she believes is a working strategy. On other social platforms, she has 65,000 followers on Twitter and 3,500 followers on Instagram. She also has hundreds of subscribers who pay her monthly to have their ads on her channel with each paying around $15 monthly.
5. She has had other jobs
Kaceytron is not only a streamer; she has held other jobs that have assisted in sustaining her. She has worked as a teller in US Bank, a store manager at Claire's, a server at Red Lobster and as a grocery store bagger. She landed these jobs after she had acquired her college education having moved out of her grandmother's house at the age of 17. She claims that she had to combine all the jobs into one to make it more exciting, and that is why she focused on streaming.
6. She sells merchandise
Having a career and depending on the monthly salary is not the only way to earn a living; the business world is also a source of income. Apart from her job, Kaceytron has also ventured into business. She has partnered with EdwinRacing to sell gaming chairs, and due to her fame in social media, she makes use of the channels to advertise the gaming chairs. In one of her posts on twitter, she gives a 15% discount on the purchase of gaming chairs when you use the code "KACEY" when placing your order.
7. She wants to bring women to the gaming community
Gaming is a male-dominated community, and Kaceytron is a terrible gamer who has wanted to have women in gaming. She describes the men in the gaming industry as disgusting and changing the gaming industry is one of her mission for the year. She wants females to gain acknowledgment like their male counterparts in gaming.
8. Some people wanted her banned on Twitch
It is normal to have haters, and there are several enemies of progress around us. Kaceytron also has some people who are not happy with her performance, and they want her banned because of her mode of dressing. They claim that the new policy on Twitch wants people to wear proper clothes, but Kaceytron wears clothes that expose her body. She is, however, backed up by others who do not wish to have her banned, so she forges on like the fighter she has proven to be.
9. She is among the wealthiest streamers
Streaming seems easy, but making money out of it is the difficult task. Kaceytron has however been able to prosper in her streaming career and is among the wealthiest streamers. According to The Gamer, she is among the 25 wealthiest streamers thanks to her aggressiveness in streaming and the high number of followers that she has.
10. She is single
Fame has always accompanied relationships since someone will come after you for your money and status. However, this is not the case with Kaceytron since she is not in any relationship. She indeed has something against men as we can see from many of her posts. Being a feminist, however, does not make her a lesbian either. She is just satisfied with being single.
Tell us what's wrong with this post? How could we improve it? :)
Let us improve this post!