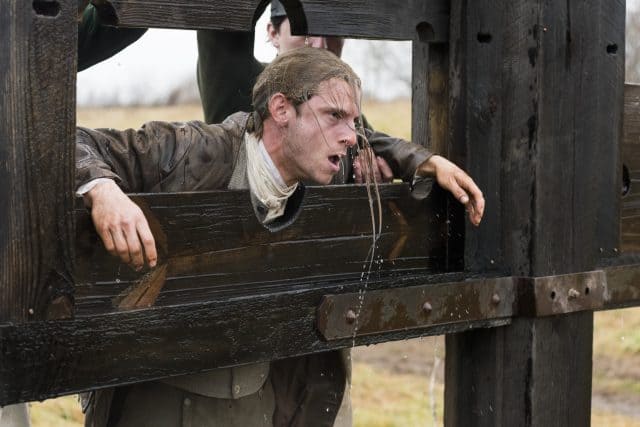 TURN: Washington's Spies easily gave Season 3 everything it had. It's always had the potential to keep things exciting all season long, but this season has really delivered on that. The finale was no exception. There were no cliff-hanger-like gimmicks to keep fans on the hook, nor did they pull any punches. Instead, the story they told and built over the course of 10 episodes came to a climatic finish. Kept within the confines of history, TURN has managed to keep everything compelling and exciting for an entire season, and I was very impressed.
This week on the season finale of TURN: Washington's Spies: John Andre, captured by the Continental Army, is tried as a spy. Abraham also undergoes a trial for assaulting and conspiring against Simcoe, and Judge Woodhull serves as prosecutor. Robert Townsend intends to end his days as a spy. Benedict Arnold is given his new rank and uniform in the Royal Army. Two defendants are hanged, but only one is killed.
First off, I have two apologies to make. I know that for the last several weeks, my reviews of this show have been a day or more late. You see, I have a newborn daughter at home, which makes staying up til 11pm difficult, let alone staying up later to write a review. So I've been getting it in later, when I'm coherent enough to write a sentence. Second, I have to apologize for my misuse of historical facts last week. I declared that Andre, Simcoe, and Abraham all survive the war, when in fact that was only two-thirds correct. I'm sure that I meant "Arnold", but none the less, I was incorrect. Because…
Andre not only did not survive the war, he did not survive this season. Andre, though he conducted himself with honor, was hanged by Washington as a spy. I found each and every scene between Andre and the Continental officers to be some of the most compelling work that this show has ever done. In today's political climate, the fact that two warring sides could be so civil is a mere fantasy. Though JJ Feild's swan song was particularly compelling (his conversations with Tallmadge in particular were beautiful), his acting throughout the whole show made TURN worth watching. Even though I'm a patriot through and through, and I'm aware of the history, I was deeply disappointed that Andre is gone.
The war between father and son back in Setauket was just as compelling, though for different reasons. Judge Woodhull is clearly a loyalist, and has been so upset with his son that he was willing to prosecute him. However, Abraham's in-court admission that he felt guilty about Thomas' death was a turning point for their relationship. In one fleeting moment, Judge Woodhull was overcome with love for his son, and saved his life at just the right time. The boys Woodhull saga has been at times dull, but never more compelling than in this episode.
Owain Yeoman's Benedict Arnold is still my favorite on this show. However, he's much less sympathetic as a Royal officer than a Continental one. This is likely my patriotic bias showing through, unless it's just a reflection of the real Arnold. Yeoman's performance over the course of the season was nothing short of fantastic, and should we get a 4th season, I look forward to Arnold's continued turns in the Royal army.
Overall, "Trial and Execution" was a gripping, satisfying finale, that wrapped all the right stories, and laid out a clear path for a potential Season 4. Season 3 as a whole has been so good, that my ambivalence after previous seasons been replaced with giddy hopefulness that this show lives to see Season 4. There's a great cast, compelling storytelling, and a historical element that just isn't present everywhere, and it's cancellation would be a great loss to AMC. It's been a pleasure covering this show for everyone next season, and hopefully I'll be back for another!
What did you guys think? Did you enjoy the finale? Let us know in the comments!