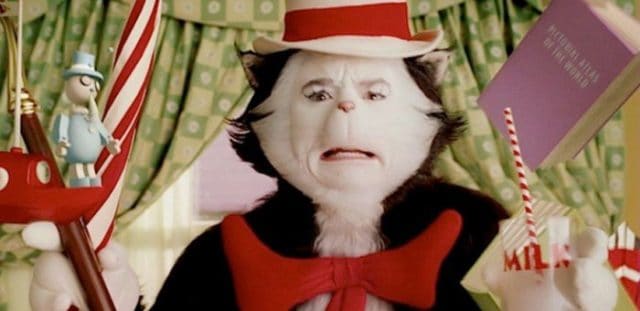 The trailer for Stephen King's It movie has been scaring people for close to a week now. Over the weekend I made a prediction that someone is going to die watching this movie in the theaters. Let the record show that I do not want anyone to die watching this movie, I just predict it's going to happen. The It trailer is already setting trailer view records and it's one of the most anticipated horror films in the last decade. Look, I don't know what it is about scary clowns but at this point in the game you just can't argue how freaky they are. They just ARE and that's the way it is, and that's the way it's going to be.
As if the trailer for It couldn't get any scarier, I came across this video thanks to the folks at /film. If the first trailer for It wasn't already scary enough with the haunting clown Pennywise lurking in the sewer and appearing in a slideshow with that creepy smile of his, imagine how much more frightening it is with Mike Myers' version of The Cat in the Hat.
Watch the It trailer mash-up with The Cat in the Hat below.