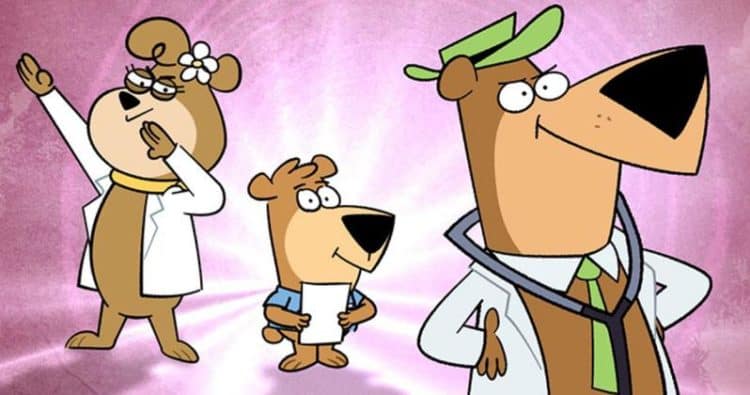 This is definitely a different look for Yogi Bear and pretty much every last character that was a part of the Hanna-Barbera lineup at one time since Jellystone appears to be bringing the majority of them back for one big, crazy-looking thrill ride that is bound to make a lot of older fans drop their jaw and wonder what in the heck is going on. To be honest this looks more like something that came from Cartoon Network and has employed someone who worked on something Ed, Edd & Eddy years ago than something that would be released today. But as one continues to navigate the upcoming and current world of animation it's easy to think that back in the day our parents and grandparents might have had similar views about our cartoons. The fact is that the Yogi Bear that a lot of us grew up with has changed, as have a lot of the other cartoons, but it would appear that things are taking an even loonier twist this time around as Jellystone is going to play host to every possible cartoon that we can remember from the Hanna-Barbera lineup and Yogi and Boo-Boo will be bringing Cindy Bear back as well.
For those that remember, Cindy Bear actually showed up in the 60s and was a part of the show for a while, though it's fair to say that she hasn't been remembered quite as much as Yogi and Boo-Boo. But she's not the only one that will be joining the duo as many other noted toons will be featured, much to the delight of the fans no doubt. It's very easy to think that younger kids and those who weren't raised with these cartoons might not recognize them since honestly, Yogi and his pals have been around for a long time, but they haven't exactly been the most popular toons in the last couple of decades. The decision to bring them back is pretty obvious and it's likely that plenty of people will applaud the attempt, but in order to stick around it does appear that the show is going to have to get a bit crazy.
From the animation style to the storylines it would appear that Yogi and his bunch are going to be getting up to the type of hijinks that people might expect, but in a new and acceptable manner that will keep with the current times. It's hard to say if we'll see Yogi and Boo-Boo stealing picnic baskets like they used to, but it does look as though they'll be up to a lot of new tricks in the coming show. As of July, we'll get to see just what the animators have in store for this group of toons and we'll get to see how long they last this time around. There were plenty of toons that weren't introduced that might be making it back for another run, but one has to remember how many different characters there were when Hanna-Barbera was still a well-known name in the cartoon business. There are likely quite a few of us that remember watching this lineup when we were younger, either when they first came out or as re-runs that would show up every now and then for our pleasure.
The name Yogi Bear used to be tossed around pretty frequently in one show or movie after another since the iconic duo of Yogi and Boo-Boo was heard in a number of different programs with Married…With Children being one of them and The Great Outdoors with John Candy and Dan Aykroyd being another. There are likely a few reasons why they've been brought back in this manner, but the best reason is that they're simply a lot of fun to watch and it could be that the current generation of kids might enjoy what they see. Plus, it's fair to say that a lot of adults might get into it as well as nostalgia is playing a big part in the programming of today and a lot of individuals can't help but appreciate the look back at something that they used to enjoy in their younger years. It's not quite the same, to be honest, but it's close enough for a lot of people.
The show is definitely going to be crazier than people remember, but it's also bound to reach out to the kids of today in a manner that they understand and will appreciate. How long the show will last is hard to say since the public interest is something that can wax and wane pretty quickly. But hopefully HBO Max will be able to keep Jellystone on for as long as possible in order to entertain both the younger and older generations that might enjoy what's there to see. We'll just have to wait and see what happens.