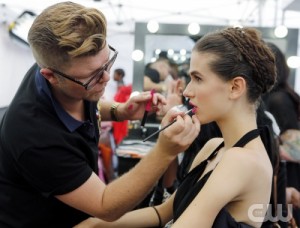 If there was any justice in the world (and creativity in my body this late on a Friday night), this recap would be written from the perspective of Laura's hot pink eyebrows, which will almost certainly be receiving a starring credit next week. It'd be right in line with how the rest of "The Girl Who Sings For Alicia Keys" went, as the child of famous parents received nearly every inch of spare camera time in one of the more one-note edits I think I've ever seen on America's Next Top Model. For 42 minutes, we got to see Laura cry, confront a fear of heights, have an argument, make a new ally, lose an old ally, impress Kelly, put on a fashion show, and nearly win a trip to an Alicia Keys concert, her confessionals racking up more screen time than Bryanboy has in four episodes.
Most of the hour was built around the implosion of Laura's quasi-friendship with Leila; the two had grown a little close through the first few weeks of competition, Leila picking Laura to share the spoils of the Tyra Suite and a pleasant connection being formed. But once Laura fell into the clutches of Wicked Witch of the Aryan Race Kristin, that all went to hell; rather than reciprocating Leila with another trip to the Tyra Suite, Laura picked Kristin to go on the shopping spree, the latter continuing to feed into the idea that Leila was obsessed with Laura and all types of Single White Female-esque delusion. Cut to innumerable confessionals and reaction shots from the three throughout the hour, culminating in another house fight over Leila telling another girl about what happened with Laura. Which Laura took much offense to…after spending time in the Tyra Suite trashing Leila's modeling and personality with Kristin.
The drama at the house might have been the major catalyst for Leila coming undone. The challenge for the week was a charity fashion show for Keep a Child Alive, a charity focused on HIV/AIDS treatment, with the audience being able to bid on the (70's-inspired, boho-y) dresses worn by the models. The winner of the challenge would be the girl that raised more money through the silent auction than her peers, taking home 10 points, scholarship money, and tickets to see Alicia Keys (an ambassador for Keep a Child Alive) in concert. Laura may have been deemed to be in charge of putting together the show thanks to her win last week, but that "twist" ended up burning out pretty quickly, thanks to the fact that both Johnny and Kelly were backstage at the show and played a major part in the preparation. Laura eventually got a little more assertive, firing off demands for their hair (smoky eye) and make-up (nude lips), but her performance on the runway didn't net her the challenge win.
Rather, Kiara (who had busted out into song when Alicia came to the house for an impromptu runway session, like any sane individual would) took home the top spot for her energetic, sassy turn on the catwalk, taking Nastasia to the concert with her. Placing in the top 3 were Laura and Victoria, with not a whole lot happening with the rest of the cast. Allyssa may have turned in a tone deaf, smiley performance that deserved the lowest score of the night (that it did receive), but Leila's walk was a bit of a mess. Her arms didn't swing, she had next to no confidence, and you could almost reach out and touch her awkwardness it was so prominent. You want her to get it together and to figure out how to carry herself, but the lack of any type of runway preparation made sure that anybody lacking confidence in their walk would be exposed right then and there. There's not much she could have done, having already been a mess earlier in the episode and then forced to tackle the area of modeling that she doesn't excel in.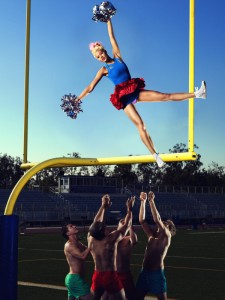 Things didn't get better at the photo shoot, which took the girls to West LA College for a little fierce cheerleading. Working with a handful of male cheerleaders, they were held in the air, tossed around, and had to find the midpoint between athlete and model. All the while wearing neon-heavy uniforms that were bordering on being 80's cliches – Bryanboy, Rob, and Jonte all made appearances at the shoot, but honestly, nobody made a major impact in terms of helping the girls or leaving an impression. Bryanboy continues to flit around Top Model without much to do and Rob is only eye candy at this point (though he came alive in panel for arguably the first time, his arrogance clashing with Kelly's arrogance regarding Brittany's edge or lack thereof); Jonte kind of disappeared following a demonstration of the type of modeling they'll be expected to do at the shoot, but he brings energy and excitement that the other new faculty members have struggled to thus far.
Aside from a panic attack of Laura's fear of heights and Allyssa accidentally kicking a cheerleader in the head, the shoot was fairly uneventful in terms of drama, though it did continue Leila's meltdown. It seemed like she hit a wall while shooting that she couldn't quite scale, her normally ethereal beauty turning out a strained, hardened photo that lacked the power she exhibited in previous weeks. Joining Leila in not really nailing the shoot were Brittany, who didn't commit to any type of feeling and had one of the worst faces of the week, and Allyssa, who had great movement but overdid it to the point of parody. I didn't like Kristin's photo for the fact that it wasn't dynamic and gave no interesting angles, not to mention the fact that it read too much like a cheerleader and didn't have the model edge that a photo like, say, Nastasia's (an exercise in controlled power and limb extension) did.
However, Victoria surprised me with a graceful, almost ballerina-like photo, redeeming herself from an off-week and presenting herself in a new light. And Yvonne may finally be figuring out how to embrace her curves in her way, as she turned out her best photo of the competition and finally modeled H2T.
But it came down to Brittany and Leila in the bottom two, the former being critiqued for her lack of a brand and the latter being told that she might be a model only in front of the camera. Leila's elimination, by half a point, was certainly a shock, considering that she had the highest cumulative point total through the first three weeks of competition. Tyra was a little shell-shocked, Bryanboy cried, and the race to become America's Next Top Model truly began. There were times in Top Model history that girls were kept after poor weeks due to their body of work, but there'll be none of that in cycle 19. One bad week and even the strongest of contenders can be shown the door, as evidenced tonight.
Although I don't think that Leila is a weaker model than everybody currently in the house, that unpredictability had been missing from Top Model. And honestly, I'm kind of glad to see it back.
America's Next Top Model Leaderboard (Week Five)
1. Nastasia – 40.9
2. Laura – 38.7
3. Kristin – 38.1
4. Kiara – 37.3
5. Victoria – 36.5
6. Yvonne – 36.4
7. Allyssa – 30.8
8. Brittany – 29.5
9. Leila – 29.0
Thoughts, Quotes, & Observations:
-The fan video critique of Allyssa's photo was beyond excellent. It was giving tangible, technical advice that she might be able to implement into future shoots, in addition to providing a purpose for the social media implementation. Like I mentioned last week, Top Model fans are smart and I'm glad that the show highlighted that.
-We're all in agreement that if there has to be a girl that comes back to the competition, Leila's got a pretty darn good chance, right? If she doesn't make it back, I'll be genuinely surprised. However, her talking about "my world just collapsed" upon her elimination was a bit much, even for this show.
-I still think she's a loon, but what about Victoria's critiques of Kiara's lack of versatility and Laura's crying at the photo shoot? I kind of loved that she made such good points.
-I enjoy the different dress codes for panel. Last week, everybody wore black and this week, everybody had a chignon.
-How pretty is Alicia Keys? My goodness.
-Does the rainbow runway in the house remind anyone else of this? Anyone?
-Next week on Top Model: The girls get to bring a video game character to life, with the best portrayal receiving her own taunt for Uncharted 3, while the photo shoot will mix Victorian fashion with 19th century mechanics. And an owl. And a possible Bryanboy beatdown at the hands of Yvonne.